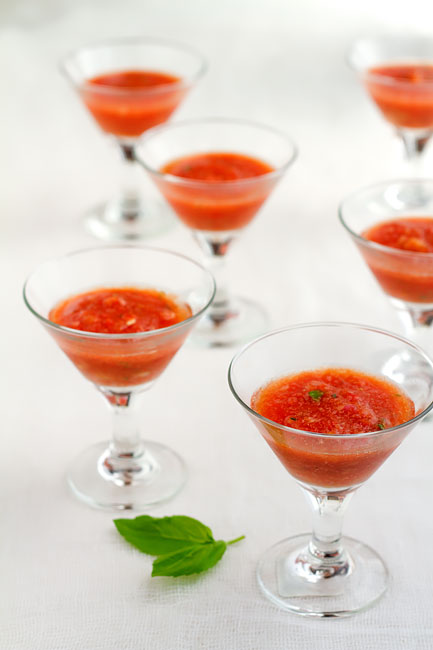 This has to be one of those recipes where I say "If I give you the recipe I have to shoot you". Because its that good. But because I love you all, I will share this recipe with you, without any shooting involved.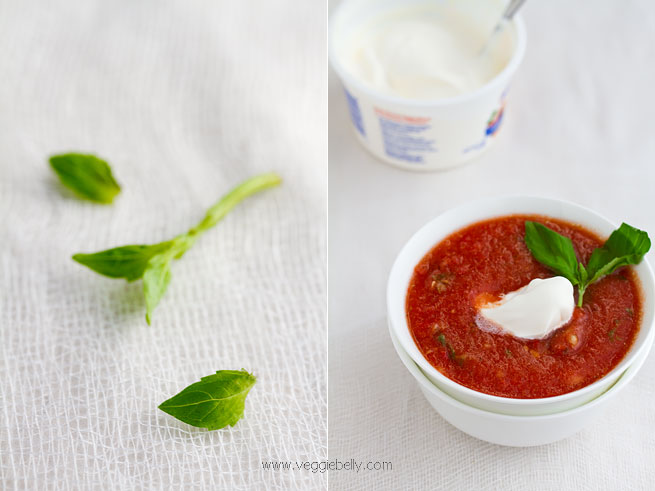 Summer may be winding down, but its still super hot. This easy to make, raw, cold, refreshing gazpacho is just what you need to beat the heat. If you like this tomato and roasted red pepper gazpacho recipe, be sure to check out my other no-cook recipes.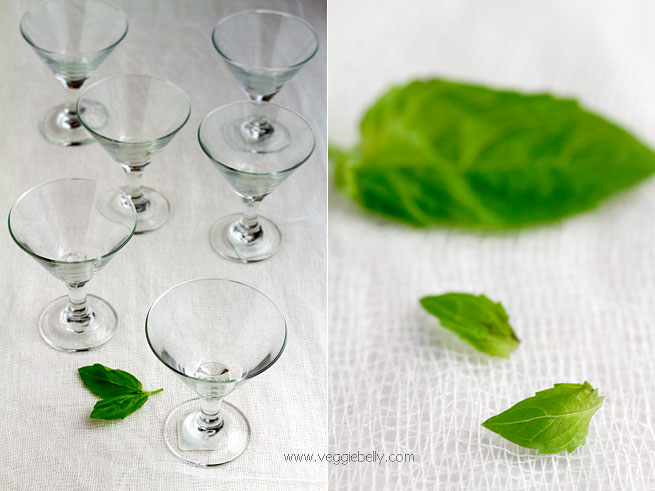 If you are entertaining, serve the gazpacho in mini martini glasses or shooter glasses. For a more casual meal, simple bowls or mugs will be perfect.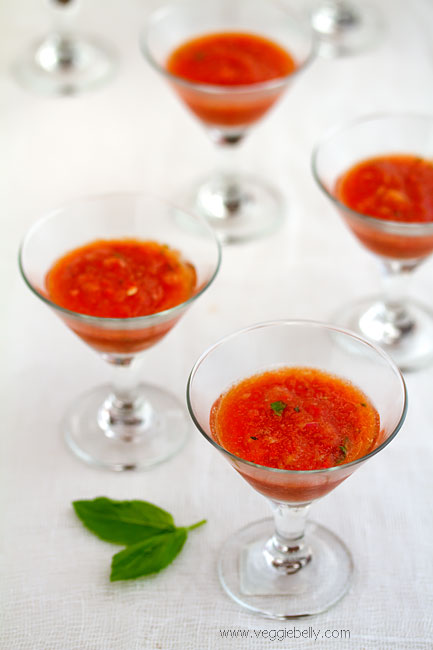 A dollop of creme fraiche adds richness to this gazpacho. Creme fraiche is a thick soured cream from France. It tastes a little like sour cream, but thicker and richer. Substitute creme fraiche with sour cream or thick yogurt. Vegans can use coconut cream to top their Gazpacho..remember Aarti made gazpacho with coconut milk on the next food network star?!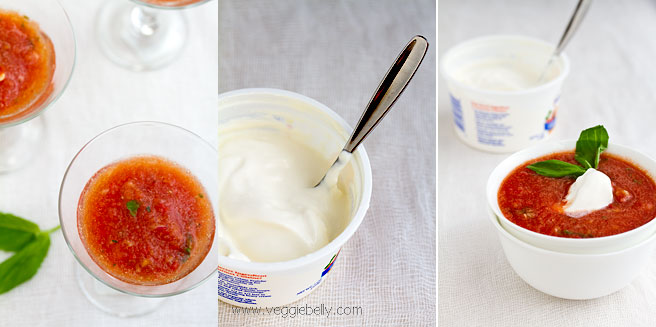 For some variations, check out Matt Bite's two Gazpacho recipes. There is a gorgeous gazpacho recipe on Simple Recipes. This almond gazpacho recipe in La Tartine Gourmande looks unique. However you make it, Gazpacho is a quick, easy, no-cook summer soup that you will love. Make a meal out of it or take it along on a picnic!
Tomato, Roasted Red Pepper and Black Olive Gazpacho with Creme Fraiche
inspired by Ina Garten's gazpacho recipe
serves about 6
2 large ripe tomatoes, roughly chopped
1 small cucumber peeled, seeded, roughly chopped
1 red pepper or store bought roasted red pepper, roughly chopped
2 tablespoons pitted black olives (or green olives)
2 cloves garlic, peeled
6 basil leaves
one 11oz can tomato juice (I used Campbells)
a few drops Tabasco sauce, or to taste, optional
2 tablespoons sherry vinegar or any other type of vinegar or lemon juice
2 tablespoons olive oil
Salt and pepper
for topping
6 tablespoons creme fraiche or sour cream
a few basil leaves cut into strips
Place tomato, cucumber, red pepper, olives, garlic in a blender or food processor. Pulse to a coarse puree. Add basil, tomato juice, tabasco, vinegar, olive oil, salt and pepper. Pulse once or twice till everything is well combine. Cover and refrigerate the gazpacho. Serve chilled, topped with basil and creme fraiche. Gazpacho tastes better the next day!
Comments
comments