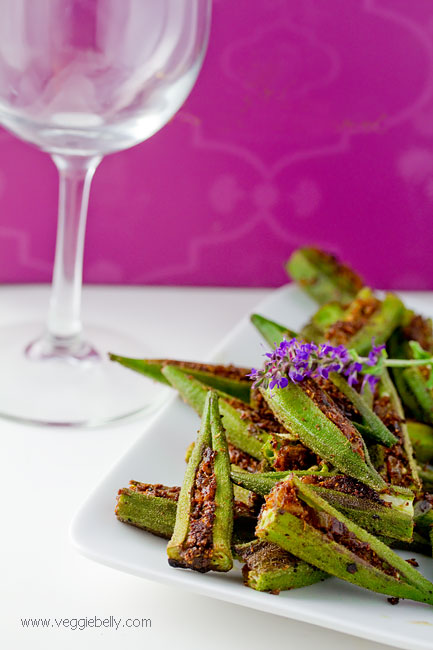 Documenting recipes was a big deal in my family. (That's probably where I get my interest in food blogging from). Every family recipe was carefully tested and documented on paper. It was a huge, and ongoing project in my parents' house. As kids, my siblings, any visiting cousins and I were constantly put to work, writing and re-writing recipes in notebooks.
There is a mountain of old notebooks at my parents' house in India, their yellowing pages full of hand written recipes. When I moved out, I photocopied every single page of every single notebook. I take my photocopied family recipes everywhere I go. No matter what country, state, city or house I am moving to, the first thing I pack is my huge stack of photocopies.
About 10 years ago, my mother decided to go hi-tech. She hired a starving college kid to type out, catalogue and save the thousands of family recipes on CDs. I was given a copy of all these CDs.
The CDs are better organized and much easier to use. But somehow, I keep going back to my Xerox copies of the notebooks. I like shuffling through my stacks of paper. The fading ink, the dog eared edges, all remind me of a sweltering childhood kitchen filled with the aromas of Tamil Nadu and Kerala.
This is one recipe that will take me right back there. Served with rice and dal, it is my sister's favorite.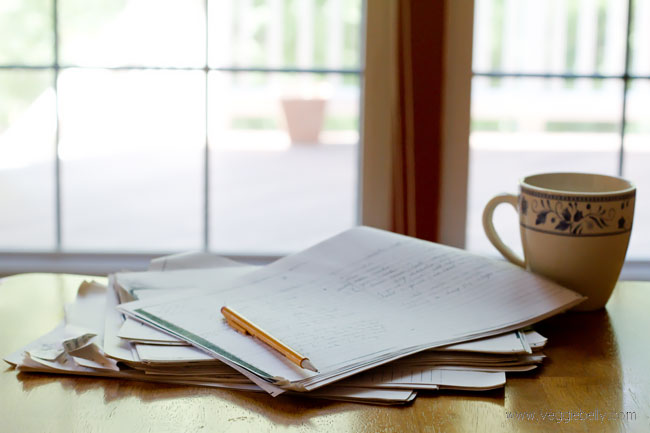 A very small portion of my family recipes collection
We call this dish 'nool katti vendakkai masala' or string tied okra. The stuffed okra was tied with string and then deep fried. Tying the okra kept the stuffing inside it. My version of this recipe is a little easier. I don't string tie the okra.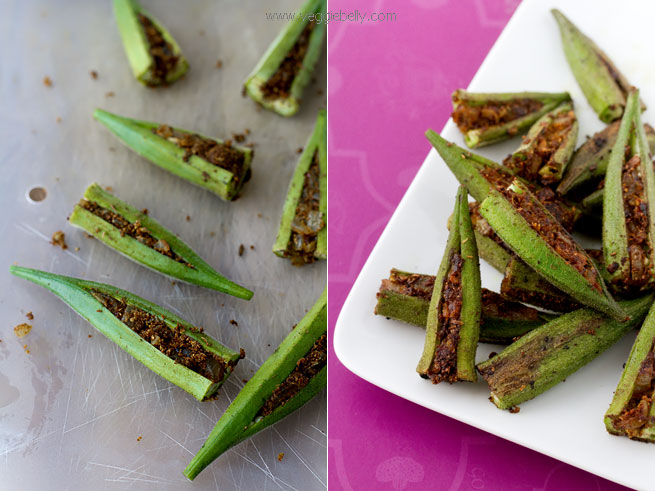 Notes
- Make sure you dry the okras very well before stuffing them
- Searing the stuffed okras on high heat initially will make sure they dont get slimy
-For a quicker version of this recipe, skip the roasting and grinding of spices; instead use chili powder, coriander powder and cumin powder
Stuffed okra is a common dish in India, but recipes vary from region to region. Aayi's Recipes has a Konkan stuffed okra recipe using coconut. Hungry Desi's stuffed okra boats recipe uses tomatoes. Sindhi Rasoi's stuffed okra or dhaas bhindi or bharwan bhindi recipe uses spice powders.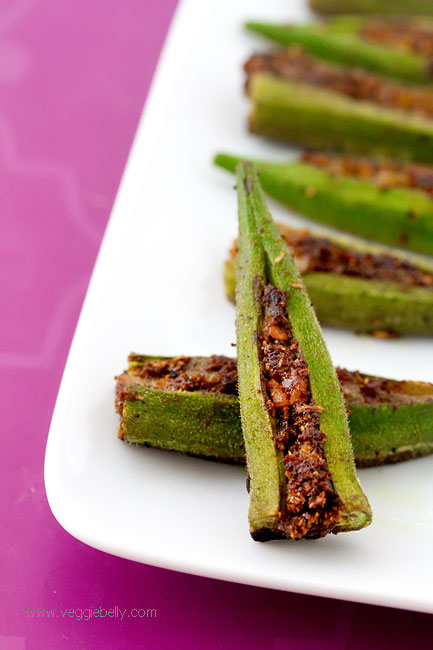 Masala Stuffed Okra Recipe
serves about 4 as a side dish
For masala
½ teaspoon oil
3 red chilies
1 tablespoon coriander seeds
1 teaspoon cumin seed
1 teaspoon fennel seeds
½ small onion, minced
1 clove garlic, peeled and minced
¼ teaspoon turmeric
A pinch of asafetida
Salt
For the okra
½ lb fresh, tender Okra (about 30)
1-2 tablespoons oil
In a small skillet, heat the oil for masala and add red chilies, coriander seeds, cumin and fennel seeds. Fry on low heat just till the spices turn color and get fragrant. Remove the spices to a spice grinder and grind finely.
Wipe the skillet clean. Add a few drops of oil and fry the onions and garlic till onion is soft. Turn off heat. Add ground spices, turmeric, asafetida and salt to the onion mixture. Mix well. This is your stuffing masala.
Wash and dry the okra. Cut the tops off. Using a sharp knife, make an incision in the okra, starting from the top and stopping just before the tail. Do not cut all the way through the orka, it has to be one whole piece.
Place okra on a work surface. Using one hand, gently pry open the okra at the slit. (Careful not to tear it). Using your other hand, gently stuff a little masala into the slit and pack it down. Repeat for all okra pieces.
In a large, shallow non stick skillet, heat the oil. Add the stuffed okra, one at a time, stuffed side facing up, in a single layer. Cook on medium-high heat till the bottom sides of the okra are brown. Reduce heat to low, place a lid on the skillet, venting it a little, and cook for about 7 minutes or till the okra is tender. Then remove lid, carefully flip the okras over and cook 2 more minutes. Sprinkle salt all over. Serve hot with rice and dal.
Comments
comments