I was thrown a challenge. I had to make Rugelach (a jewish cookie) based on the description my friend Vidya gave me. She had eaten these amazing cookies in New York, and wanted me to reproduce them. I cheated a bit. I used Ina Garten's Rugelach recipe. I love Ina's recipe for sweets, and this one was no different.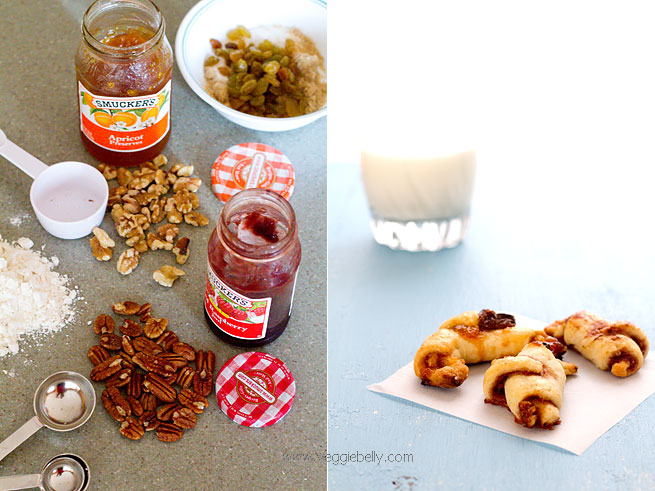 Notes
- Rugelach dough has a lot of butter and cream cheese, so you must make sure the dough is very cold before rolling it out
- Make sure your work surface is well floured when rolling out the dough
- You can roll the dough into crescents like Ive done. Or simply roll it into a log and cut spiral discs
- Vary the filling according to taste and imagination. The basic combination is brown sugar, granulated sugar, cinnamon, raisins + jam or preserves + nuts. (Next time I want to try a fig and pine nut rugelach using fig preserves and pine nuts).
- I halved Ina's recipe, and made each cookie larger. I also made two different flavored cookies (apricot walnut and raspberry pecan).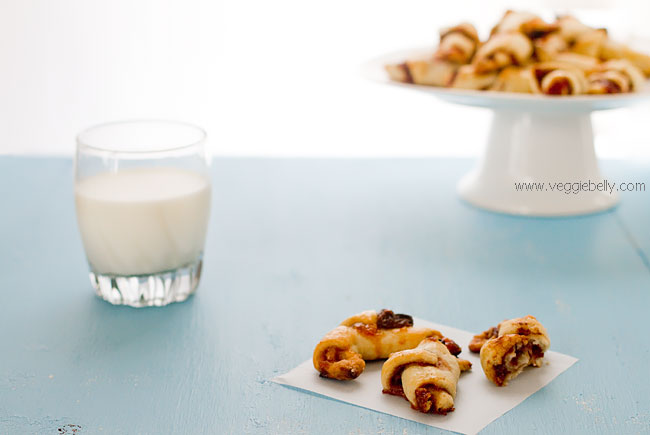 Rugelach with Raspberry Pecan and Apricot Walnut filling Recipe
adapted from Ina Garten's Rugelach recipe
makes about 16 cookies
for the dough
4 oz cream cheese, at room temperature
1 stick butter, at room temperature
2 tablespoons sugar
1/8 teaspoon salt
1/2 teaspoon vanilla extract
1 cup all purpose flour
for the raisin filling
2 tablespoons light brown sugar
3 tablespoons granulated sugar
1/4 teaspoon cinnamon
1/4 cup raisins
for raspberry pecan filling
1/4 cup chopped pecans
2 tablespoons raspberry preserves, microwaved for a few seconds
for apricot walnut filling
1/4 cup chopped walnuts
2 tablespoons apricot preserves, microwaved for a few seconds
for eggwash
1 egg beaten with 1 tablespoon milk
1 tablespoon sugar + 1/2 teaspoon cinnamon for sprinkling
Place the cream cheese and butter in the bowl of an electric mixer. Use the paddle attachment and beat till creamy. Add sugar, salt and vanilla. Reduce speed to low, and slowly add flour. Beat until just combined. Roll the dough into a ball. Divide the ball into two. Wrap both dough balls in cling wrap and refrigerate for 1 hour.
Combine all ingredients for the raisin filling in a bowl.
Take out one ball from the fridge. On a well floured surface, roll it out into a 9 inch circle. Spread raspberry preserves all over the dough circle. Then sprinkle pecans. Then sprinkle half of the raisin-sugar filling. Cut the circle into 8 wedges, like you would a pizza. Now roll each wedge. Start at the base (wider end) and roll towards the pointed end. Turn the sides inwards to form a crescent. Repeat for all wedges, Place on a baking tray and return to the fridge for another 30 minutes.
Repeat the process for the second dough ball, this time using the apricot walnut filling.
Preheat oven to 350f
Once the cookies have been in the fridge for 30 minutes, brush them with eggwash (you will use only about half the egg wash). Sprinkle a little sugar cinnamon micture on top of each cookie. Bake in a 350 f oven for 15-20 minutes orr until light brown.
Comments
comments