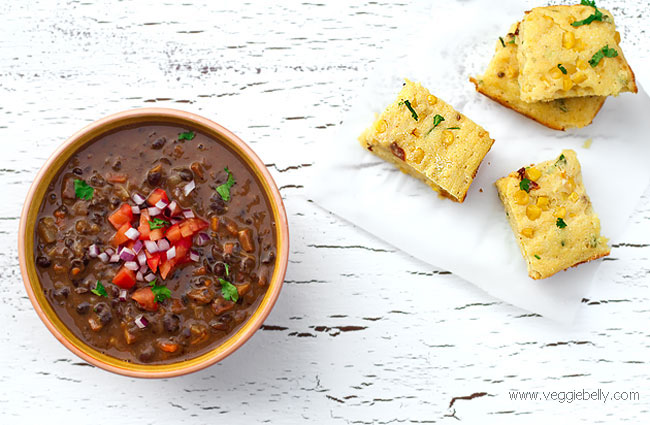 Feijoada is a popular Brazilian stew of cured meats and black beans. This Brazilian national dish relies heavily on meat for flavor and texture. In my vegan version of Feijoada, I add smoked tofu instead of the meats and use paprika and cumin for extra flavor. I admit this is not an authentic Brazilian dish, but it is certainly tasty and filling. Serve with rice or chipotle corn bread on a chilly night.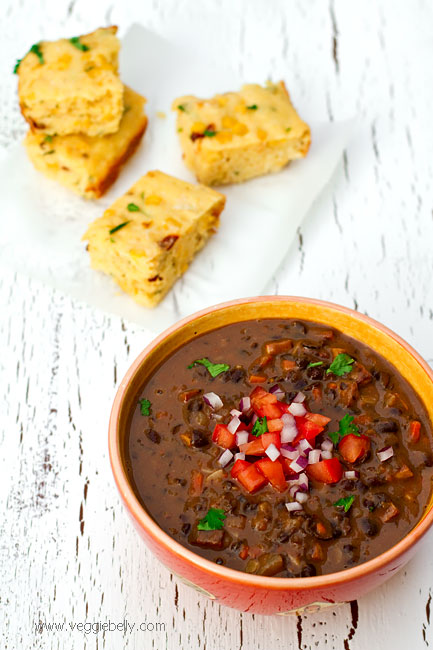 If you cant find smoked tofu, just use regular, firm tofu and add a few drops of liquid smoke to your stew. If you don't want to use tofu for whatever reason, substitute it with another kind of bean (kidney beans or white beans), or TVP or tempeh, or store bought veggie crumbles (like Morningstar). Check out this Brazilian black bean stew with sweet potatoes on Allrecipes. Martha Stewart has a Cuban black bean stew. Vegkitchen features a vegetarian feijoada or brazilian black bean stew.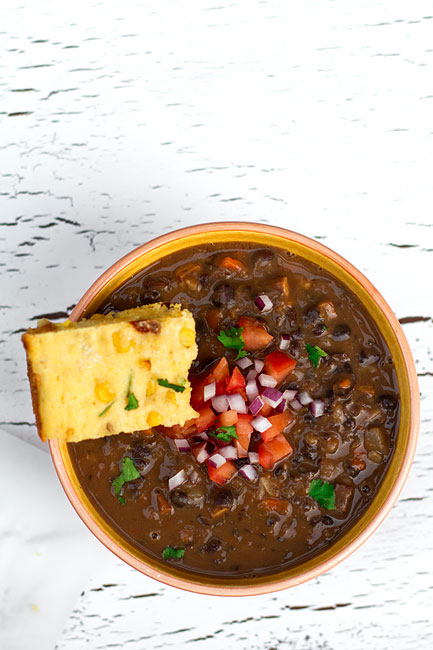 This goes to Chef in you's AWED Brazil event hosted by Sara's Corner.
Brazilian Style Black Bean and Smoked Tofu Stew (Vegan Feijoada)
Serves 2
For the smoked tofu
4 oz smoked tofu (I used Soyboy brand), cut into small cubes (about ½ cup when cubed)
1 tablespoon olive oil
For the stew
½ tablespoon olive oil
1 small onion, chopped finely
1 small carrot, peeled and chopped finely
1 green or red bell pepper, chopped finely
2 cloves garlic, minced
2 teaspoons cumin powder
1 teaspoon paprika
1 teaspoon dried oregano or Italian seasoning
One 15 oz can black beans, drained and rinsed (or 1 ½ cups cooked black beans)
3 cups water
Salt
Heat the olive oil in a medium saucepan. Add the tofu cubes and cook on medium-high heat till the tofu is browned and crispy – about 6 minutes. Remove the tofu from the pan and set aside.
In the same pan, heat ½ tablespoon olive oil. Add onion, carrot and bell pepper. Sauté on medium heat till the vegetables are soft, about 5 minutes. Add minced garlic and stir for 30 seconds. Add cumin, paprika, and oregano. Stir for about 20 seconds.
Add the black beans, water and salt. Bring the stew to a boil. Then reduce heat to low, and simmer uncovered for about 30 minutes or till most the liquid has evaporated. Mash some of the black beans using the back of a wooden spoon. Add the reserved tofu and cook another 5 minutes.
Top with your choice of chopped tomatoes, red onion, parsley, cilantro, orange zest, sour cream or grated cheese. Serve with my yogurt cornbread with chipotle and sweet corn niblets.
Comments
comments