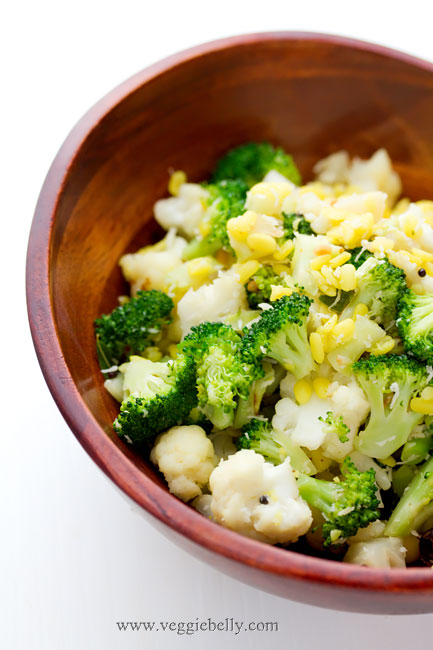 A poriyal is a beautiful, simple way to enjoy fresh vegetables. This south Indian stir fry (kinda!) usually involves tempering mustard seeds, cumin seeds, chillies and or curry leaves and then adding chopped vegetables - quick, easy and healthy.
I like to add some split mung beans or moong dal to my poriyals for extra body and protein. I also leave the broccoli and cauliflower slightly undercooked so that they are a tad crunchy; over cooking fresh vegetables just doesnt let their flavor shine through. Serve this with rice and pineapple rasam or collard greens dal.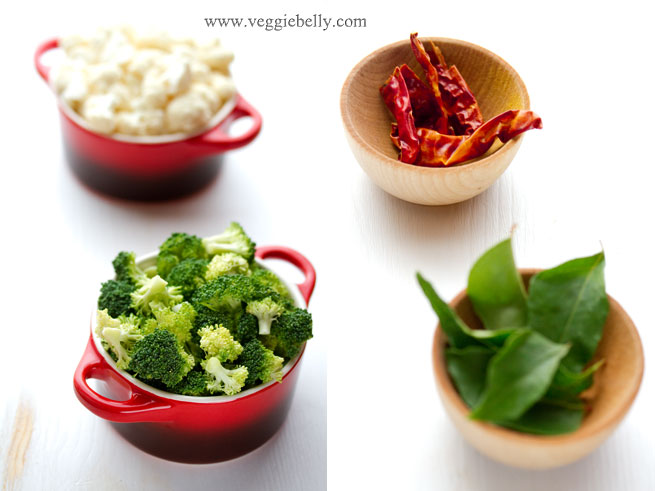 Cauliflower and Broccoli Poriyal with Lentils and Coconut Recipe
serves 6-8 as a side dish
for the lentils
1/4 cup split mung beans (moong dal)
a pinch of turmeric
other ingredients
2 cups of broccoli florets
2 cups of cauliflower florets
1 tablespoon oil
1/2 teaspoon black mustard seeds
2-3 dried red chillies, or according to taste
a few curry leaves
1/8 teaspoon asafoetida
4 tablespoon fresh grated coconut (I use fresh-frozen, grated coconut available at the Asian store. The ones from Thailand are good.)
salt
Bring 3 cups water to a boil in a pot. Add moong dal, turmeric and salt and let it boil till the lentils are cooked through but still holding their shape. Drain well.
Cut the broccoli and cauliflower into tiny florets as seen in the photos. Heat oil in a wok and add mustard seeds. When they splutter, add the dried red chillies, curry leaves, and asafoetida. Cook for about 30 seconds. Then add cauliflower, broccoli and salt. Cook on medium heat till the vegetables are cooked but still slightly crunchy. If needed, sprinkle some water while cooking the vegetables.
Add the cooked lentils and coconut, stir well, and turn off heat.
Comments
comments