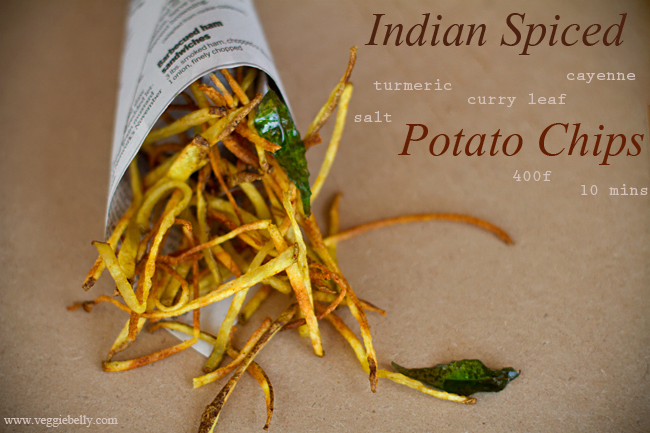 I love how simple this oven/microwave baked potato chips recipe is. All you do is cut a russet potato into think sticks, toss it in oil, salt, cayenne or chilli powder, and turmeric. Add a fer curry leaves for aroma. Bake or microwave. Yes, I said microwave! So much easier and healthier than deep fried potato chips!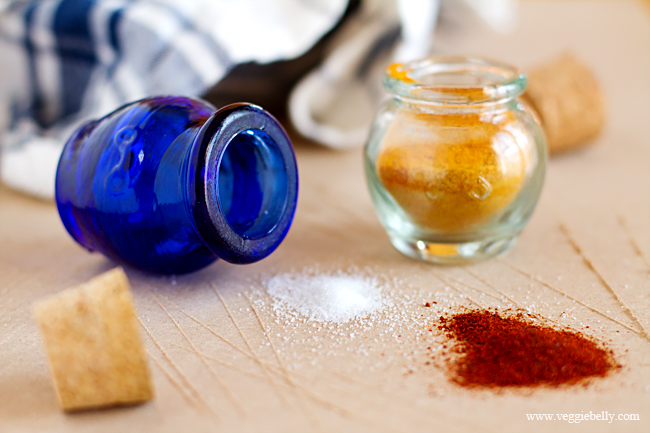 You could spice up the potato chip sticks in many ways; I love the turmeric, chilli powder or cayenne powder, curry leaf combination. The curry leaves get crispy and so fragrant. 
Serve Indian spiced potato chips as a side or a snack, in a newspaper cone. They go well with my brown rice and black bean  burgers.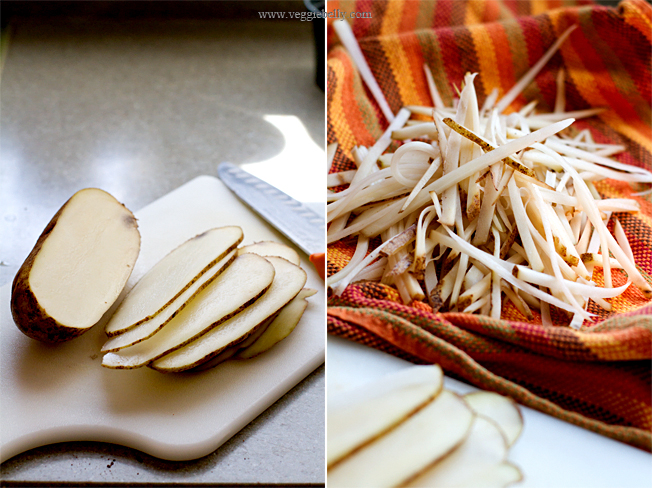 Cut the potato sticks really thin, this way they bake very quickly in the oven. Use either a mandoline or a large sharp chef's knife to cut the potatoes into 1/8th inch slices. Stack up the slices and cut them into thin sticks. The sticks should be thinner than a pen or french fry.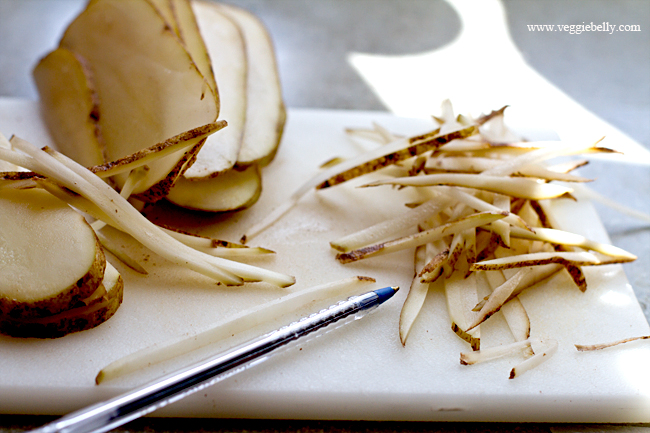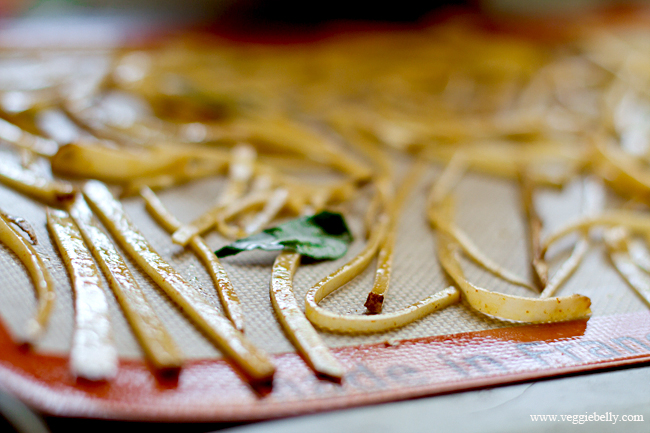 More oven baked or microwaved potato chip recipes
Martha Stewart's baked potato chips recipe
Oven fried potato chips recipe  on Simply Recipes
Spicy baked potato chips recipe on Chow vegan
5-spice potato chips recipe on the Hungry Mouse
Uncle Bill's microwave potato chip recipe  on Food.com
Microwave potato chips recipe  on Eating well
Homemade microwave potato chips recipe  on Sweet Savory Life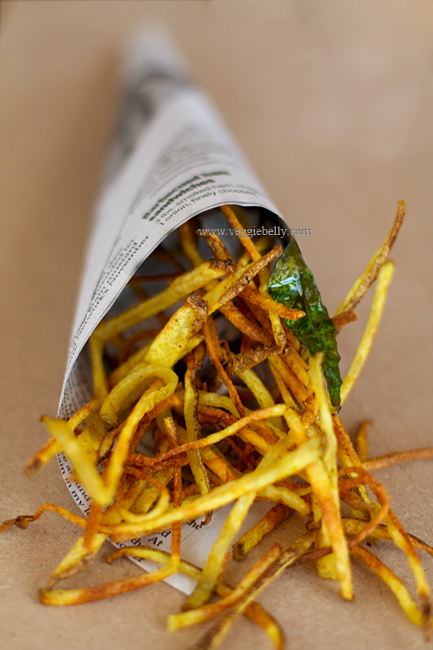 Indian Spiced Baked Potato Chip Sticks Recipe
serves about 2
1 large russet potato (about 10 oz)
1 tablespoon vegetable oil or ghee
¼ teaspoon ground turmeric
¼ teaspoon or to taste chili powder pr cayenne powder
10 curry leaves
1/2 teaspoon salt
Wash and dry the potato. Peel the potato if you like. I leave the skin on because I like the texture of potato skin in my chips.
Slice the potato into 1/8th inch thick slices lengthwise using a mandoline or a large, sharp knife. Stack up the slices, and cut them lengthwise to form thin sticks, about 1/4th the thickness of a French fry.
Place the potato sticks on a kitchen towel, and gently pat dry.
In a bowl, whisk together the ghee or melted butter or oil, turmeric, chili powder, curry leaves and salt. Add the potato sticks to the bowl and toss well. Now follow one of the below methods.
Oven method – pre-heat oven to 400f. Place the seasoned potato sticks on a non-stick baking sheet or a regular baking sheet lined with parchment paper or silicone non-stick mat. Spread the potato sticks so that they are in a single layer and don't overlap. You may need to do this in batches. Make sure they are in a single layer, this is what makes them crisp! Bake for 10 minutes or till the chips are golden and crisp. Halfway through baking, check on the chips, and remove any pieces that are already crispy and golden. Rotate the baking sheet and continue baking.
Microwave method – take a microwaveable plate and coat with a few drops of oil. Place the potato chips that have been coated in the turmeric chili ghee/oil. Spead them out into a single layer. You may need to do this in batches. Microwave on high for 2-4 minutes or until the chips are golden and crisp. Cooking time will vary depending on the microwave, so check on the chips periodically.
******************
Are you a fan of Chef Sanjeev Kapoor?
Join me at his book signing event in Washington DC!
Tickets and details are here – http://sanjeevkapoor-indiqueheights.eventbrite.com/
*******************
Comments
comments