I am on a mission to make myself like eggplant. Many of you on twitter and facebook helped me with your amazing eggplant recipe suggestions to make me like it! I am now trying every method possible (except deep frying!) – grilled eggplant, sautéed eggplant, baked eggplant, stir fried eggplant..and I'm pleased to inform you, I loved the eggplant in this vegan Chinese Szechuan eggplant and tofu recipe!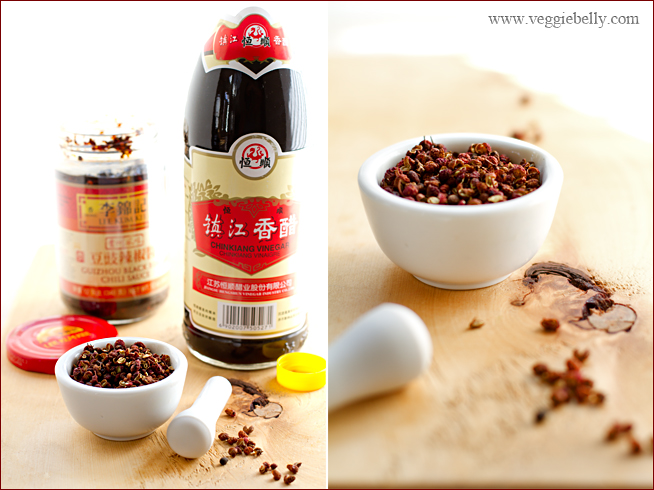 My dear friend and incredibly talented food blogger, Xiaolu of 6bittersweets blog took me on a tour of a local Chinese grocery store. She showed me some amazing and exotic ingredients that I can't wait to try! I picked up the chili bean sauce, black vinegar, and Szechuan pepper used in this recipe during my Chinese grocery store visit.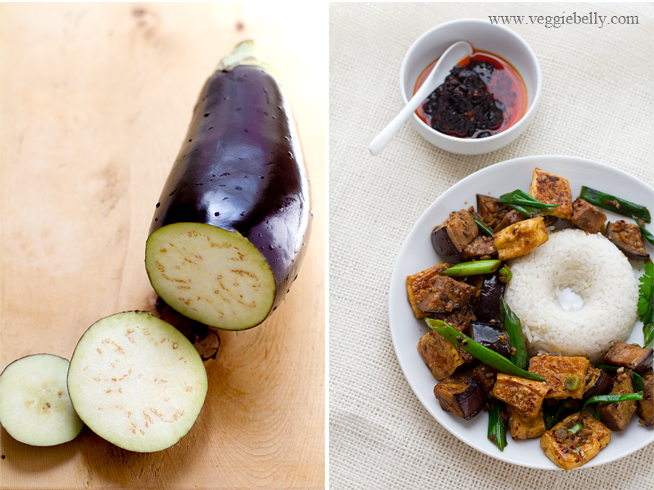 The basic idea for this dish comes from Fuchsia Dunlops  book 'Land of Plenty'. And because Xiaolu has such a passion for food (you DO read her blog don't you?!), I consulted with her to perfect this vegan Chinese eggplant and tofu recipe.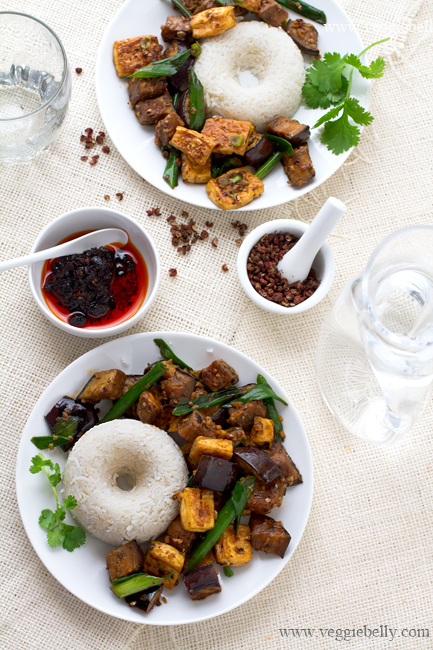 This recipe does take a bit of time to make, but it is so worth the effort. It tastes like something you'd get at a Szechuan restaurant.You can easily use any combination of vegetables you like for this dish – broccoli, cauliflower, potatoes, or zucchini along with seitan, tempeh or paneer.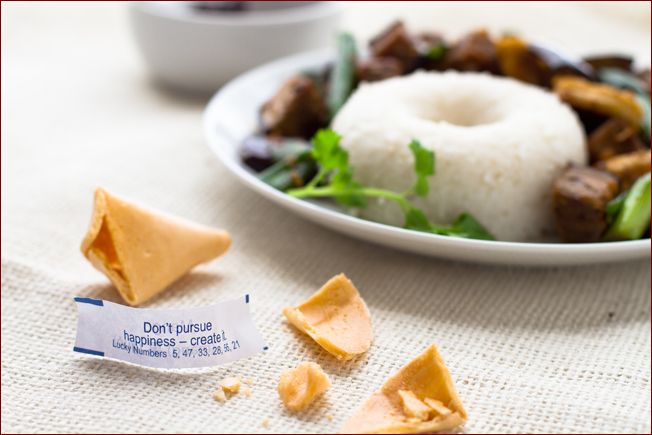 Short cuts and substitutions
Instead of pressing and then pan frying your own tofu, buy pre-baked or pre fried tofu in the grocery store
Use store bought paneer cubes instead of the tofu, and lightly pan fry them
Use balsamic vinegar instead of the Chinese black vinegar (it doesn't taste the same, but it's the closest substitute for Chinese black vinegar I can think of)
Use regular black pepper corns instead of Szechuan peppercorns
To salt or not to salt an eggplant before cooking? See this post.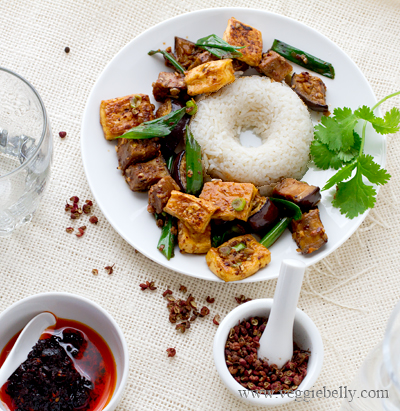 More delicious vegetarian and vegan Szechuan Chinese eggplant and tofu recipes
Vegetarian Szechuan eggplant recipe on Weird Combinations
Vegan Szechuan eggplant recipe with beansprouts on No Meat Zone Recipes
Szechuan tofu stri fry recipe  on Eating Well
Szechuan garlic eggplant and tofu recipe on Hypokrtical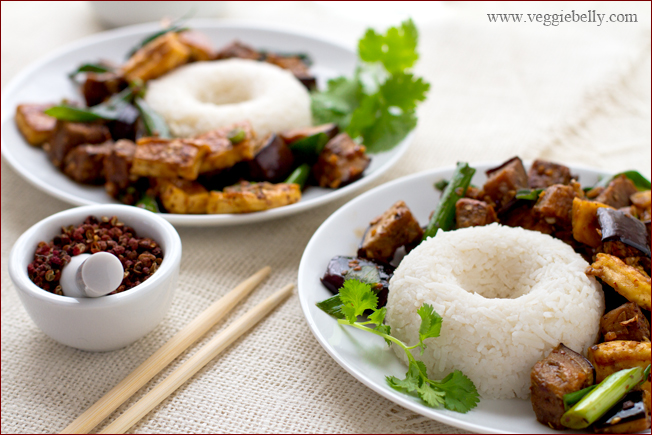 I molded the rice using this cute rice mold I got as a gift.
Szechuan Tofu and Eggplant Recipe
adapted from Fuchsia Dunlop's Land of Plenty
serves about 3 with rice
For the tofu
One 14 oz pack of extra firm tofu
1 tablespoon of vegetable oil, optional
For the eggplant
1 lb purple or Asian eggplant, cut into ¾ inch cubes
1 tablespoon oil
For the szechuan sauce
1 tablespoon Soy sauce
1 1/2 teaspoon Sugar
1/4 teaspoon Szechuan peppercorns lightly roasted in a dry skillet, and then crushed in a mortar and pestle. Substitute with regular black peppercorns. Use less if you dont want it spicy.
1 tablespoon Chinese black vinegar. Substitute with cider vinegar or balsamic
1/2 cup water
½ tablespoon oil
1-3 tablespoon black bean chili sauce (this sauce is very spicy! Start with 1 tablespoon, taste and add more at the end of cooking if needed) update: I used "guizhou black bean chili sauce", the brand is Lee Kum Kee. Whatever brand you buy, make sure the ingredients include fermented black beans and chili peppers.
2 tablespoons finely minced ginger
2 tablespoons finely minced garlic
5 scallions/green onions, chopped into 1 inch pieces
2 teaspoon sesame oil, optional
press the tofu
Drain the tofu and pat it dry. Place several layers of paper towels on a table. Place the drained tofu in the middle of the paper towels. Wrap the towels firmly, but without breaking the tofu, around the tofu block (like a gift wrap). Wrap this in an absorbent kitchen towel. Place a plate over the tofu parcel. Put something heavy (like a few cans of beans) on top of the plate. Let the tofu sit with the weights on top for about 4 hours (longer won't hurt).
cook the eggplant
In a large non-stick skillet, heat the oil. Add the eggplant cubes in a single layer, without crowding. Fry the eggplant cubes on high heat till they are golden, about 3 minutes for american purple eggplants. The eggplant doesnt have to be fully cooked, just browned on the outside. Flip the eggplant pieces and brown the other side. Make sure the eggplant cubes are in a single layer, so they brown quickly. Don't over-crowd the pan. Do this in batches if needed.
Set the eggplant aside on a plate.
make the tofu
Cut the compressed tofu into ¾ inch cubes
Wipe the skillet clean. Turn heat to medium. Arrange the tofu cubes in a single layer on the skillet. I don't use oil for the tofu, but you can use 1 tablespoon of oil if you like. Cook tofu on medium heat. Don't move around or disturb the tofu cubes while cooking. When brown on one side (about 12 minutes), flip the tofu cubes and brown the other side. When the tofu is light brown on all sides, remove it and place it in a plate.
(If you don't want to pan fry the tofu, toss pressed tofu it in ½ tablespoon oil, spread the tofu cubes in a single layer on a baking sheet lined with parchment paper, and bake it in a 375f oven for about 40 minutes or till the tofu is golden, and slightly chewy).
make the Szechuan sauce
In a medium bowl, whisk together the soy sauce, sugar, Szechuan pepper, vinegar and water. Keep the bowl at hands reach.
Heat a large wok with oil on high heat. Carefully add the chili bean sauce, ginger and garlic, and stir for 30 seconds. The chili bean sauce may give out fumes, so stand back. Take care not to burn it.
Remove the wok from heat. Extend your arm with the wok, so that nothing splashes on you. Now carefully pour in the whisked ingredients.
Return wok to the stove. Immediately add the scallions/green onions, eggplant, tofu, and 1/2 cup water. Toss gently and cook on high for 5 minutes or till the eggplant has softened but is not mushy. Add more water if the dish is too dry. Taste the dish and add more chili bean sauce if you like.
Drizzle sesame oil, if using.
Serve with steamed rice or wheat tortillas and extra soy sauce and chili bean sauce on the side
Comments
comments