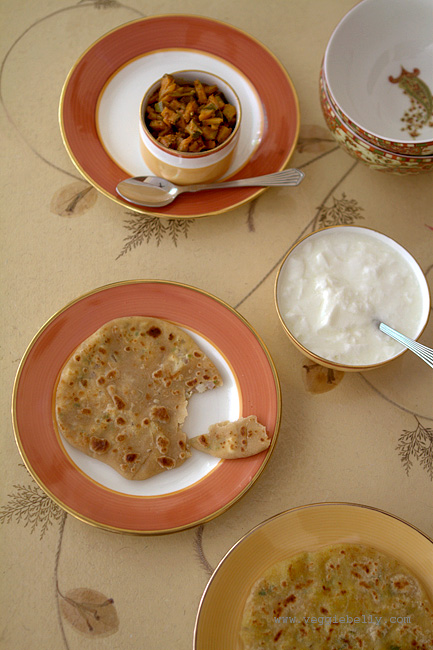 I am vacationing in India right now and enjoying some fabulous home cooked food. Every time I visit India, I ask my mother's friend Veena aunty to teach me her amazing recipes. Veena aunty has such a love for cooking, you can taste the passion in her food. This time she showed me how to make her paneer paratha recipe. Paneer parathas are Indian flat bread stuffed with cottage cheese. You wont be disappointed with this paneer paratha recipe!
Paneer Paratha Recipe (Cottage Cheese Stuffed Flat bread)
makes 6-8 parathas
for the paratha dough
Ingredients
1 cup whole wheat flour (atta)
1/3 cup all purpose flour (maida)
1/2 teaspoon salt or to taste
1 teaspoon vegetable oil
1 cup water (you may not need all of it)
Method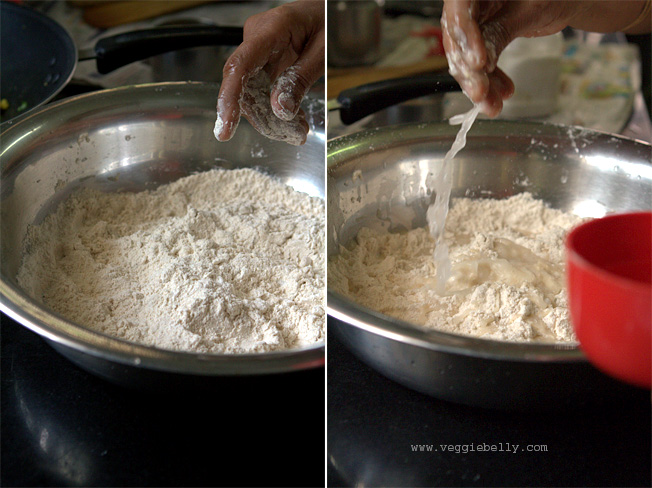 1. Combine the wheat flour, all purpose flour, salt and oil in a large bowl
2. Sprinkle a little water at a time till the dough binds together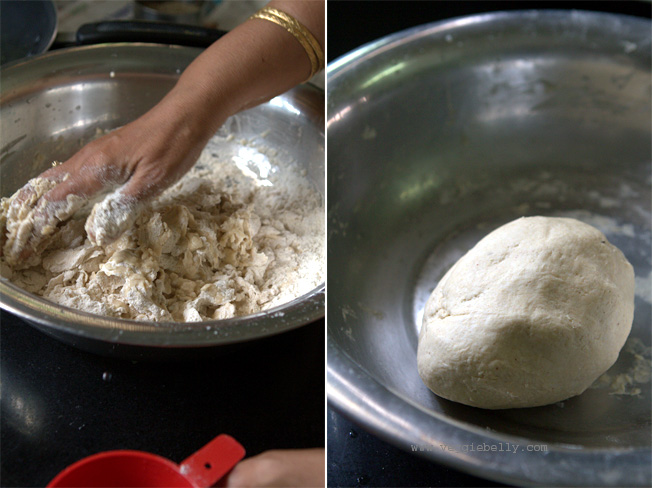 3. Knead the dough, sprinkling water, until it forms a soft, elastic ball
4. Make sure the dough isn't too wet. If it gets too wet or sticky, add more flour
5. Knead the dough till it is smooth and elastic (think pizza dough)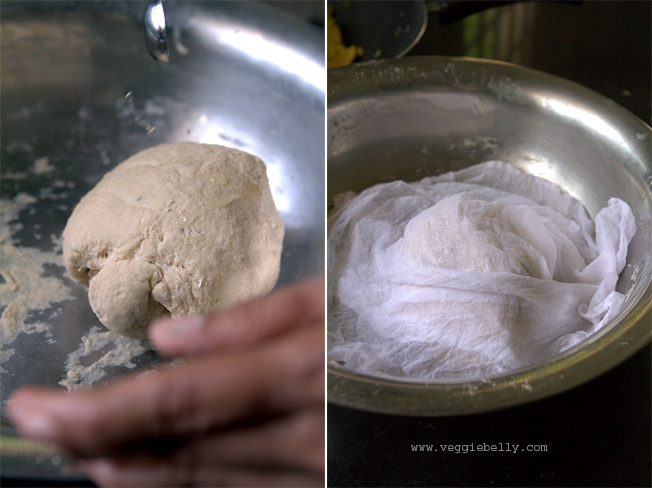 6. Drizzle a few drops of oil over the dough ball, and spread it all over the surface
7. Cover the dough with a damp towel
8. Let it rest for 15 minutes. In the meanwhile, make the paneer filling
for the paneer filling
Ingredients
7 oz paneer, finely grated (about 1 1/2 cups when grated)
1 small onion, minced
3 tablespoons finely chopped cilantro
1/2 teaspoon garam masala
1/4 teaspoon turmeric powder, optional
1 green chili finely chopped or according to taste
salt
Method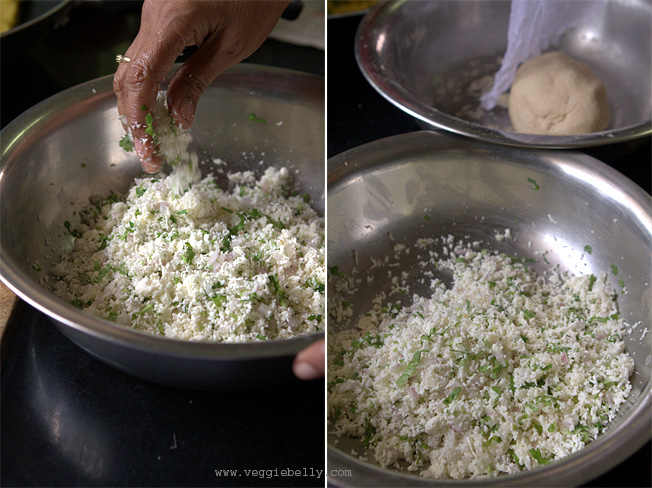 1. Combine all paneer filling ingredients in a bowl
2. Taste the filling and adjust salt and seasonings if needed. If you like it spicier, you can add more minced chilis or garam masala at this point
Make the paneer parathas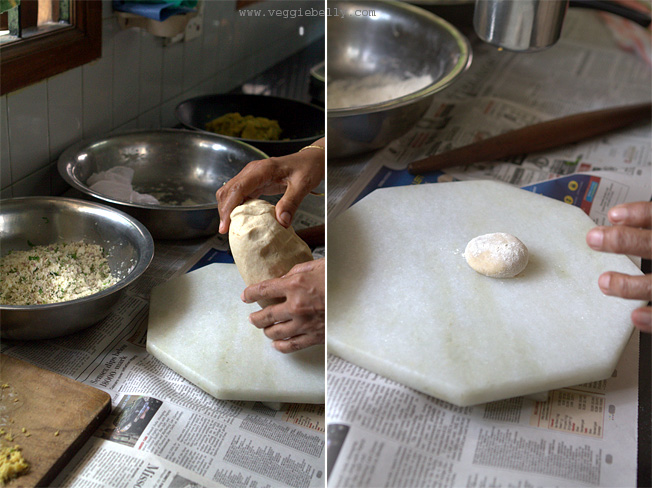 1. Keep a small bowl of wheat flour near you
2. Remove the dough from the bowl, and knead it a few times
3. Divide the dough into 6 equal parts. If you don't have much experience making parathas, divide the dough into 8 parts, so each paratha is smaller, and therefore easier to make.
4. Take one piece of the divided dough and form it into a ball
5. Dip the dough ball in wheat flour
6. Place it on a clean, flat surface for rolling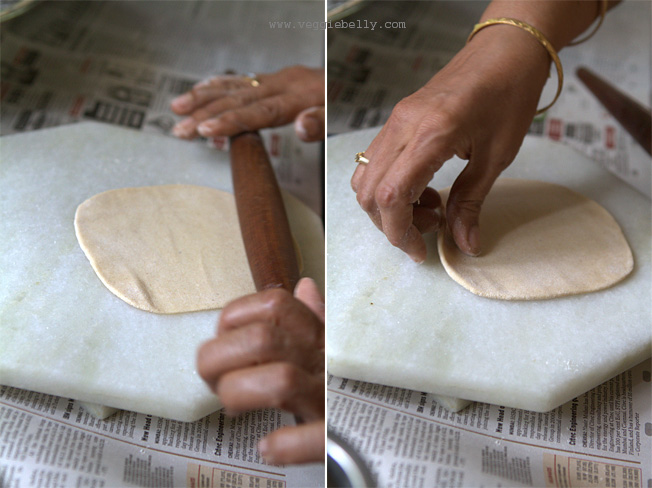 7. Using a rolling pin, roll out the dough into a round using a light touch
8. Turn the paratha 1/4ths of a turn each time you roll it. This will keep it round.
9. Sprinkle a little flour as and when needed.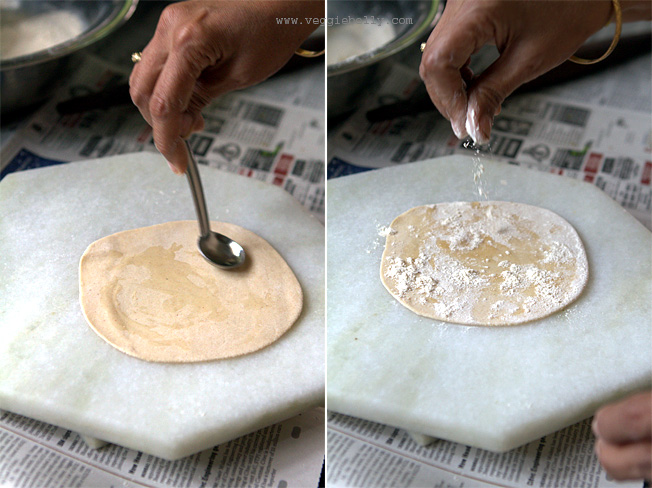 10. When the paratha is thin and even (see picture above), stop rolling, and spread 6 drops of oil
11. Sprinkle a little flour on the oiled side, dust off the excess flour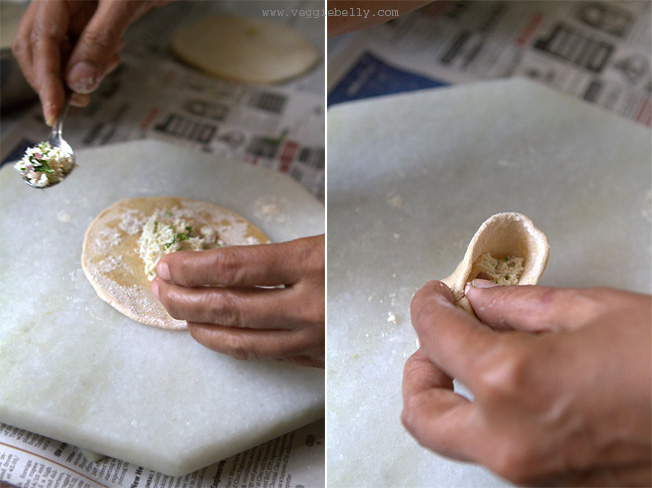 12. Place 2 tablespoons of the paneer filling in the center
13. Gather the edges of the paratha and bring them up, and pleat them over the filling, to form a parcel. If you feel the parcel can hold more paneer filling, add a little more now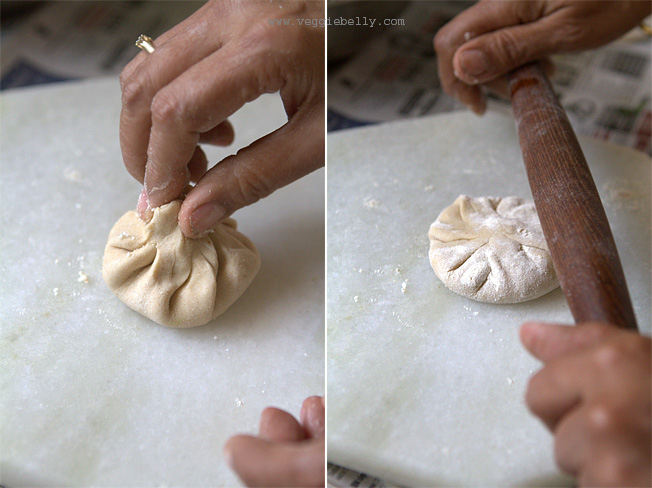 14. Pinch the top to seal the paratha
15. Dip it in flour, flatten it a little, and gently roll it using a rolling pin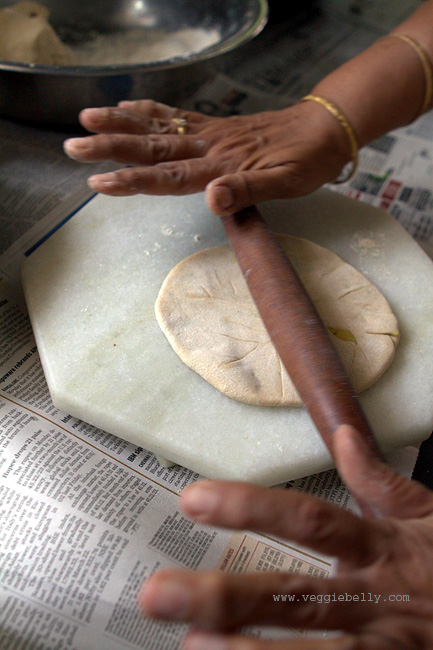 16. Roll gently till the paratha is about 1/4 inch thick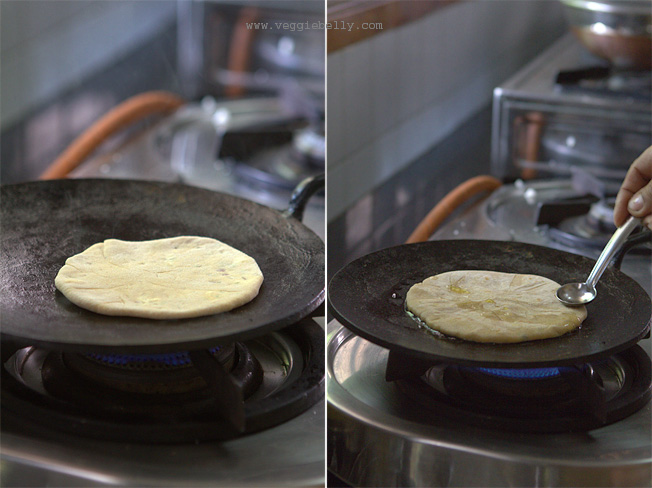 17. Heat a tava, or cast iron skillet on medium heat
18. Place the paratha on the skillet. Cook on medium heat till pale brown spots appear on the under side
19. Then flip the paratha and let pale brown spots appear on the other side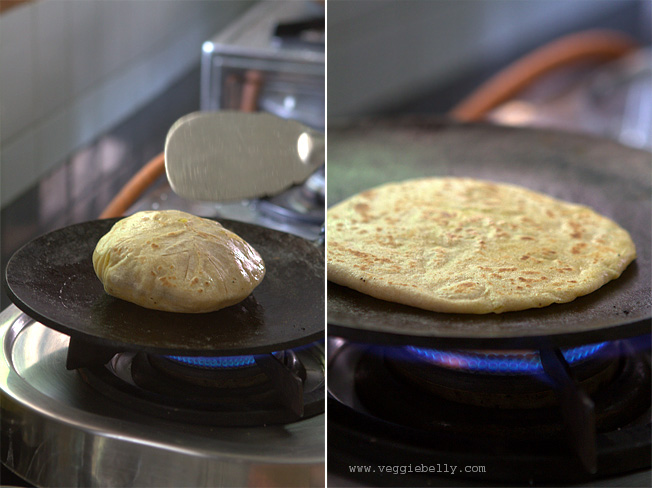 20. Then increase heat to medium-high and drizzle about 1/4th teaspoon of vegetable oil (you can use less oil or oil spray)
21. Cook paratha on both sides till the dough is cooked and lightly browned (but not too dark)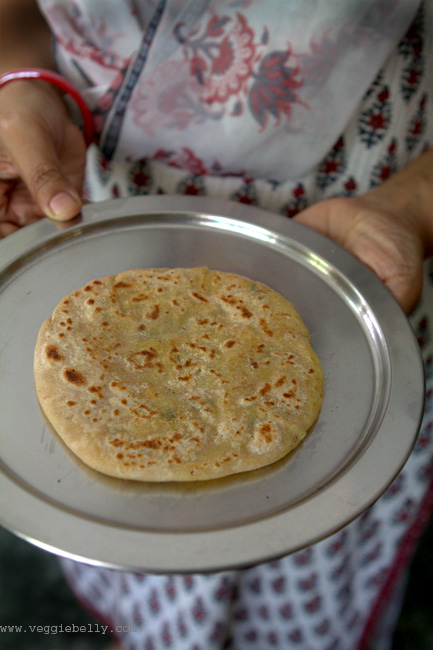 Serve paneer parathas with yogurt or my grandmother's multi colored raita and my apple pickle.
Paratha making tips
- add enough water to the dough so that it is soft (but not sticky)
- sprinkle wateron the flour a little at a time, this way you are more in control of the final result
- a hard dough will make your parathas stiff
- when kneading, aim for a soft, smooth, elastic dough that is not sticky
- it important to cover and rest the paratha dough for atleast 15 minutes before rolling
- when rolling parathas use a gentle touch
- make sure you chop the filling ingredients very fine. For paneer parathas, the paneer must be grated finely, and the onions and cilantro must be minced. For aloo parathas, the potato must be mashed with no lumps. If you leave large pieces in your filling, it will tear the dough when you are rolling out the parathas.
- when stuffing parathas, you need to use about equal amounts of dough and filling. So if you are using a lime size ball of dough, use about a lime sized mound of filling. However, if you are new to paratha making, lesser amounts of filling may be easier to deal with it, but you will compromise on taste.
- the more you practice making parathas, the better you will get!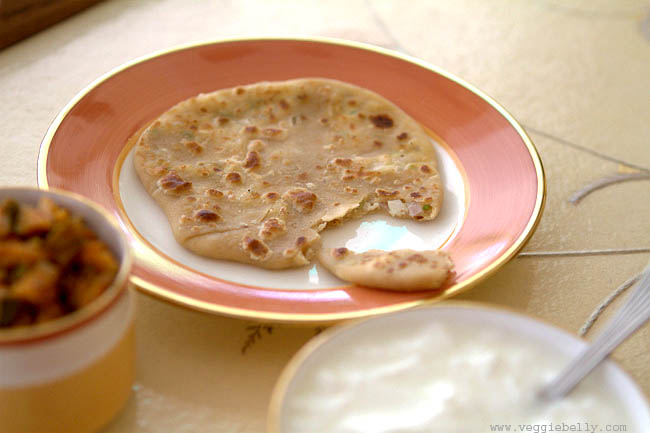 Comments
comments