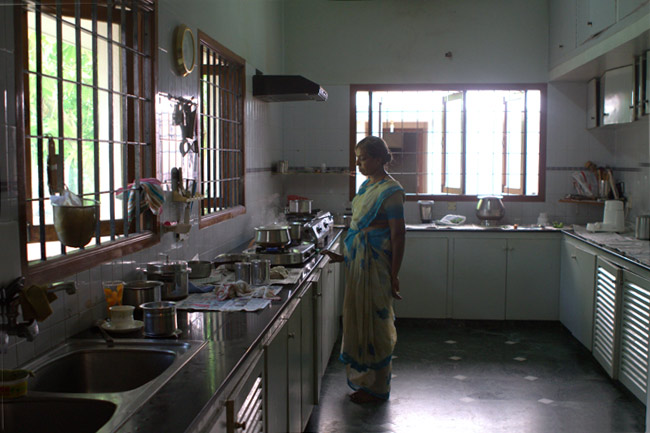 This is the house I grew up in. This is the kitchen that shaped my interest in food and cooking. When we were children, my sister, brother and I would come running in here requesting a cold, freshly squeezed lemonade, a quick snack of spiced, stir fried bread, or a deep fried treat.
Even now, when I smell curry leaves and chilies being tempered in oil, I am transported back to this very kitchen. I've already shared with you some our family recipes. Now I invite you to take a peek into my parents' kitchen in India..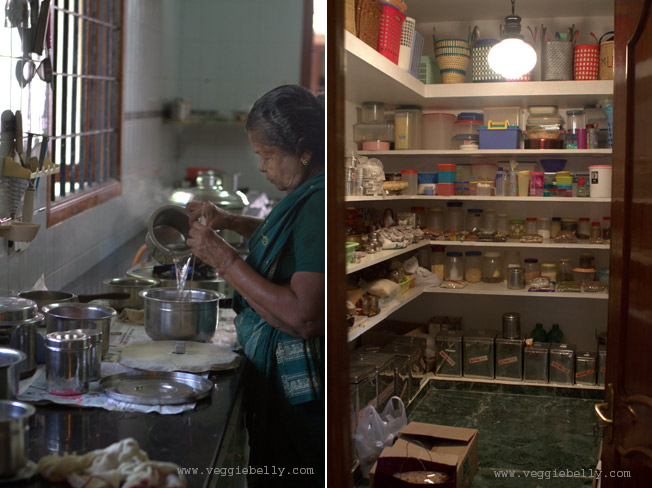 Kamalamma the cook, gets ready to make idiappam or string hoppers made from rice flour. The pantry or store room is stocked with different kinds of rice, lentils, spices and kitchen supplies.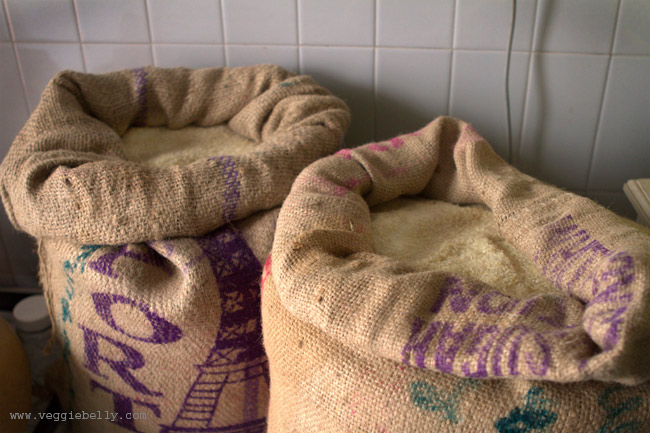 Sacks of short grain rice arrive once or twice a year. The rice is used for boiling, making idlis and dosas, and is also roasted and ground into rice flour.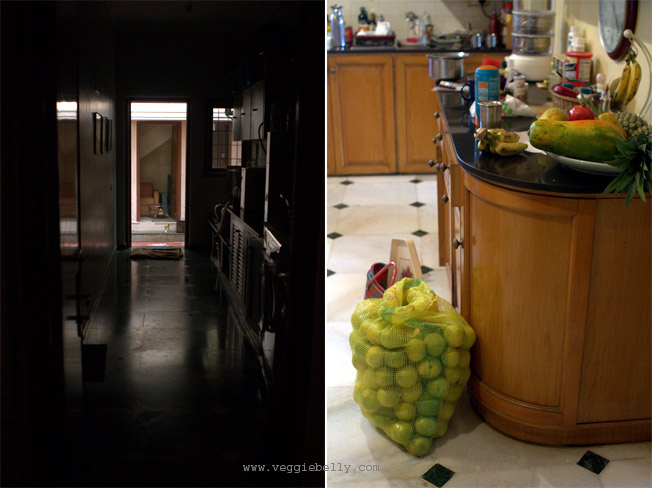 In parts of India, it is common for the household staff to live with the family. This corridor leads to the back of the house and to the live in maid's quarters.
My parents always keep a lot of fruit on hand. A huge sack of sweet lime or sathukkudi has just arrived from the market.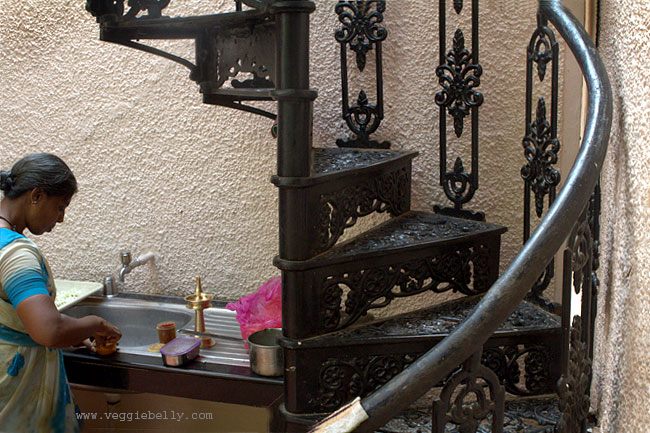 This is the back of the house, where all the prep-work, and cleaning happens outdoors.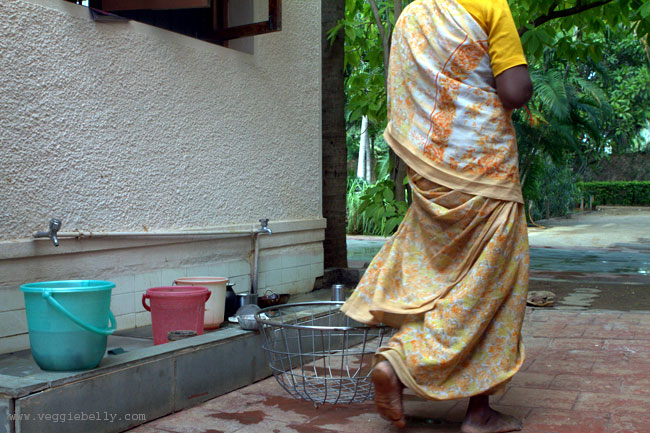 Outdoor dish washing area – dishes are hand washed and either towel dried or left out in the sun.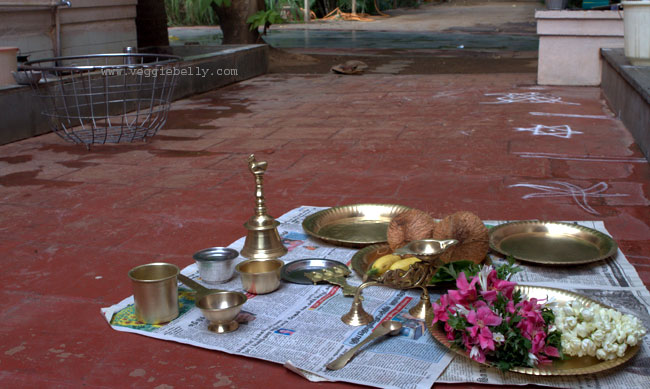 Pooja (prayer) items are washed an ready for my brother's evening prayers. The coconuts, banana, flowers and cup with water are offerings to God. The brass bell is rung to ward off evil spirits.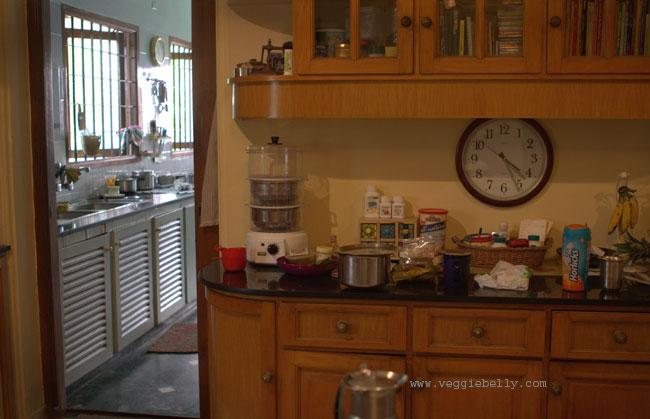 Part of the dining room, and entrance to the kitchen.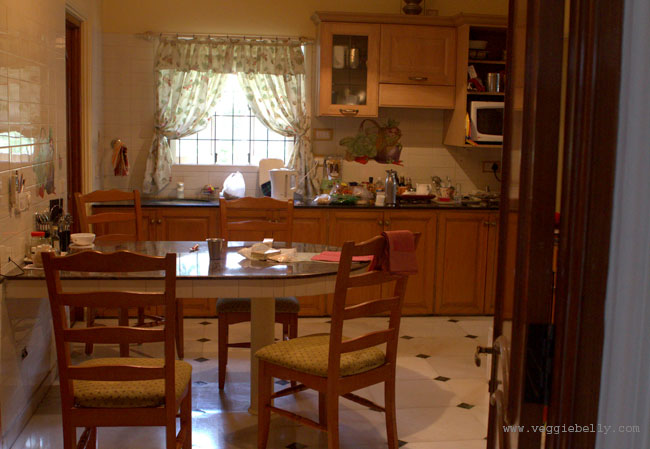 This is the everyday dining room. We have a larger dining area for entertaining guests.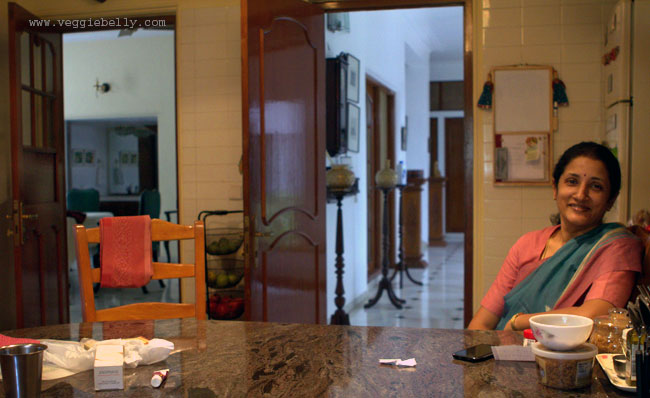 My mother is a near permanent fixture in the dining room..
Now that you've seen my parents' kitchen in India, head over to this post and see my kitchen in the US!
Comments
comments