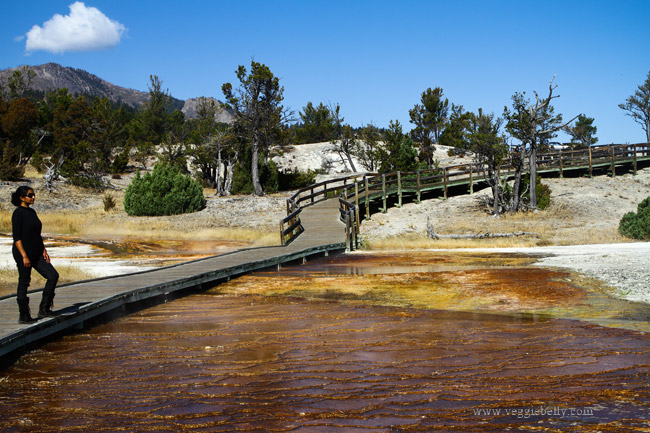 Its official, I am a Portlander now! I completed my cross country trip and arrived in Portland, OR 2 weeks ago. Phew! This is the final post of my road trip series, and was written during the last leg of my journey. This is a bandwidth intensive post because there are lots of pictures. If you have trouble loading the pictures, please email and let me know veggiebelly AT gmail.com
If you havent already, read part1 and part2 of my vegetarian road trip across America.
Notes from the Road
Total miles traveled – 3,791
States covered so far - Virginia, Maryland, West Virginia, Pennsylvania, Ohio, Indiana, Illinois, Wisconsin, Minnesota, South Dakota, Wyoming, Montana, Idaho, Oregon
Cities visited - Cleveland OH, Chicago IL, Madison WI, Wisconsin Dells WI, La Crosse WI, Sioux Falls SD, Rapid City SD, Sheridan WY, Cody WY, Jackson WY, Boise ID, Portland OR
Mood – tired, eager to get to Portland, but feeling rather triumphant that I will be completing a cross country trip soon
Most Memorable Moment – watching the Old Faithful geyser erupt at night into a star studded sky
Most shocking thing I saw – a highway billboard that said "Help manage our wildlife populations. Wear fur." Wyoming.
"I am not in DC anymore" moments – 1.seeing atleast 15 taxidermist shops 2.seeing a drive through liquor store 3.facing no traffic at all at any time of the day 4.staying in a house with a real wood burning fireplace
Best meal so far – Homemade idlis that my dear friend Sandhya bought when she visited me in Yellowstone. They were the softest idlis I've ever had! Such a treat to picnic with them by Lake Yellowstone. The fries at the Boise Fry company were insanely good. Not a meal technically, but it was so superb!
Craving – curd rice, a veggie bowl from Chipotle
A Magical Weekend at Yellowstone National Park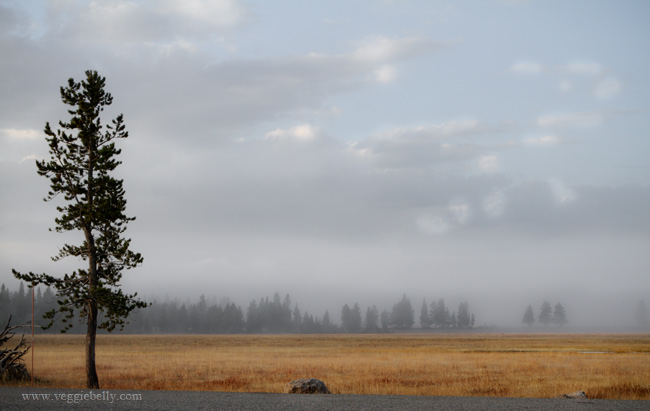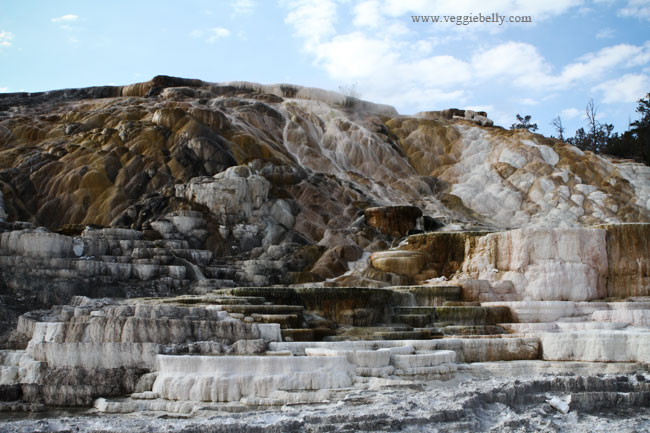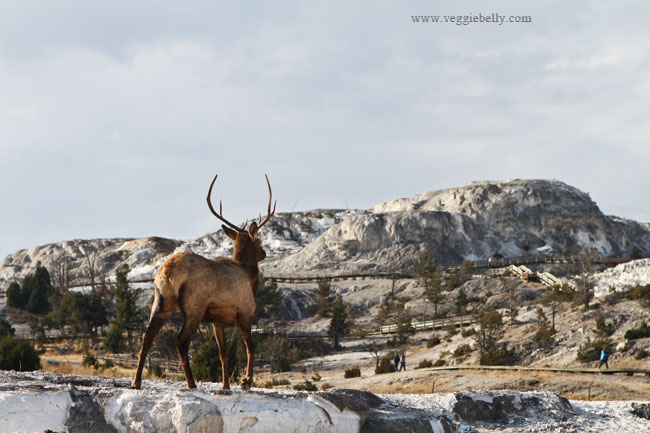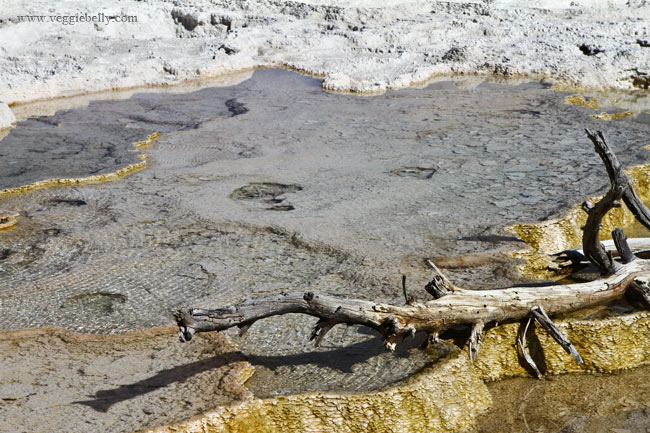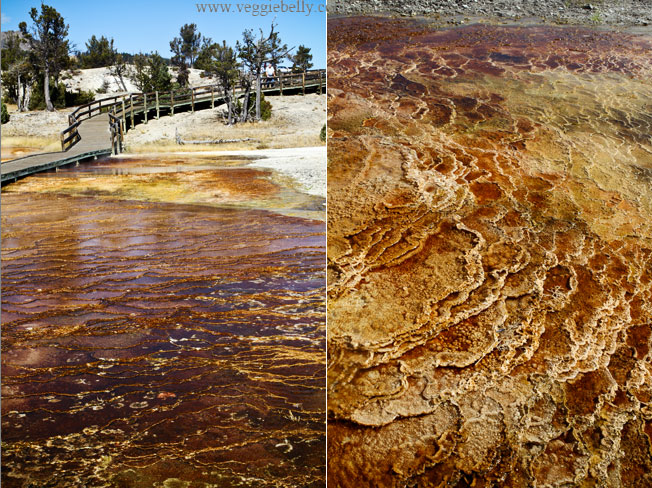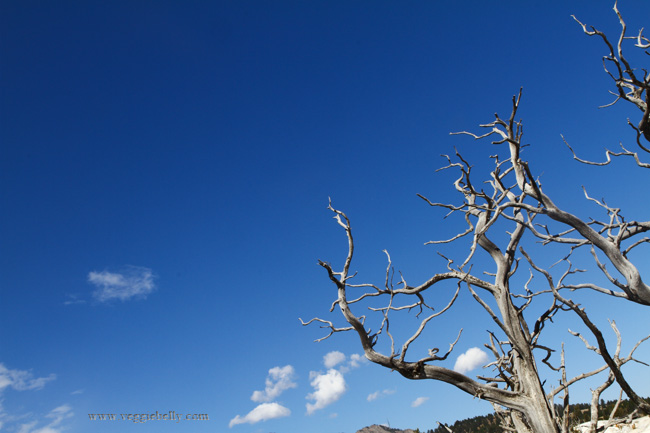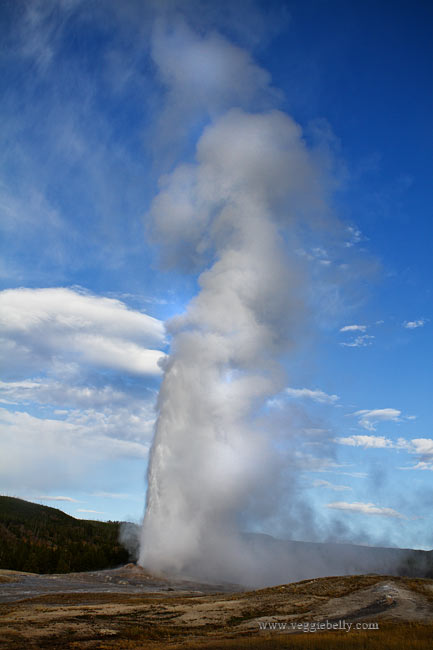 The Old Faithful Geyser erupts every 90 minutes or so.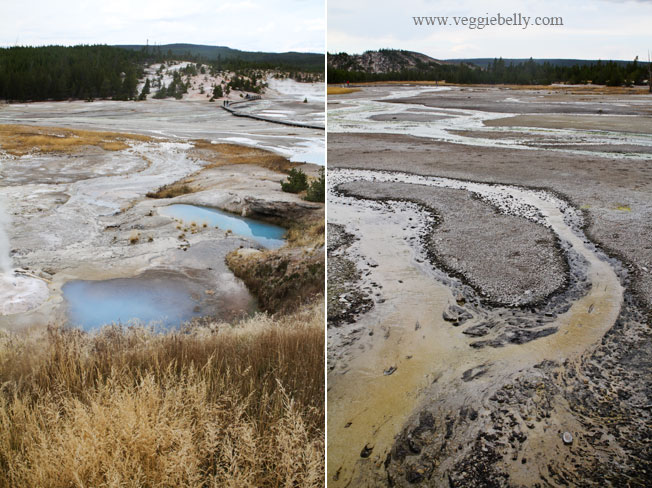 Geyser basins at Yellowstone.
The Old Faithful Inn, Yellowstone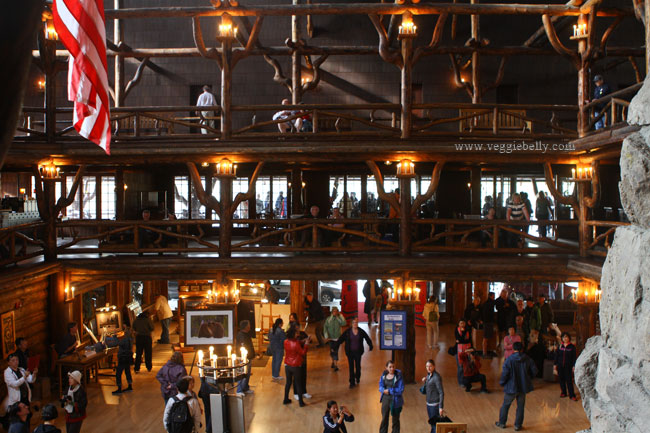 The Old Faithful Inn, built in 1903 using wood from Yellowstone National Park was the most unique, cozy hotel I've ever stayed in. Their historic dining room, gigantic stone fire place and rustic log cabin type rooms were all so warm and charming. I spent the evenings sitting on one of their cozy sofas overlooking the lobby, sipping herbal tea, and listening to the cello playing in a distance. It was like being transported back in time.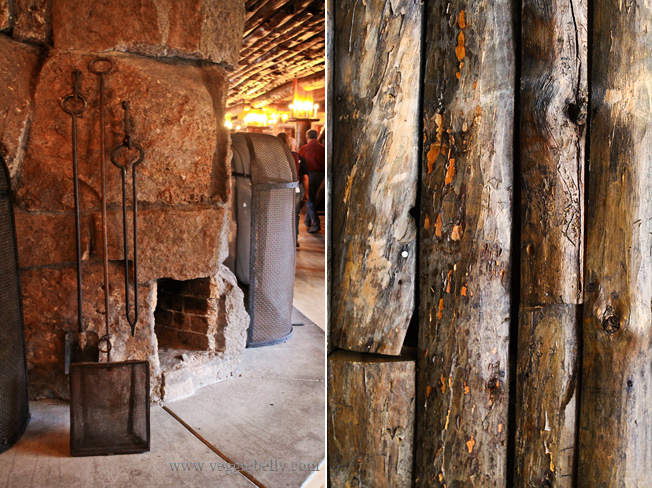 The mesh box like thing with the long iron handle above is an old pop corn maker. Back in the day, they put popping corn in it and put it in the fire place at the Old Faithful Inn.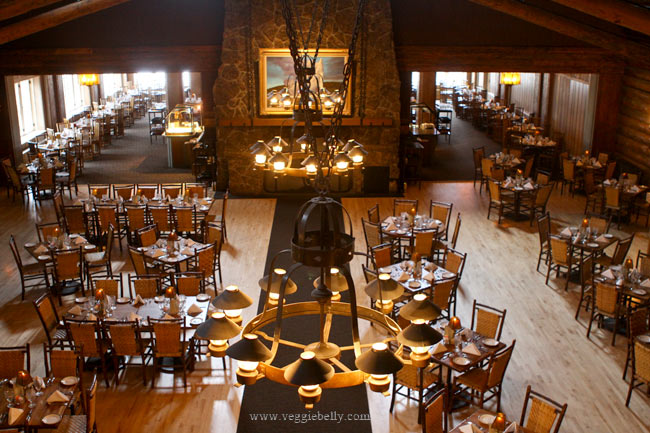 Above: The historic restaurant at Old Faithful Inn.
My good friend Sandhya, author of the blog Vegetarian Nirvana, joined me for a few days on this leg of the trip. It was wonderful to share my Yellowstone experience with her. Like me, she is also vegetarian, and came well prepared for her trip.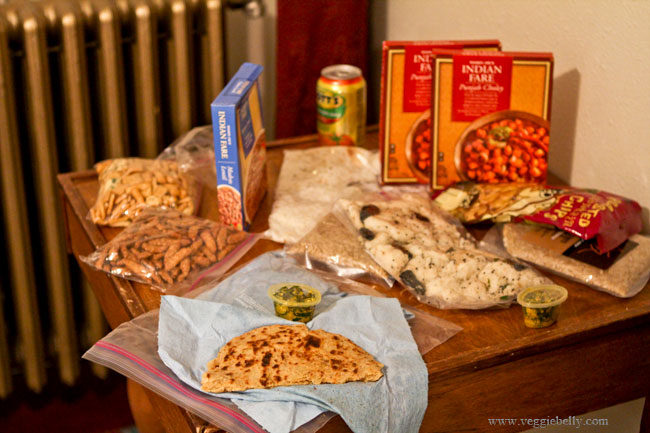 Finding vegetarian food at Yellowstone wasn't difficult, but our choice was limited. We had the packaged Indian food Sandhya brought along from Trader Joes for a few meals. Dinners were usually at the grand, historic restaurant at the Old Faithful Inn where we were staying.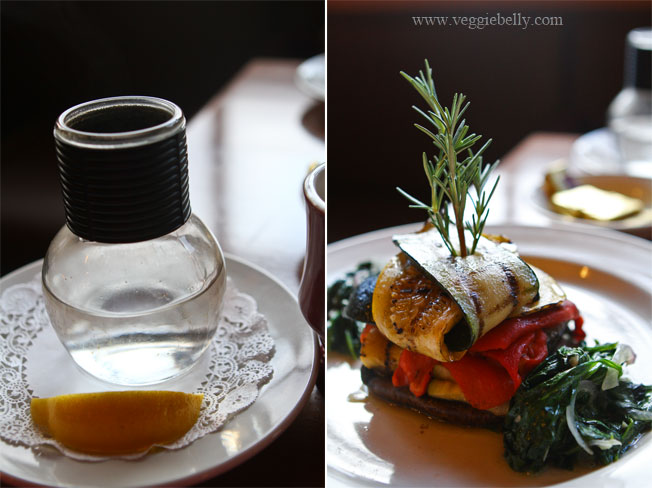 Above left is a hottle filled with hot water for tea. To the right – dinner at Old Faithful. A roasted vegetable stack of zucchini, red peppers, portobello mushroom and a disc of crispy polenta.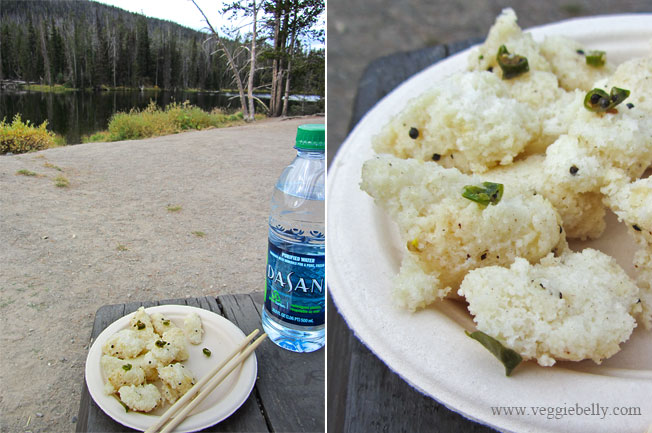 Every moment at Yellowstone was magical – from the stunning rainbow that greeted me just as I entered the park, to Sandhya's delicious homemade idlis we snacked on sitting at a picnic table by lake Yellowstone. The idlis were sauteed with lots of mustard seeeds, green chillies and asafoetida. Just how I like it. I was in idli heaven, floating on a fluffy idli cloud.
Wyoming - They Have Real Cowboys!
 It was just like in the movies (or like on Pioneer Woman)! I drove by cowboys on horses, rounding up sheep. And the cowboys were wearing chaps, and cowboy hats and all other stuff cowboys wear. They even tip their cowboy hats and say "howdy!". I was unmistakably in the wild west!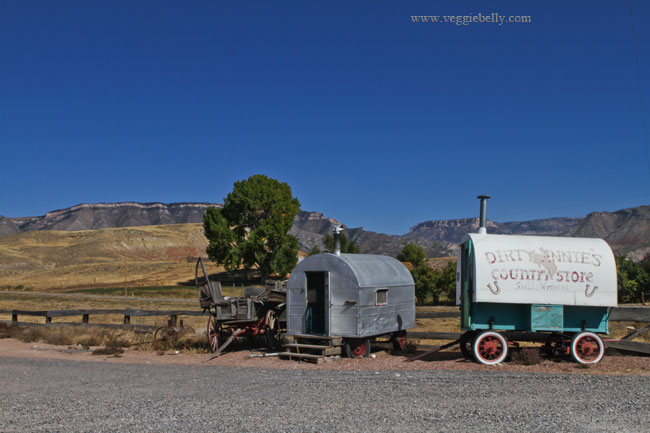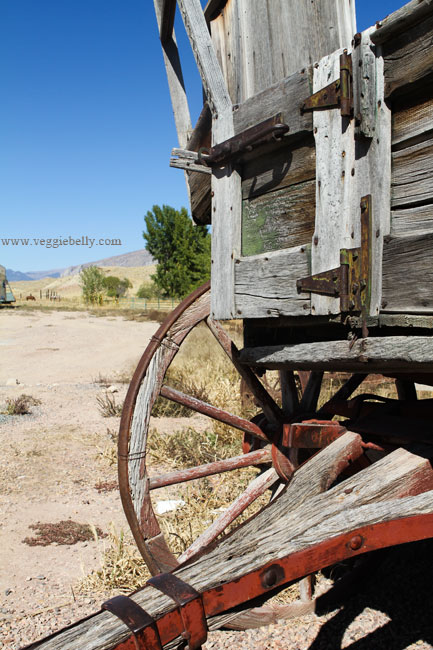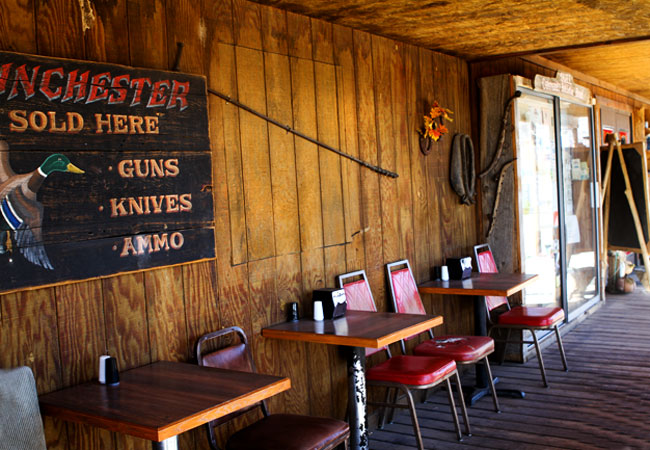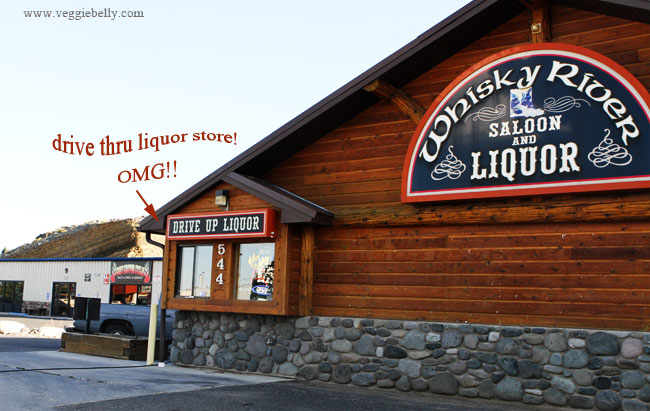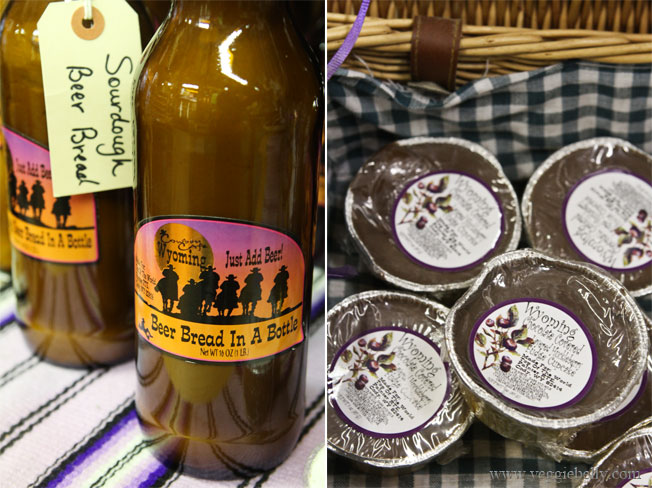 Beer bread mix in a bottle and Chocolate covered huckleberry fudge cupcakes.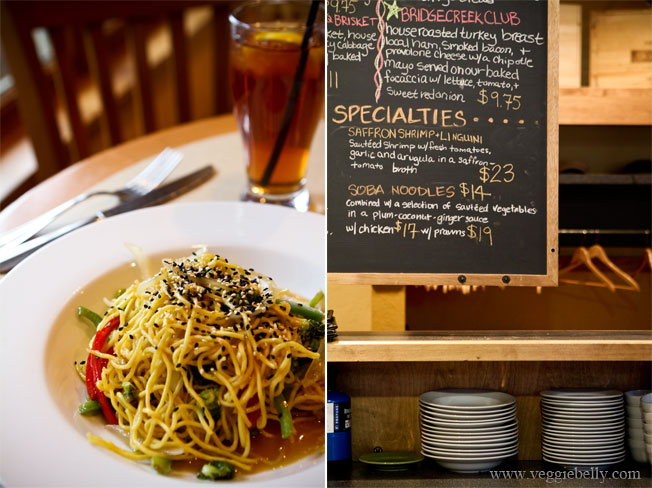 Lunch at Bridge Creek back country kitchen & wine bar in Red Lodge, Montana – soba noodles with plum coconut ginger sauce. They werent real soba noodles, but still very tasty.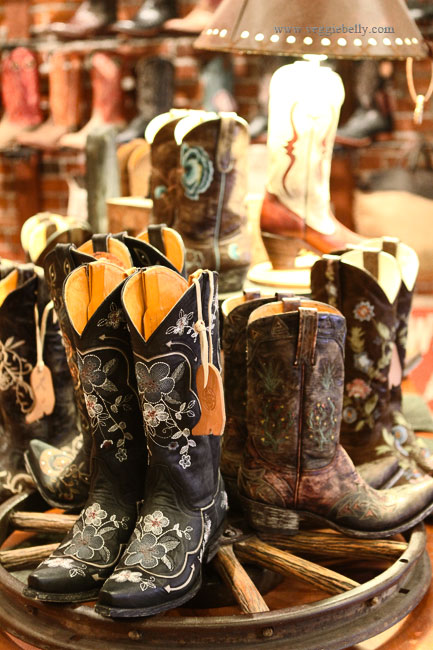 I want!
Lotus Cafe, Jackson WY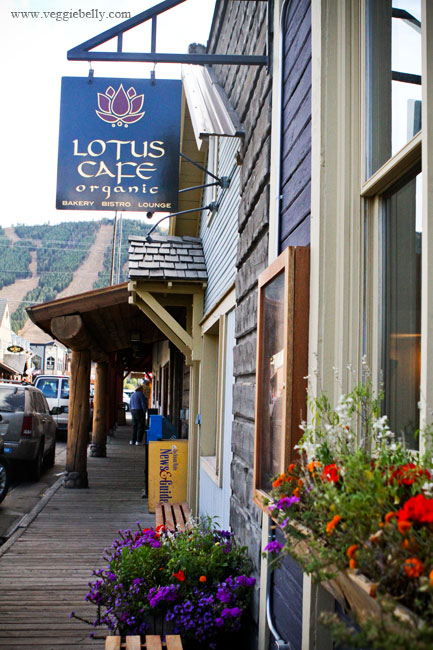 The wonderful Lotus Cafe in Jackson, WY. We stumbled upon this while walking around town. And we knew instantly that the word "lotus" promises healthy, vegetarian food.  The food was excellent; great atmosphere too.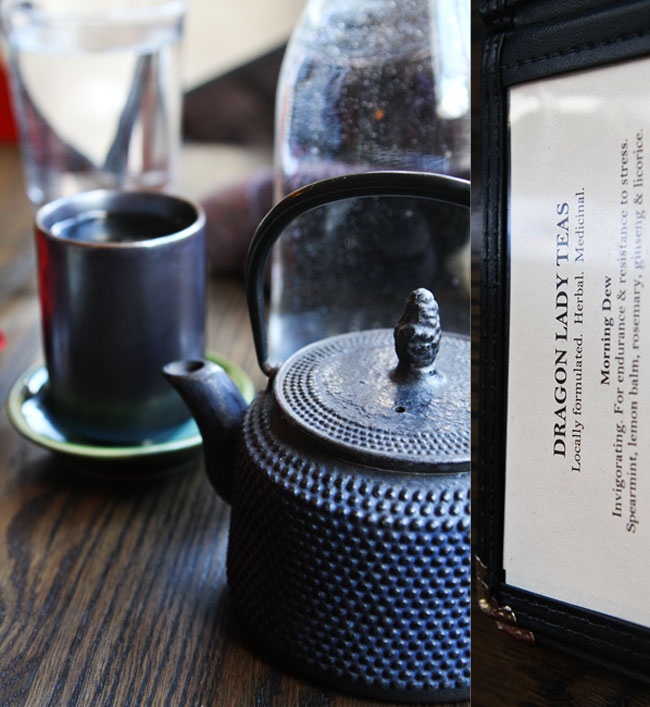 They have a very interesting list of teas, smoothies, and organic cocktails. I had the navigator tea, whch is meant to "open the heart and release..gently cleanse on many levels. Linden leaf, roasted dandelion root, jasmine flower, St Johns wort, hawthorne berry, elder flower, lotus petal".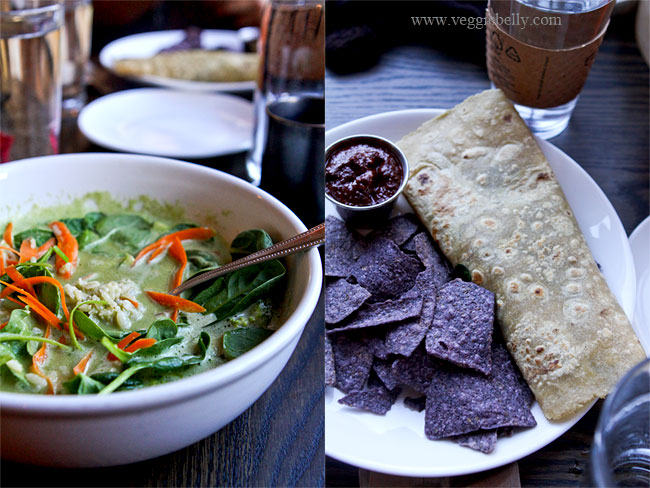 Next we had a thai green curry with brown rice. And a blackbean and veggie burrito, mole sauce and blue corn chips.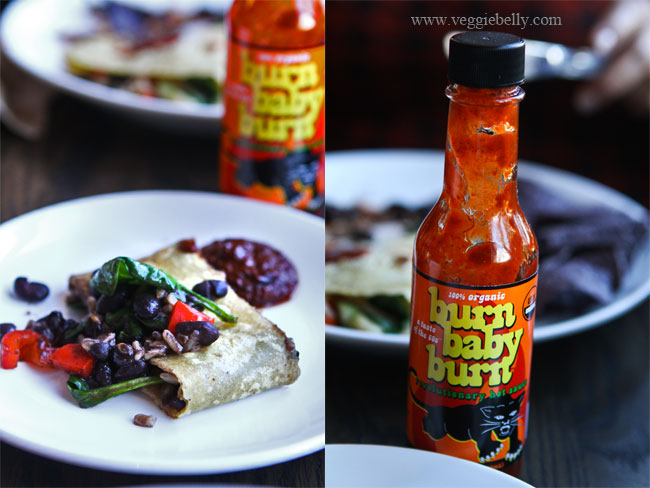 If you are ever in Jackson, WY, the Lotus Cafe is a must visit for vegetarians and vegan. You will love it.
The Boise Fry Company - When You Are in Idaho, You Have to Eat a Potato!
I have to thank my car's GPS for pointing me towards the Boise Fry Company. Their fries were phenomenal and what better place to eat deep fried potatoes than Idaho! I love their fry bar concept. You pick what kind of potato you want, what kind of cut, and few minutes later you get a bowl full of amazing fries. You then have a choice of about 25 kinds of salts and sauces for your fries. It was so much fun and so cheap!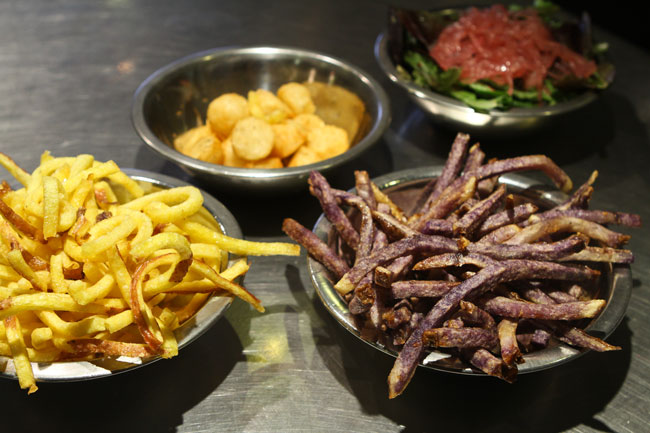 We had a regular cut purple potato fries, curly cut laura potato fries and po'balls which are like tater tots. We doused each one in different combinations of salts and sauces. I loved their smoked hickory salt and their rosemary garlic salt. I still think about these fries!
Commonly Asked Questions About My Road Trip Across America
I already did an FAQ about this trip in my previous post. I've received more emails with questions, so here is another installment.
How did you take pictures of yourself when you were alone?
I put my camera on a tripod and triggered it using a remote control. Or I hand my camera to other people to take a picture of me.
What kind of music did you listen to on your drive?
I knew I'd need a lot of music for this trip, so I made playlists on itunes before leaving. I mostly listened to Indian music. I am a huge fan of A.R.Rahman and had his Hindi and Tamil songs playing a lot. When I didn't feel like listening to music, I switched to Bill Bryson's audio book, "Notes from a small island". I also tuned in to local radio stations once in a while for information on weather and traffic.
How do you stay healthy on long trips?
I try to drink lots of water to stay hydrated; it also helps digestion. I like to eat as much fresh fruits, salads and vegetables as I can. I have a tendency to catch colds easily, so I take a high dose of vitamin C, like Airborne, every other day when im traveling. I find that the vitamin C really helps me.
Any tips for girls traveling alone?
-          Use common sense and instinct. If something doesn't feel right to you, don't do it.
-          Wear a wedding ring, even if you aren't married.
-          Talk about a husband, even if you don't have one.
-          Walk with confidence even if you are lost.  
-          Split your money in 2-3 places – like an inner pocket, your purse and your suitcase. That way if one gets lost, you still have money in other places.
-          Lock your car.
-          Always keep an eye on your belongings. If you have to put your backpack or handbag down, between yours legs is the best place.
-          Trust people. Most the people you will meet in your travels and good human beings. Interact with them for a richer experience.

Road Trip Giveaway
I'm Sharing the Goodies I Picked Up Along the Way!
One randomly picked lucky winner will receive the following things I picked up in various states on my trip: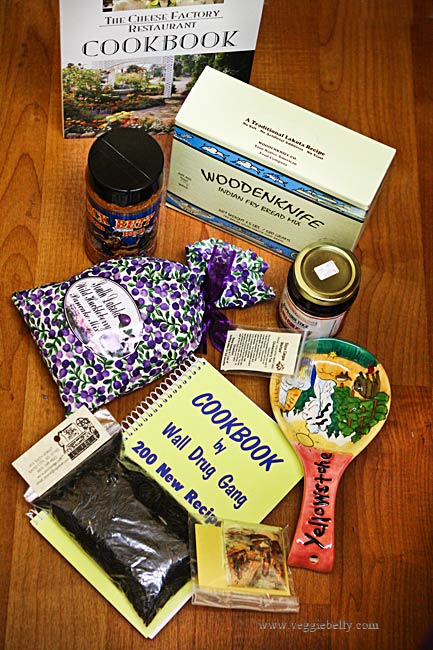 1.Woodenknife fry bread mix. Marketed by the Lakota tribe, this mix makes it easy to make your own Native Indian fry bread or Indian tacos. I had the fry bread made from this very mix in South Dakota, and it was delicous. Read more about my fry bread experience here.
2. The Cheese Factory Restaurant Cookbook. The best vegetarian cookbook I've seen! I ate at the Cheese Factory Restaurant, and the food was superb. The recipes in this book are easy and so full of flavor that you will love it!! Recipes include rattle snake tofu, their famous mushroom stroganoff, split pea and smoked seitan soup, Mexican "ouchies", kasha and brown rice pilaf, dal, Greek eggplant salad and much much more.
I've eaten their food, so trust me when I say this is the best vegetarian and vegan cookbook you will lay your hands on!
3.Wild Huckleberry Pancake Mix
4.Yellowstone Pink and Yellow Spoon Rest 
5.Kick Butt Hickory Spice Rub – great on tofu! 
6.Wild Plum Jelly 
7.Wild Black Rice – Minnesota style super long grain black rice
8.Wall Drug cook book – put together by the people at the Wall Drug store. Not a vegetarian cookbook, but there are tons of fun recipes like cheese puffs, quick coffee cake, whole wheat zucchini bread, brownie shortcake, vegetable burritos, noodle garden salad etc 
 9. Corn Meal Wasna – buttery corn meal candy with sugar, raisins, cranberries and chocke cherries.
10. Chokecherry Tea
How to enter the giveaway
'Like' Veggie Belly on Facebook
Follow me on Twitter
Subscribe to my RSS feed
Do one or more of the above. Then come back here, post a comment and let me know that you have.
If you are already following me through facebook, twitter or RSS feed, just leave a comment telling me so and you are entered in the giveaway!
Giveaway ends Wednesday, October 26th 2011, 9pm PST.  One random winner will be picked. I will ship anywhere in the world.
This giveaway has ended, winner is comment #19, Betty!
Comments
comments