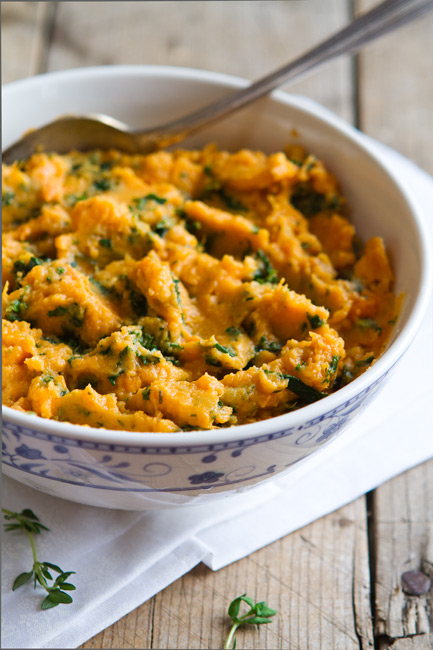 Like me, if you are  sick of serving your guests regular old mashed potatoes, you will love this recipe. This kale and goat cheese mashed sweet potatoes will be the perfect side dish for thanksgiving. And you can easily make it ahead and reheat it in the microwave.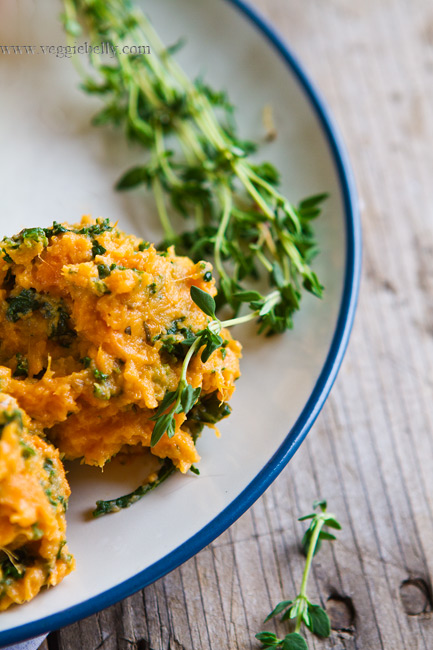 I make this recipe using a variety of greens – spinach, swiss chard, arugula…but kale is my favorite for this recipe. I used a log of herb encrusted chevre cheese because I like the flavor of the herbs. But any kind of good goat cheese will do.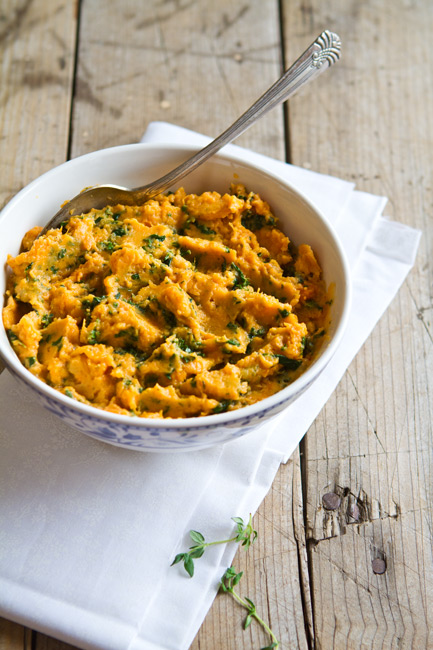 If you like your mashed sweet potatoes to be sweet, add 2 tablespoons brown sugar or maple syrup to this recipe. Serve kale and goats cheese mashed sweet potato with my thanksgiving tofu skin roulade and sage mushroom stuffing.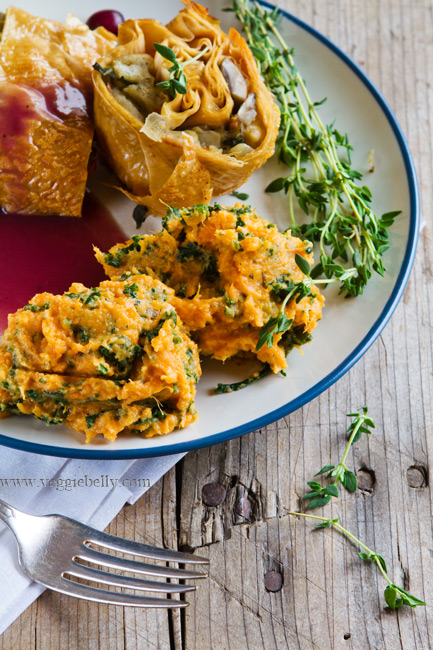 Kale and Goat Cheese Mashed Sweet Potato Recipe
serves about 4
Ingredients

2 lb (about 2 large) sweet potatoes or garnet yams
4 cups shredded kale
4 oz goat cheese
1 cup milk
Salt, freshly cracked black pepper
Method
Peel the sweet potato or yams. Cut into even sized 1 inch cubes. Place the sweet potatoes in a large pot filled with water. Boil uncovered for 15 minutes or till they are very soft.
Drain the sweet potatoes well and leave them in the colander.
In the same pot, add the kale, goats cheese and milk and bring to a boil. Reduce heat, and simmer till the kale has just wilted. Add salt and pepper. Turn off heat.
Add the cooked sweet potatoes to the hot kale and milk. Mash well. If the mashed sweet potato is too thick, add more milk to thin it out to your liking.
Comments
comments