Have you entered the Herbivoracious cookbook giveaway yet? You only have 2 days left to win Michael Natkin's brand new vegetarian cookbook, Herbivoracious! Click here to enter the giveaway!
Now on to Laila's delicious Arabic lentil soup recipe! I was in Bethlehem a few months ago, staying with a Palestinian family. (You can read all about my adventures here!) Laila, my wonderful host taught me how to make this simple, easy Arabic lentil soup. When I first tasted it, I had no idea how easy it is to make. And I was surprised that cumin is the only spice in this soup recipe! And guess what, cumin is all this soup needs. No need for any other funky, fancy flavors. The smokiness of cumin with the earthy lentils work very well together. Laila's soup is a beautiful example of how simple is sometimes the best.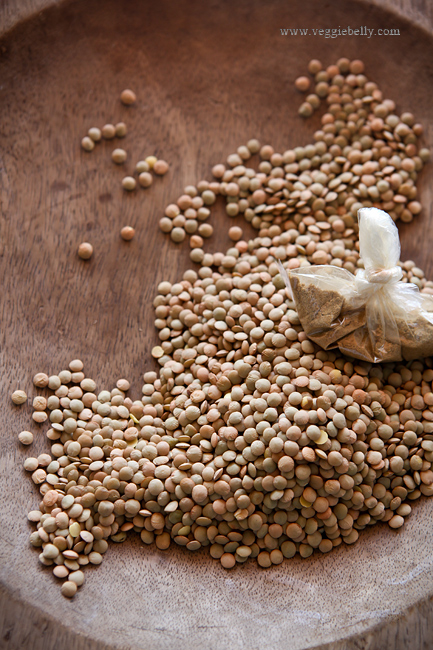 Laila used brown lentils. I used green lentils (pictured above) because I had some left over from making my dal fry mix in a jar for the holidays. You can use either brown or green, but keep in mind that cooking times may vary.
Laila served her soup simple and unadorned. And that's what I've done here too. But if you like, you can garnish your soup with chopped parsley, cilantro, chili flakes or shredded cheese. To make a complete meal out of this soup, serve it with some crusty bread or pita.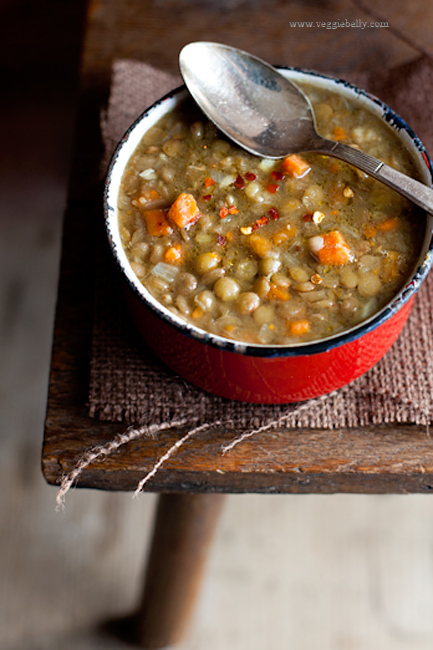 Laila's Arabic Lentil Soup Recipe
serves about 2
Ingredients
1 tablespoon olive oil
1 small onion, peeled and diced finely (1/2 cup when diced)
1 medium carrot, peeled and diced (1/2 cup when diced)
1-2 cloves of garlic, peeled and chopped
½ heaping cup dried green or brown lentils
½ teaspoon ground cumin
Salt to taste
Method
Heat olive oil in a medium heavy bottom sauce pan. Add the diced onions and cook on medium heat till soft and translucent.
Then add carrot and garlic and sauté till garlic is fragrant, about 30 seconds.
Now add the lentils and cumin and stir for 10 seconds.
Pour in 3 cups of water. Bring to a boil. Then reduce heat to simmer, cover the pan, and cook till the lentils are soft. This will take about 30 minutes.
If the soup needs more water while cooking, add more water one cup at a time, letting the soup come to a boil after each addition of water. (I used a total of 5 cups of water). How much water you need, will depend on how thick you like your soup, the lentils you are using and also the type of pot you are using. Just add the extra water one cup at a time till you get the desired consistency. And remember, the soup will thicken up when you mash the lentils.
When the lentils are done, they should be cooked and soft but should still be holding their shape.
At this point, turn off the heat. Using a potato masher, mash some of the lentils. I like to mash a third of the lentils, and leave the rest unmashed. If you want a smoother and thicker consistency, simply mash up more of the lentils.
Serve hot garnished with chopped cilantro or parsley or red chili flakes and some crusty bread or pita on the side.

Print
Comments
comments