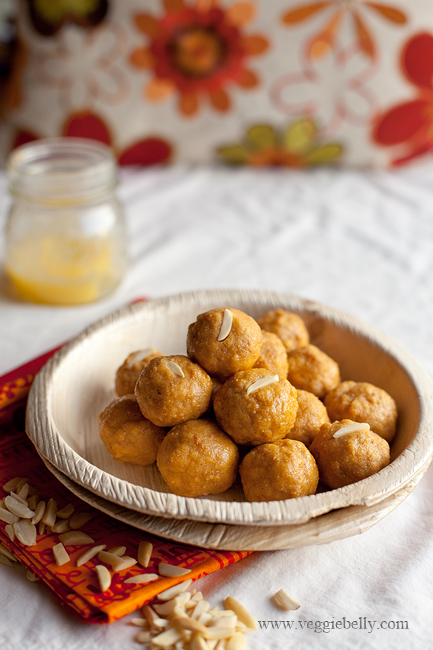 Diwali is around the corner and this besan laddoo or laddu is one of the easiest sweets you can make to celebrate. Diwali is the Indian festival of lights. It celebrates the victory of good over evil and light over darkness. Its one of India's most important festivals and we celebrate it with fire crackers, new clothes and by sharing sweets and snacks. If you are looking for a simple Diwali sweet recipe, try this besan laddoo. Its gluten free too!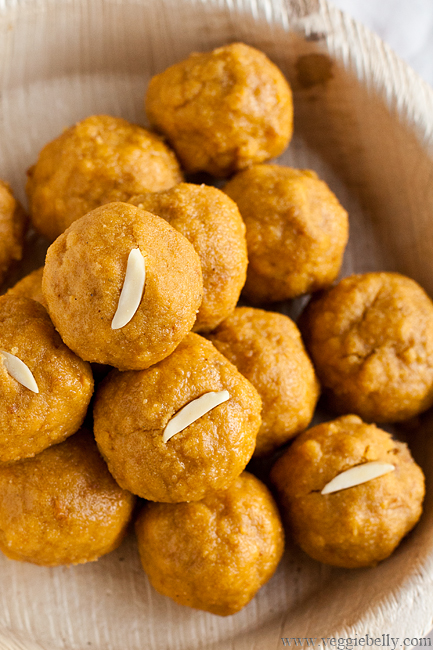 Besan laddoo is made with chickpea or garbanzo or gram flour, ghee, sugar and cardamom. It takes about 30 minutes to make, but most the work is just stirring. There really is nothing complicated about this sweet. If you are new to making Indian sweets, this is a great one to start with.
Some tips
- Make sure you use medium-low heat and stir the flour and ghee  mixture constantly to prevent burning
- You can use fine ground besan or the coarse ground variety. Both work. But I like the fine ground besan, it makes the laddoos melt in your mouth. If you like more texture in your laddus, use the coarse besan.
- The laddu mixture is ready when it turns golden starts to smell nutty. This will happen approximately around the 30 minute mark. If you can smell the besan getting toasted and nutty, taste a small pinch of it. It should taste cooked and not raw. Then its done and ready for the sugar and cardamom.
- When forming the laddoos, if they are too dry and falling apart, add extra ghee to the mixture one teaspoon at a time, mixing well after each addition, untill you can form it into balls.
Besan Laddoo Recipe
makes about 15
Ingredients
1/2 cup ghee or melted butter (melt 1 stick of unsalted butter). But I recommend you use ghee.
1 1/2 cups besan (chickpea or gram flour)
1 cup sugar
3/4 teaspoon cardamom powder
1 tablespoon slivered almonds, or cashew halves, optional
Method
1. Take a large non-stick skillet and add the ghee or melted butter to it. Heat it on medium-low heat. Once the ghee or butter is warm, add the besan (chickpea or garbanzo flour).
2. Cook this mixture on low-medium heat, stirring constantly. The laddu mixture is done when it looks golden and smells toasty and nutty. This will take 20-30 minutes. Look at the video above to see the different stages of the mixture cooking, and how it looks when its done.
3. When the laddu mixture smells toasted and looks golden, taste a little. It should taste cooked. There should be no sour after taste, if it tastes sour or raw, you need to cook it more. When the mixture is cooked, turn off the heat.
4. Let it cool for about 3 minutes. Then add sugar and cardamom, and mix well. Taste the mixture. If you want, you can add more sugar and or cardamom at this point.
5. Let it cool completely. Then gather about 2 tablespoons of the mixture in your palm of your hands, and press it to form a ball. (See video above).
6. If the mixture is too dry and wont form balls, or if the balls crack or dont hold together, you need to add more ghee or melted butter. Add 1 teaspoon of ghee or melted butter and mix well. Now try to form balls again. If its still too dry, add another teaspoon of melted butter or ghee and mix well. Try again. Keep doing this till you can form the mixture into balls. You shouldn't need to add more than 2 teaspoons (if that) of ghee or melted butter for this recipe. And make sure you don't add so much ghee that the laddoos become oily. And add the extra ghee or melted butter only if you need to.
7. When the laddoos are shaped, press an almond sliver or cashew half onto the top. This is optional.
8. Store laddoos in an air tight container, they will keep for a week.
Comments
comments