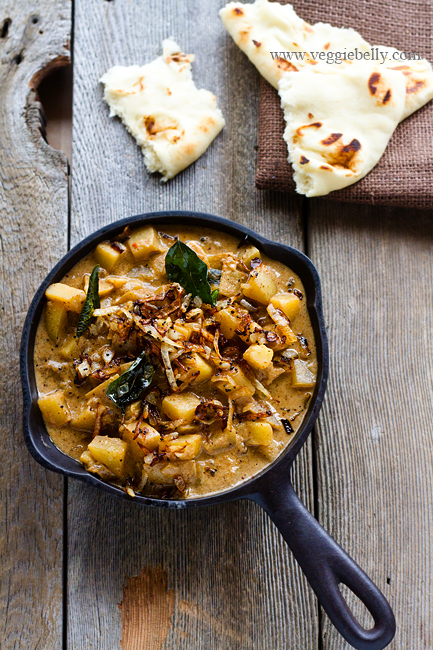 To commemorate my paternal grandmother's first year death anniversary, I am posting a series of my grandmothers favorite recipes. This potato kurma recipe is second in the series. Read my first post in the series here.
Of everyone in our family, I think I spent the most time with with my grandmother. She raised me, I shared a room with her, and went with her every where. I was always by her side. And I learnt a lot from this amazing woman just from tagging along. "Don't depend on anyone. You must learn to do things yourself", she'd say again and again. Every time I traveled with her, which was a lot, she would teach me again and again how to be independent. Through her, I experienced the joy that comes from not depending. As early as 10 years old, she'd make me check in at airports. There I'd be, not even reaching the counter, checking in for the two of us. It made my 10 year old self feel empowered and confident.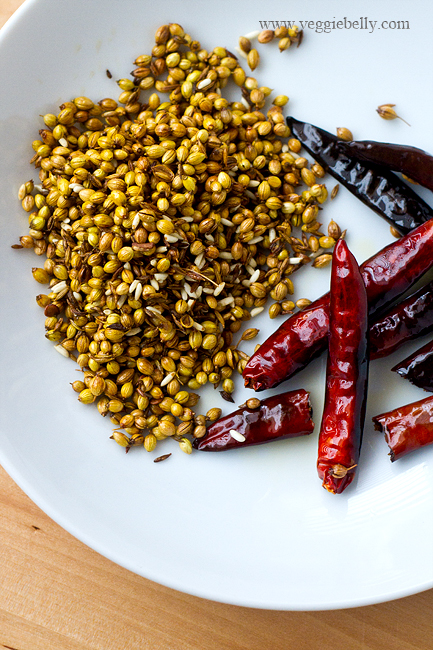 My grandmother also often said it was important to learn to cook and I think its one of there reasons I took an interest in cooking early one. (Ironically, she never cooked herself!). She relished this potato kuruma, often having her cook make it for dinner with fresh chappatis. This kurma, made with coconut milk and topped with fried onions, is rich and comforting. And the home made masala which is the flavor base of this kuruma is well worth the effort.
Take care not to overly brown the chills and the spices in the masala. If you over toast the spices, the kuruma will taste bitter. The trick is to stir constantly so the spices toast evenly. Remove the spices from the heat as soon as they smell fragrant.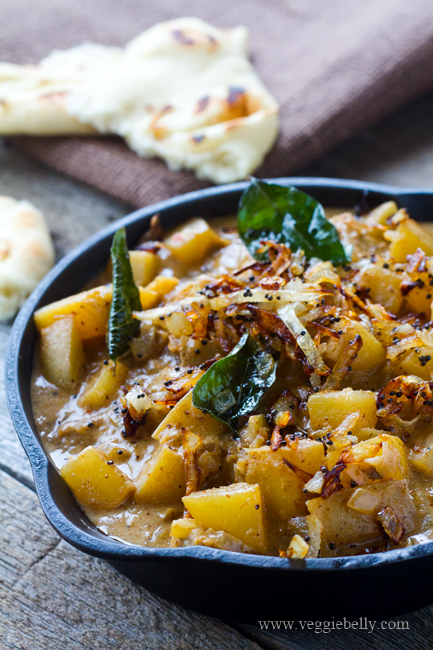 Potato Kurma with Fried Onion Recipe
serves about 4
Ingredients
For the Masala
1 teaspoon oil
6-8 dried red chilis
2 tablespoon coriander seeds
1 teaspoon cumin seeds
1/4 teaspoon uncooked rice, optional
For the Kuruma
1lb yukon gold potatoes
1/4 cup oil
3/4 cup finely diced yellow onion
6 curry leaves
Salt
1 cup coconut milk
For the topping
2 tablespoons oil
1/4 teaspoon mustard seeds
1/2 cup thinly sliced onions or shallots
1 dried chile
6 curry leaves
Method
1. First make the masala. Heat oil in a small skillet, and add chilis. Cook them on medium heat just till they turn color, about 45 seconds. The chills should still be fairly red in color, not black. Remove the chiles and place on a plate.
2. To the same pan, add the remaining masala ingredients. (No need to add extra oil). Fry till they are fragrant and lightly browned, about 45 seconds.
3.Using a spice grinder, grind the chiles and spices using a little water, into a thick paste. Set aside.
4. Now make the kuruma. Peel and cube the potatoes. You should have approximately 5 handfuls of cubed potatoes.
5. In a large wok or saucepan, heat the oil and add onions and curry leaves. Cook on medium heat till the onion is soft, about 1 minute.
6. Add the potato cubes and cook, stirring for about 5 minutes.
7. And the ground masala paste and salt. Stir well.
8. Add enough water to cover the potatoes (about 2 cups). Bring to a boil. Then cover the wok with a lid, and let the potatoes cook on a lively simmer till the potatoes are soft but still holding their shape. Then remove the lid, and continue cooking till most the water is absorbed.
10. Now pour in coconut milk. Stir and turn off heat.
11. While the potatoes are cooking, work in the topping – heat oil in a small saucepan, add mustard seeds and let them pop. Then add all remaining topping ingredients and sauté on medium heat till the onions are browned.
12. Top kurma with the fried onion topping. Serve kuruma with rotis or naan.
Comments
comments