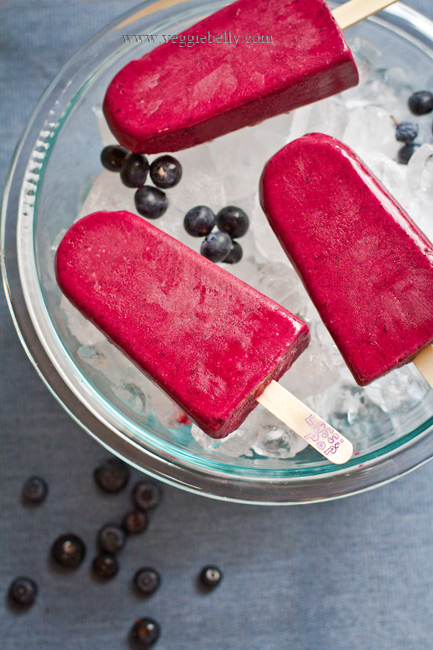 Last week, we went blueberry picking in Blue Bee Farms in Sauvie Island, Portland. It was a wonderful, relaxing evening picking blueberries with friends and enjoying the Portland summer. Before we knew it we had picked 50 pounds of blueberries! Blueberry recipes were already starting to pop up in my head! I thought I should make lassi, an Indian fruit and yogurt drink, with a batch of blueberries before I froze them for later use. Then I got a better idea. Blueberry lime lassi popsicles! They are easy to make and a unique frozen treat for a warm day.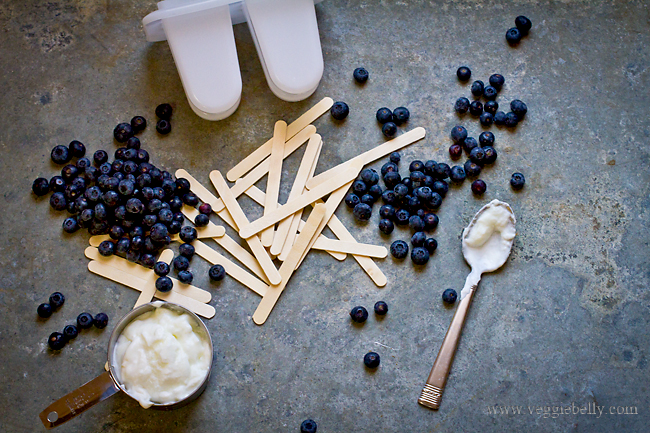 If you don't have popsicle molds, you can still make these popsicles. Simply the pour the lassi into paper cups and freeze them. Then when they are half frozen, stick a spoon in the middle. When you are ready to eat, tear away the paper cup, and wrap the spoon in a paper towel so it doesn't get too cold to hold.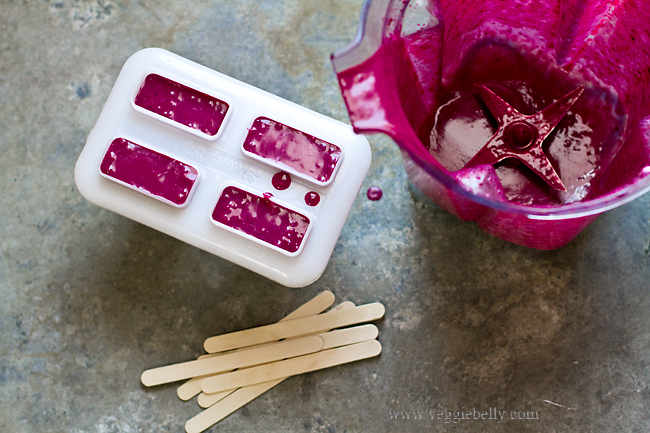 I cooked the blueberries in sugar briefly. But this step is optional. You can also simply puree all ingredients, uncooked, and feeze them. See the recipe below for the no-cook variation. I've tried a dairy-free version of this recipe, using coconut milk instead of yogurt and that was very tasty as well.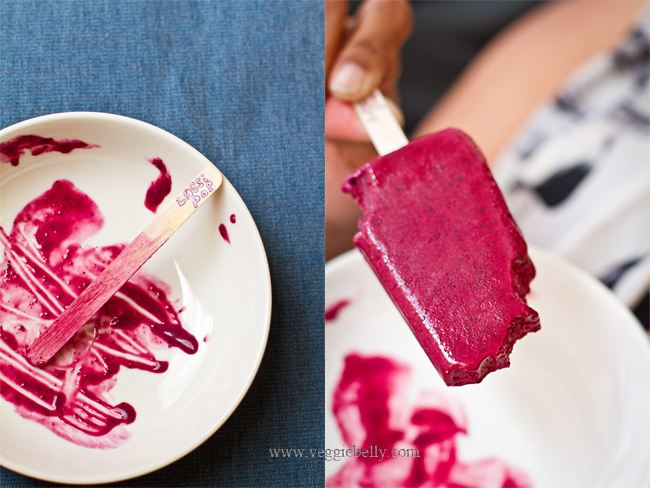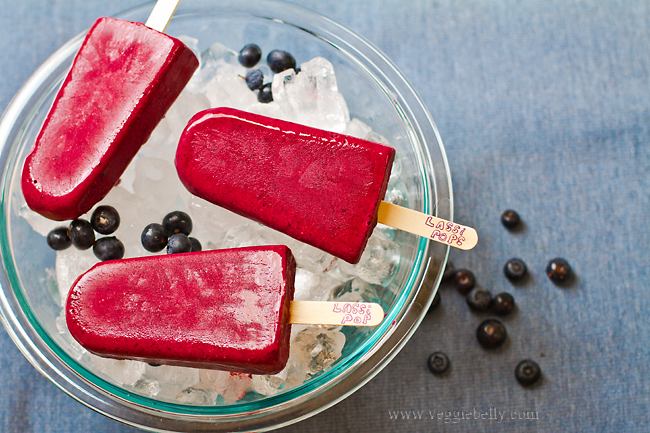 Blueberry Lime Lassi Popsicles Recipe
makes 4 popsicles
Ingredients
1 cup fresh blueberries
1/4 cup sugar
1/16 teaspoon (tiny pinch) ground cardamom, optional
A pinch of salt
1 cup full fat yogurt
Juice of 1 lime
A popsicle mold that can hold 4 popsicles
4 wood popsicle sticks
Method
1. Place the blueberries, sugar, salt and cardamom if using in a heavy bottom pan. Cook on medium heat until the berries are soft and mash easily, about 4 minutes.
2. Let the berry mixture cool to room temperature. Then pour it into a blender, along with the lime juice and yogurt. Blend until very smooth.
3. Pour the lassi into popsicle molds and freeze until semi-solid, about 1 hour. Now insert the popsicle sticks half way into the mold. Return to the freezer and let the popsicles freeze solid, about 4 hours.
No-Cook Version
1.Blend all ingredients in a blender until very smooth. Pour the lassi into popsicle molds and freeze in the freezer.
2.When the popsicles are semi-frozen, about 1 hour, insert the popsicle sticks half way. Freeze until the pops are solid, about 4 hours.
Comments
comments