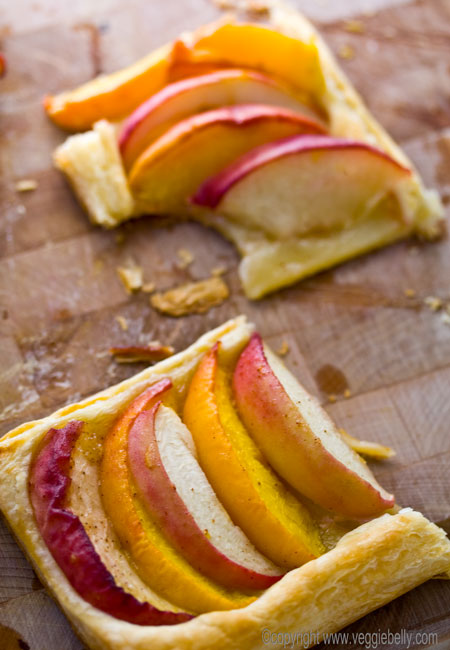 This is a ridiculously easy tart to make. Just chop up some peaches, toss in sugar and spices, arrange the peaches on puff pastry and bake off. That's it!
Ree from the Pioneer Woman blog made a puff pastry apple tart. The minute I saw that recipe, I bookmarked it. But I used peaches instead of apples because I have a ton peaches from my recent (and very enjoyable) peach picking trip. Thanks Ree, for a quick, easy and delicious dessert idea!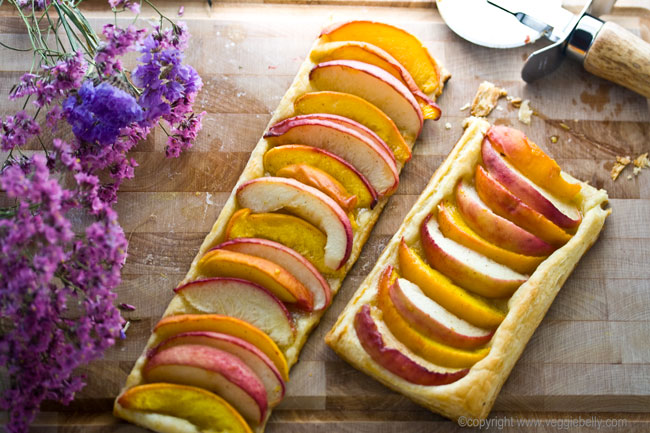 If you don't have peaches, substitute with any fresh fruits you have. Plums, figs, cherries, apples(of course!), mixed berries will all turn out delicious in this tart.
Before you get started on this recipe, head on over to my 'how to pit a peach' post for an easy way to pit fresh peaches. Once you've done that, you are ready to proceed with this recipe.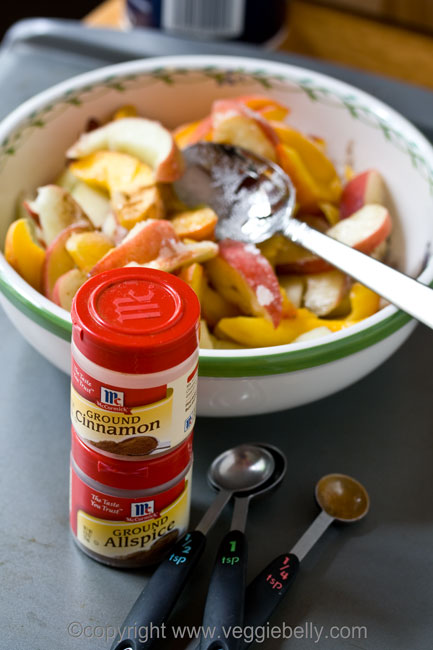 Toss the pitted, chopped peaches with sugar, cinnamon, allspice and a little salt. A pinch of salt always makes sweet stuff taste better.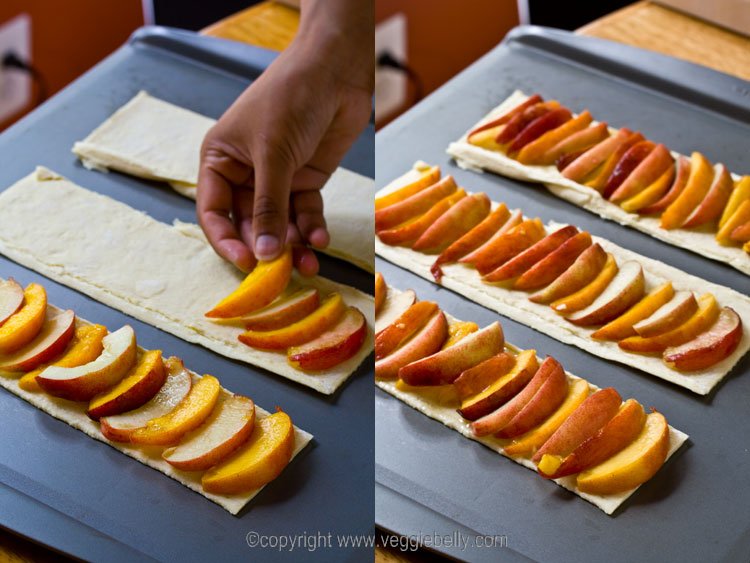 I cut the peaches into thin wedges. I didn't peel them. But I think I will next time. I didn't like the texture of the peach skin after it baked. 
Lay out a puff pastry sheet cut into thirds on a baking sheet. Arrange the peaches on the puff pastry. Bake in the oven.
Don't have puff pastry? Try making your own tart dough! Here is a recipe from David Lebovitz.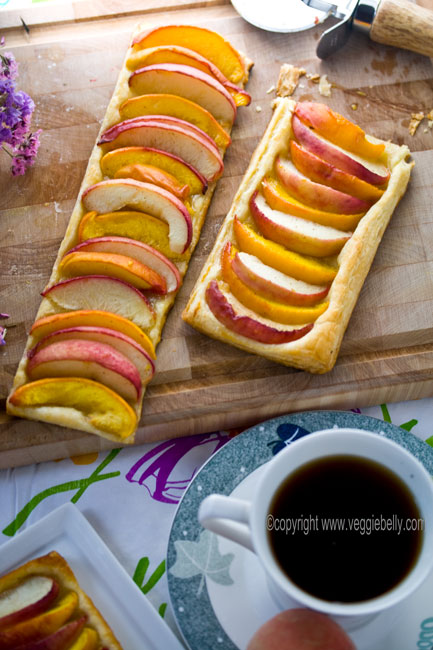 The tart will be done in about 20 minutes. The peaches will be sweet and juicy sitting on the crispy, flaky, warm puff pastry.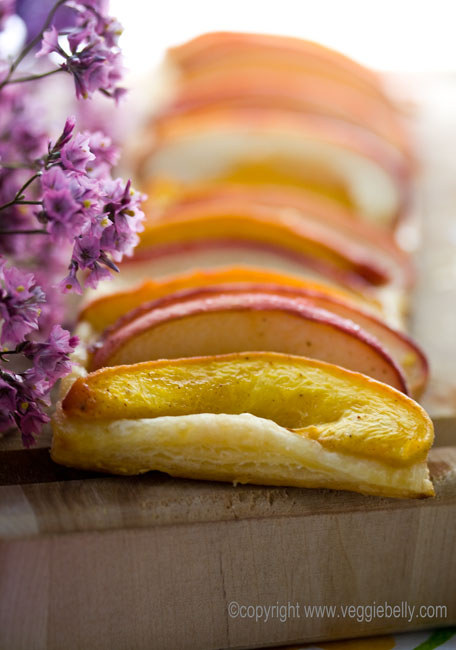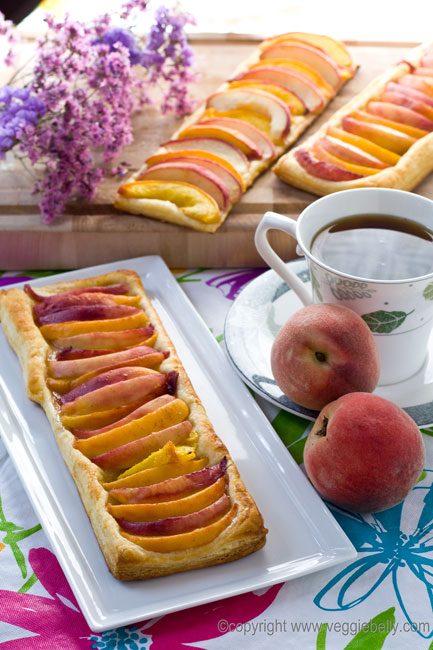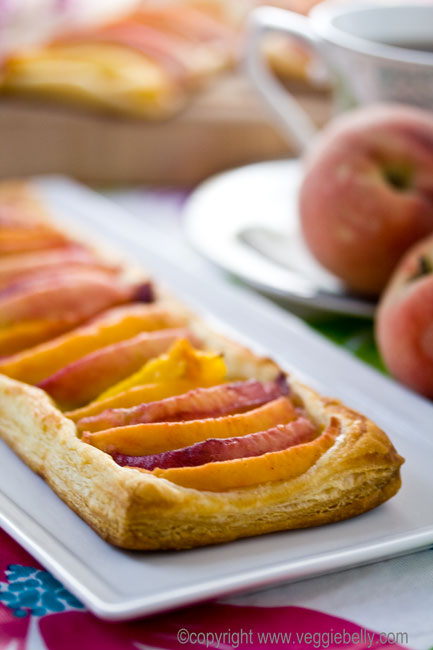 Easy Peach Tart
about 6 servings
1 sheet puff pastry
4 fresh peaches
1 cup sugar
1/4 tsp ground cinnamon
1/8 tsp ground allspice
1/8 tsp salt
Preheat oven to 400f
Thaw the puff pastry sheet for about 30 minutes. Pit the peaches and chop them into wedges. Peel the peaches if you like. Toss the chopped peaches with sugar, cinnamon, allspice and salt.
Cut the puff pastry sheet into thirds and lay it out on a baking sheet. If your the baking sheet is not non-stick, spray it with non-stick spray or oil. Arrange the peach slices on the puff pastry. Bake for 20 minutes or till the puff pastry is golden. Serve with whipped cream or ice cream.
Note: if your peaches are particularly sweet or juicy, the juices may burn in the oven. In this case, reduce oven temp to 350.
Comments
comments