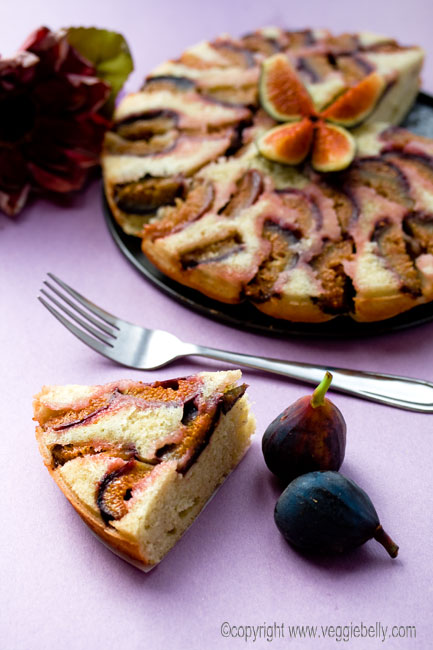 I have a confession. I cheated big time with this cake. I used…gulp…store bought cake mix! I didnt have time to make cake batter at home and I really wanted to make a fig upside down cake with a gorgeous box of fresh black figs.  So I resorted to a betty crocker mix…and it turned our yummy. The figs were so soft and sweet, I thought a nice rum and spice upside down cake would be fitting for these figs.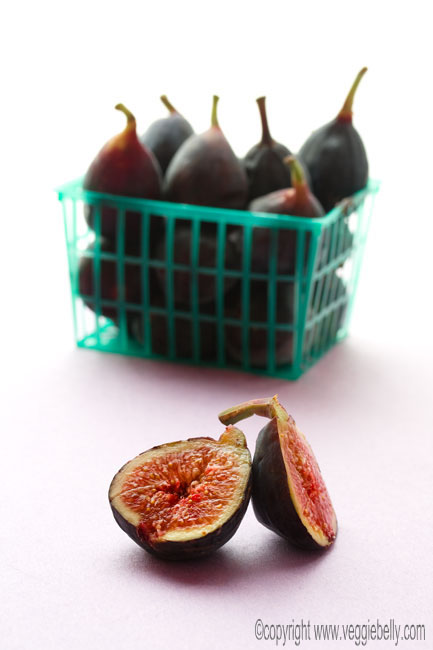 Dont keep fresh figs for more than two days. They are best used the day you buy them.  You could also use dried figs in this recipe – just simmer them in a little water to reconstitute them and then proceed with the recipe.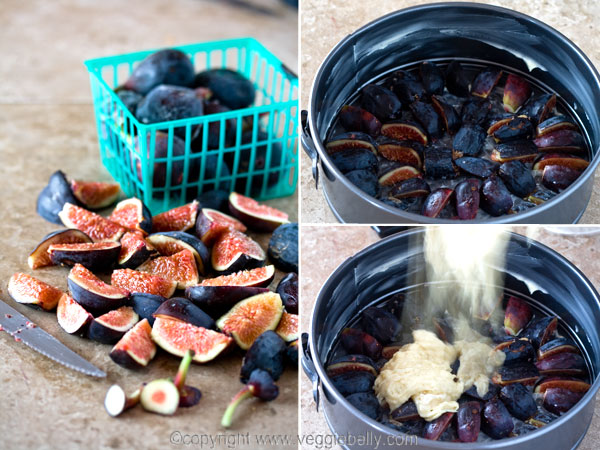 Wash and pat dry the figs. Then trim off the stems and quarter each fig. Pour some rum and spices over the figs and let them sit while you make the cake batter. Then arrange the figs in a cake pan and pour cake batter on top. Bake according to the instructions on the cake mix box.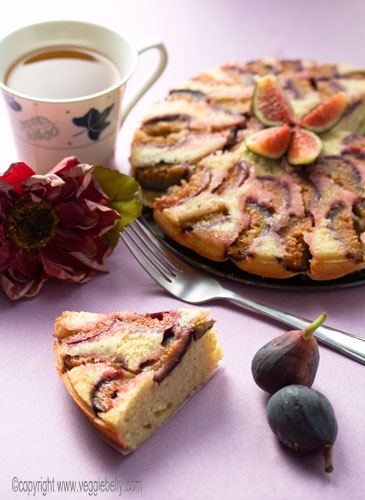 When the cake is done, invert it onto a plate and you'll have gorgeous fig studded cake!
This post goes to monthly mingle over at 'My Diverse Kitchen', Meeta and Aparna have chosen the theme,  high tea.
Fresh Fig and Rum Upside Down Cake
Serve about 10
12-16  fresh figs
2/3 tsp cinnamon
1/4 tsp nutmeg
1/4 tsp allspice
1 tbsp sugar, more or less depending on how sweet the figs are
4 tbsp rum (I used captain morgans spiced rum)
1 box store bought cake mix (angel food, white or yellow cake mix)
Ingredients need to make the cake mix
Wash and dry figs. Cut off the stems. Quarter the figs. Arrange the figs in the bottom of a buttered cake pan in a single layer. (divide teh figs and batter into two cake pans if necessary). Mix cinnamon, nutmeg and allspice, sugar with rum. Pour this spiced rum over the figs.  Then prepare the cake mix according to manufacturers instructions. Pour cake batter into the cake pan, on top of the figs. Bake according to directions on the box. When cake is done, let it cool for 10 minutes and invert in onto a plate.
Comments
comments