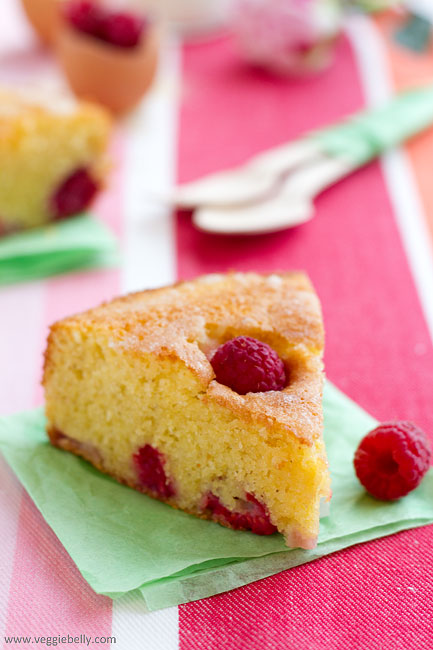 Its rhubarb season! Grocery store shelves are brimming with these beautiful red stalks. I couldnt let spring roll around and not make anything with rhubarb! Usually, rhubarb is used along with strawberries in pies (because rhubarb and strawberry seasons coincide). This recipe features rhubarb, along with raspberries in a polenta or cornmeal cake. If you like corn cakes, you'll certainly love this dessert version!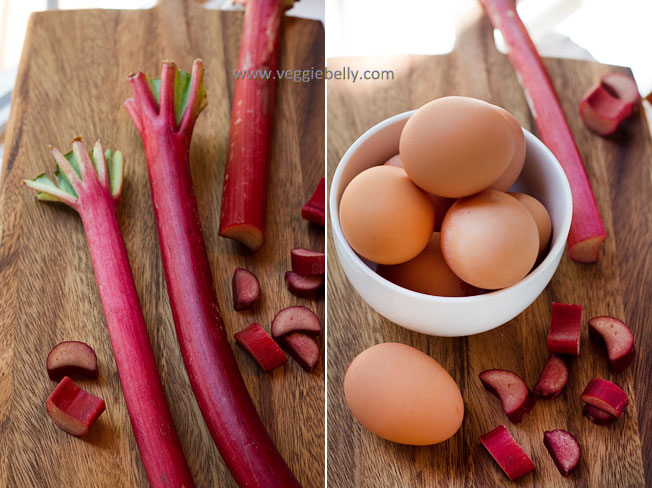 Andrea, from Cooking Books blog says its the Scandinavians who know how to best enjoy the tartness of rhubarb. Andrea says,
"I'm not sure anyone appreciates rhubarb the way the Scandinavians do. In the US, it seems like you rarely find rhubarb without strawberry to mellow it's tartness. But in Norway, rhubarb stands very much on its own. In fact, R remembers as a child being given stalks of raw rhubarb with a small bag of sugar for dipping and munching."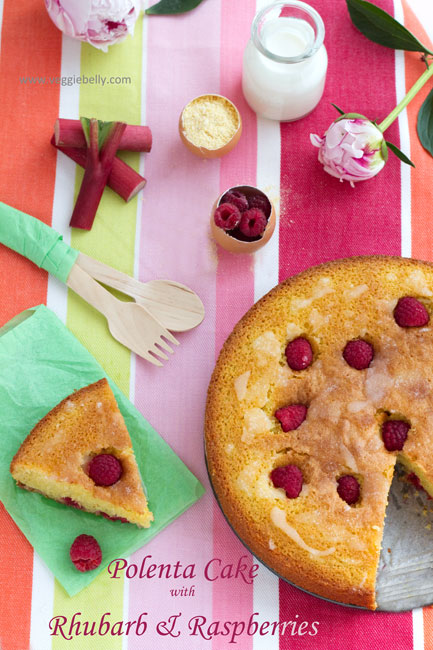 Tart rhubarb, tart raspberries, in a sweet, cornmeal cake. Just delicious! And I love the 'corny' taste and texture of this cake too.
I adapted the recipe from this recipe for raspberry and lemon polenta cake  by Jane Hornby. Jane's recipe is for a layered polenta cake, filled with a cream cheese filling. I left out the filling all together and simply made a single cake, adding rhubarb.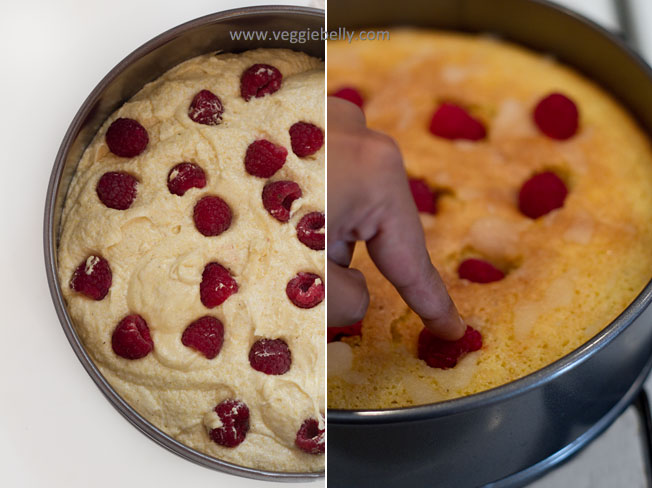 Add most the fruit to the batter and bake half way. Then sprinkle more berries on top of the half-cooked cake and continue baking.
Ever baked a cake with fruits in it and all the fruits sink to the bottom? Jane has the solution! Its a great trick for getting this cake to look beautiful too. Reserve some of the berries and then sprinkle them on top of your cake half way through baking. The cake should still be jiggly when you do this. Gently press the berries into the batter like the picture above and return cake to the oven. The batter will bake around the berries and when its done, you'll have a perfect, berry studded cake!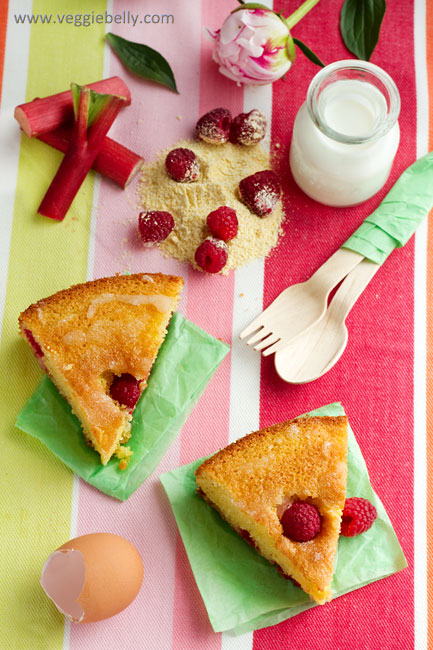 You can store this cake covered at room temperature for about 2-3 days or wrapped tightly in the fridge for about 4-5 days. Serve with icecream or homemade rhubarb-raspberry compote.

Rhubarb Raspberry Polenta or Cornmeal Cake Recipe
adapted from this recipe  by Jane Hornby
serves about 8
8 oz or 225 grams sugar
8 oz or 225 grams butter, at room temperature
4 large eggs
1/2 teaspoon vanilla extract
6 oz or 175 grams fine cornmeal or polenta
1.75 oz or 50 grams flour(I used cake flour)
1 1/2 teaspoons baking powder
a pinch of salt
zest of 1 lemon
1 cup chopped rhubarb
1 cup raspberries
1/2 cup sugar
1 tablespoon lemon juice
Pre-heat oven to 375F. Butter a 9 inch cake tin or baking dish and line the bottom with parchment paper.
In a standing mixer, cream the sugar and butter together for about 3 minutes. Then add the eggs to this mixture one by one. Beat on high speed till the mixture is fluffy. Add vanilla and turn off the mixer.
Sift together the cornmeal/polenta, flour, baking powder and salt. Fold this into the egg mixture in 2 batches. Stir in lemon zest. Pour this batter into the baking dish or cake tin.
Reserve about 1/8 cup of the rhubarb and 1/8 cup of raspberries. Sprinkle the rest of the rhubarb and raspberries on top of the cake batter. Smooth out the top. Bake in the oven for about 20 minutes. The cake should still be jiggly, but risen. At this stage, take out the cake from the oven. In a small bowl, combine 1/2 cup sugar with 1 tablespoon lemon juice. Sprinkle the lemon juice-sugar mixture all over the top of the cake.
Then arrange the reserved rhubarb pieces and raspberries on top of the half cooked cake. Gently poke them into the batter (but dont poke them all the way in — see picture in post above).  Return cake to the oven and bake another 10 minutes. Cool cake slightly before removing it from the pan.
Comments
comments