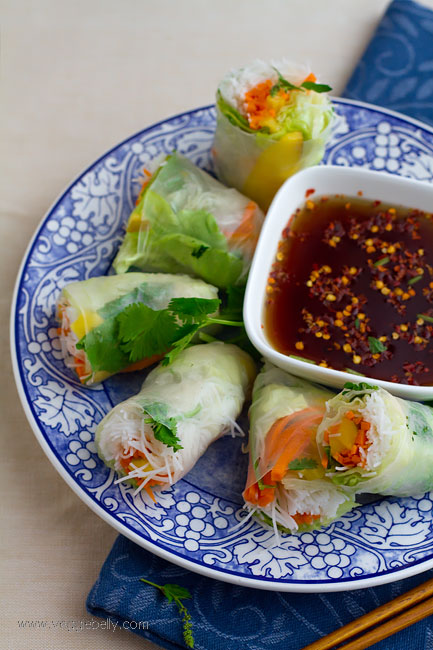 Another no-cook recipe – these Vietnamese summer rolls or Goi Cuan are bursting with fresh herbs and vegetables. And they will be perfect to take along for a vegetarian picnic.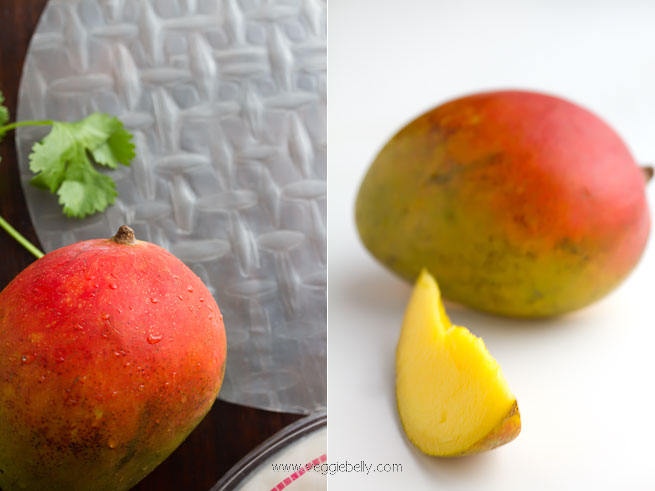 I used mangoes here for some summery, fruity, sweetness. But you can use pretty much any combination of vegetables in this summer roll. I'm not a fan of mangoes, so I made this recipe for our guests (they loved it) and I made myself a roll with carrots and purple cabbage.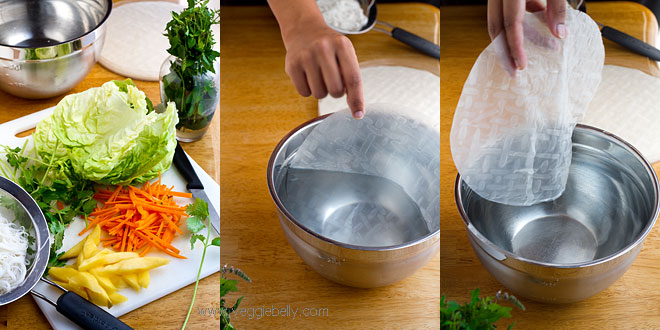 Set up all the ingredients on a clean surface. Dip a rice paper wrapper into a large bowl of water. Make sure all sides get wet. Then remove the rice paper and gently shake it dry. The rice paper will now be pliable. If it isnt, let it stil on the table (not in the water) for a few more seconds.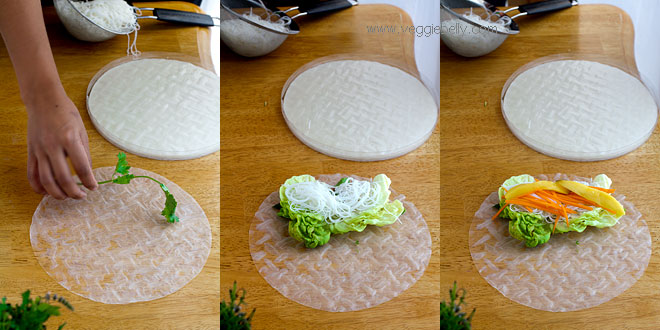 Place the softened rice paper wrapper on a clean surface. Place filling ingredients on the front (closest to you) 1/3rd of the rice paper wrapper in this order – cilantro, mint, lettuce, noodles, carrot, mango.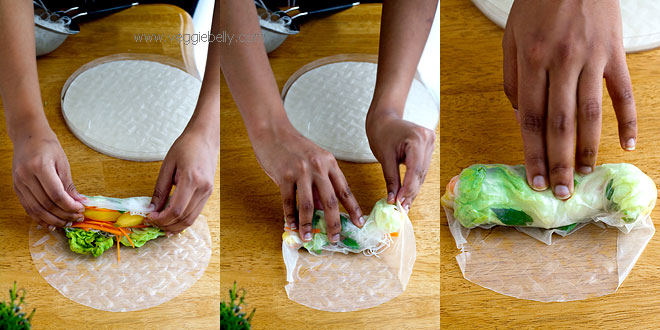 Now fold the front part over the filling and roll. Then fold both the sides in. Roll gently but firmly.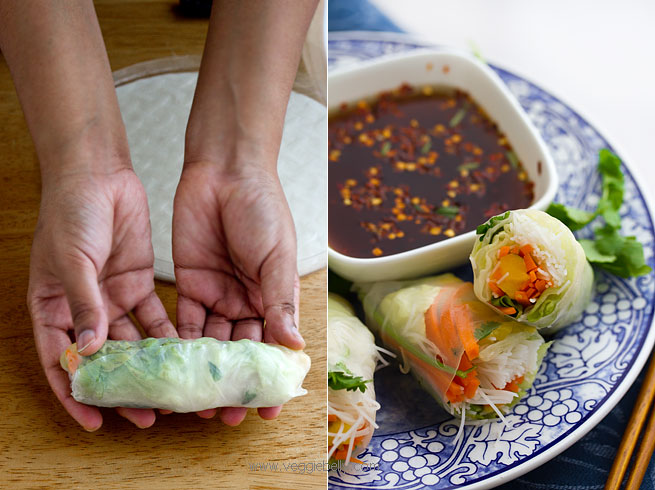 Its that simple! With practice, you will get better and better at rolling. Serve these Vietnamese summer rolls with sweet chili dipping sauce. Regular Vietnamese dipping sauce or Nuoc Cham has fish sauce. See below for my vegetarian Nuoc Cham recipe.
Vietnamese Summer Rolls or Goi Cuan with Mango Recipe
makes 6 rolls
2 oz dried rice sticks or rice vermicelli (available in Asian section of most grocery stores)
6 rice paper wrapper sheets (called 'bahn trang' - available in Asian section of grocery store)
a large bowl of water to dip rice paper sheets
6 sprigs cilantro
6 sprigs mint
6 leaves lettuce, rib/stem removed (I like boston lettuce)
1 small ripe mango, peeled and cut into strips (substitute with shredded purple cabbage, cucumbers, savoy cabbage, bean sprouts)
1 carrot, peeled and cut into match sticks
Soak rice sticks in boiling water for about 3 minutes or till soft. Drain well.
Dip the rice paper sheets in water, making sure all sides are wet. Shake off excess water. Place on a clean work surface. Place a sprig each of cilantro and mint in the front 1/3rds of the rice paper sheet. Then place lettuce leaf, a little rice noodles, carrot, and mango slices. Fold and roll the summer roll – see photos above for details on how to roll vietnamese summer roll.
Serve immediately with vegetarian vietnamese dipping sauce (recipe below). To store, put rolls on a plate, cover with a damp paper towel. Then cover plate completely with foil or plastic wrap and refrigerate.
Sweet Chili Dipping Sauce or Vegetarian Nuoc Cham (Vietnamese dipping sauce) Recipe 
makes little less than 1 cup
4 tablespoons light soy sauce
4 tablespoons rice vinegar
2 tablespoons sugar
2 tablespoons warm water
1 garlic clove peeled and crushed
Red pepper flakes or chopped fresh chili to taste
Whisk everything together till the sugar dissolves.

Print
Comments
comments