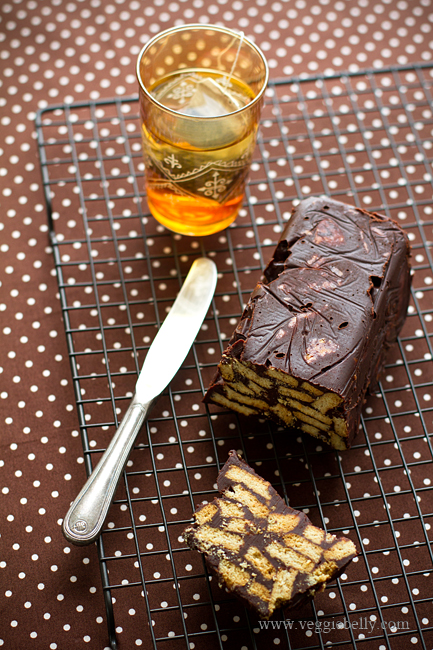 Watching snippets of the royal wedding on TV, and seeing Prince Williams groom's cake – a chocolate biscuit cake – reminded me of the chocolate biscuit cakes of my childhood. Because my mother grew up in the UK before moving to India, we had a lot of British treats in our home in India. Chocolate biscuit cake was one of them. This recipe is simple to make, and requires no baking (which is why it's also called a fridge cake).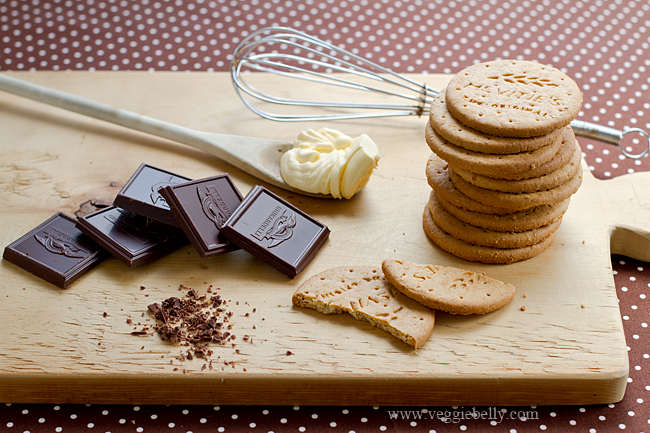 As kids in India, we used to make this recipe with Indian Marie biscuits. We'd dip them whole into chocolate sauce, and stack them up – towers of chocolate biscuit goodness!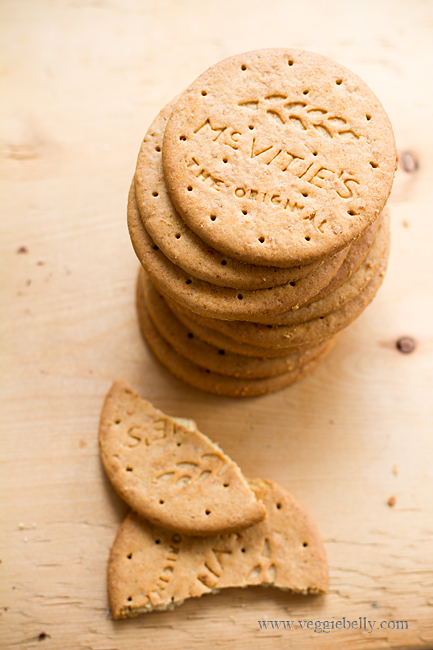 If you can find British digestive biscuits, they are the BEST for this recipe. I was thrilled beyond belief to find British McVities digestive biscuits in the International aisle of my local grocery store! I believe you can also find them at world market.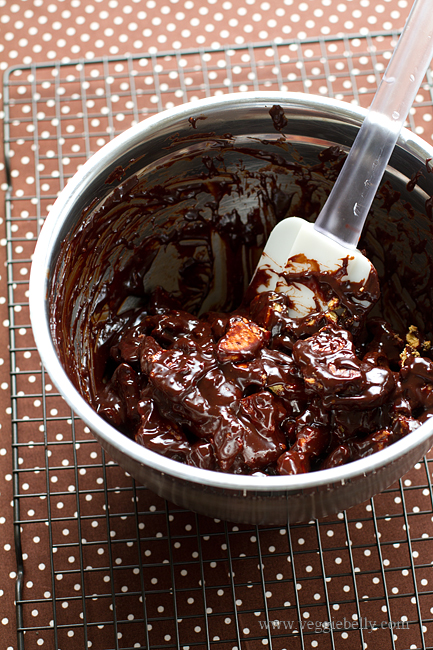 A digestive biscuit is a coarse wheat cookie, flaky, no too sweet and oh-so-delish. I wonder why it is "digestive"; must be because it has a bit more fiber than a regular cookie.
Substitutes for British digestive biscuits
- American graham crackers
– British rich tea biscuits (my second favorite for this recipe)
- Indian Britannia digestive biscuits
- Indian Marie biscuits
If you are using butter cookies or graham crackers, remember that they are sweeter, you might need less. Also taste and adjust the sugar as you go if you are using any of the substitutes.
You can glaze this cake with a chocolate ganache, but I skipped that step because the cake is quite rich as it is.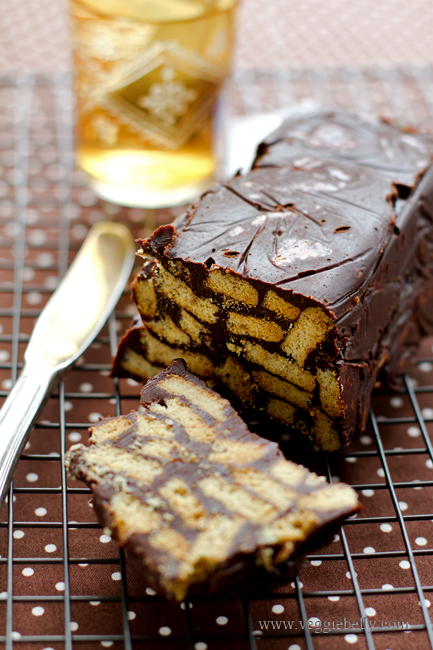 More yummy chocolate biscuit cake recipes..
Official Buckingham Palace chocolate biscuit cake recipe by Darren McGrady, former personal chef to the royal family
Chocolate biscuit cake recipe on Oprah.com
Chocolate biscuit cake recipe on Daily spud
Royal wedding groom cake recipe by Brown eyed baker
No bake English chocolate biscuit cake recipe on Joy of baking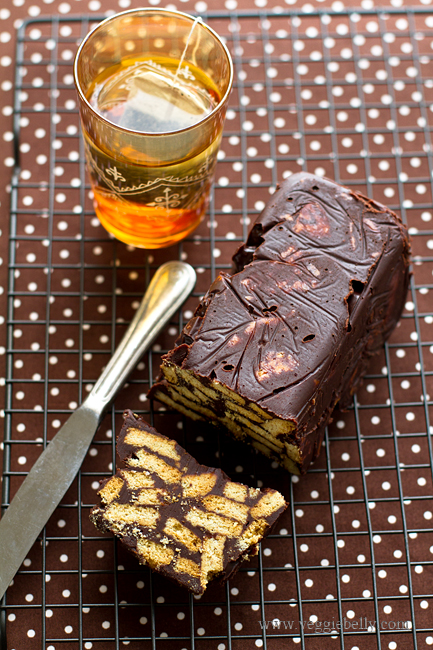 Royal Chocolate Biscuit Cake Recipe
serves about 8
7 oz. McVities digestive biscuits (about 12 biscuits). See above for substitutions.
6 oz. semi-sweet chocolate (milk chocolate)*
2 oz. dark chocolate (60% cocoa)*
4 tablespoons butter
2 tablespoons milk
4 tablespoons sugar or honey
*You can vary the milk chocolate: dark chocolate ratio if you like. Just make sure the total amount of chocolate (milk&dark) is 8 oz.
Break each biscuit into about 10 pieces. Place the broken biscuits in a bowl.
Melt all the other ingredients together in a double boiler –pour about 1 cup water into a saucepan or pot and bring to a boil. Then reduce heat and keep the water on a gentle simmer. Select a bowl that will fit over the saucepan, without touching the water (the steam from the water will melt the chocolate in the bowl).
Add all ingredients except the broken up biscuits, to the bowl over the simmering water. Whisk frequently, till everything is melted and you get a smooth sauce. Be careful not to get any water into the chocolate sauce.
Remove the bowl from the saucepan, and let the chocolate sauce cool for about 15 minutes. Gently fold in the broken up biscuits.
Line a loaf pan or cake tin with a large piece of glad wrap/cling film so that there is an over hang on all sides. Pour the cake mixture over the glad wrap and gently press down using a spatula, and flatten out the top. If your cake mixture is still warm, let it cool completely before proceeding.
Then fold the overhanging glad wrap over the cake. Using your palms, gently press down to compact everything. Refrigerate for 3 hours or till the cake is set.
Remove the glad wrap, cut into slices or cubes and serve.
Store chocolate biscuit cake in the fridge.
————————————————————————————————————————————————

Stonyfield Oikos Super Fruits Giveaway!
You can win all of these goodies!
-        2 free coupons for Oikos Organic Super Fruits Greek Yogurt*
-        Weleda All Natural Pomegranate Firming Day Cream 
-       Weleda Pomegranate Firming Serum
-        2 free coupons for Crofters Organic Fruit Spreads
-        Organic Pomegranate lip balm, made by Eco Lips
-        2 samples of Numi Organic Berry Black Tea (featuring   organic raspberry and raspberry leaf)
-        Simply Be Well Organic Pomegranate Moisturizing Body Bar
-        RW Knudsen Family 32oz.  Organic Just     Pomegranate juice and coupons
To enter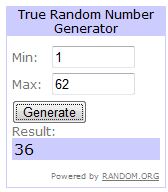 - Leave a comment below and tell me what was the best dessert youve ever had.
- For a bonus entry, mention this post & link to it in  your own blog. Then come back here and tell me you did so.
Contest ends Friday, May 6th 2001 9pm EST. US residents only. One random winner be picked. Check this post for winner announcement.
*Oikos sent me coupons to try the yogurt, and it is lovely
This giveaway has ended, the winner is comment #36, Usha!
Comments
comments