Today's recipe for this chocolate sponge cake rolled with chestnut cream comes in the form a guest post by my friend, the amazingly talented Xia0lu of  6 Bittersweets blog. I tasted this cake when she made it, and I was blown away. I had no idea chocolate and chestnut could be so delicious! I've also tasted Xiaolu's incredibly creative black sesame and mochi macrons - another testament to her baking skills! Infact, im so in love with anything she bakes, I ordered Xiaolu's chocolate and red velvet cupcakes for my husband's surprise birthday party. Needless to say, they were a huge hit. You can order her baked goodies here.
I was thrilled when Sala invited me to guest post on her blog. Not only because I was excited at the opportunity to contribute to her diverse collection of mouth-watering recipes and stunning photos. But also because she has become a dear friend to me in a short period of time. Starting with an early exchange in which she readily shared photography tips with me, Sala has been nothing but fun, warm, and generous through all of our interactions. I'm really glad that we live near each other, so we've been able to become friends in person and not just online. Thank you, Sala, for being a great friend, and thank you all as well having me here today!
I've always held a fascination for chestnuts. On one hand because they seem so sophisticated and European to me, especially in French desserts like Mont Blanc. On the other hand because they remind me of my early childhood in China. I recall smelling the fragrance of freshly roasted chestnuts as a little girl and growing excited anticipating the delicious stew of vegetables, meat, and chestnuts to come.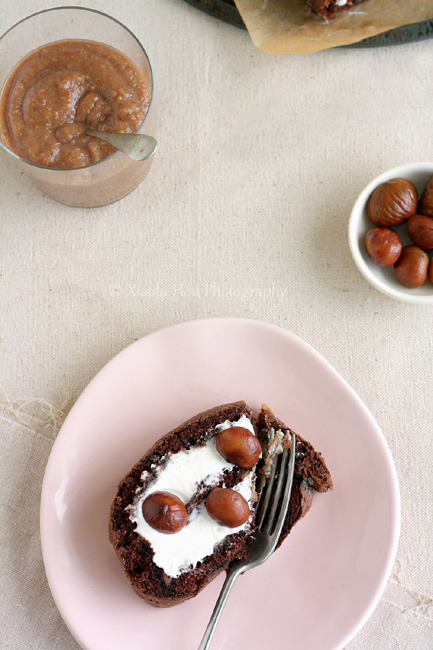 For today's treat, I have chosen the more sophisticated route with a cake roll that is simple yet elegant. Though I'm more accustomed to using natural cocoa in my baked goods, the milder flavor of Dutch-process cocoa is preferable here, as it leaves the spotlight to the real star of the show: the chestnut cream. I particularly enjoy that this cake is light on the tongue, leaving you satisfied but not weighed down. If you're looking for less conventional way to enjoy your chocolate cake, I hope you'll give this a go =).
Chocolate Sponge Cake Rolled with Chestnut Cream Recipe
Adapted from Gourmet Traveller

Serves 6 to 8
XIAOLU'S NOTES: The homemade chestnut puree recipe makes more than you will need for this recipe. Extra puree can be refrigerated for up to 2 weeks and frozen for up to 1 year.
4 large eggs, room temperature
1/2 cup white sugar (preferably extra-fine/caster)
1/2 cup MINUS 1 Tbsp (65 g) cornstarch
5 Tbsp (35 g) Dutch-process cocoa, plus extra for dusting
1 Tbsp all purpose flour
1 tsp cream of tartar
1/2 tsp baking soda
3 1/2 Tbsp unsalted butter, melted and cooled
1 cup PLUS 2 Tbsp heavy cream
1 1/2 Tbsp powdered sugar, sifted
1 cup sweetened chestnut puree (Recipe below OR storebought is fine)
Preheat oven to 350 degrees F. Grease the base and sides a 12 x 16 3/4-inch jelly roll pan and line with parchment paper, cutting into the corners to fit and allowing the parchment to hang at least 3/4 inch past the tray's edges.
Whisk eggs and sugar using an electric mixer until thick and pale (about 5 to 6 minutes). Sift cornstarch, cocoa, flour, cream of tartar, and baking soda together into a separate bowl. Then gently fold dry ingredients into the egg mixture with a spatula. Fold in butter.
Spoon batter carefully into lined pan, smoothing the top with a spatula. Bake in the middle rack of the oven until the cake springs back when lightly pressed (10 to 12 minutes). Remove from oven and carefully turn cake out onto a tea towel lined with fresh parchment paper. Peel off the other parchment paper from the cake. With the short side facing you, roll the cake within the tea towel to form a log. Let stand until just cool (8 to 10 minutes).
Whip heavy cream and powdered sugar until soft peaks form (refrigerate if not using immediately). Unroll cake and spread it with an even layer of chestnut purée, then spread only the 1/2 of the cake closest to you with cream, leaving a 3/4 to 1-inch border around the other edges as well. Reroll, dust with cocoa powder, and serve immediately.
Homemade Sweetened Chestnut Puree
Adapted from Kopiaste (click over for great step-by-step photos)
Makes about 2 to 2 1/4 cups
400 g boiled and peeled chestnuts [I bought precooked vacuum-packed ones]
1 1/2 cups milk
3/4 cup sugar, or to taste
1 tsp pure vanilla extract
Fill a medium to large saucepan with 2 inches of water and bring to a simmer over medium heat. Place all ingredients EXCEPT vanilla into a large Pyrex glass or other heatproof bowl that has a rim wider than the saucepan and which will not touch the simmering water when placed over the saucepan. Cover with a heatproof lid and let mixture boil for about 1 hour, checking occasionally to stir and make sure milk does not boil over.
Drain and reserve milk and let chestnuts cool slightly. Puree the chestnuts using a potato masher or in a food processor. Mix vanilla into the reserved milk, then add milk back into the puree a tablespoon at a time until desired consistency and sweetness is reached. Allow to cool completely, then refrigerate or freeze until needed.
Comments
comments