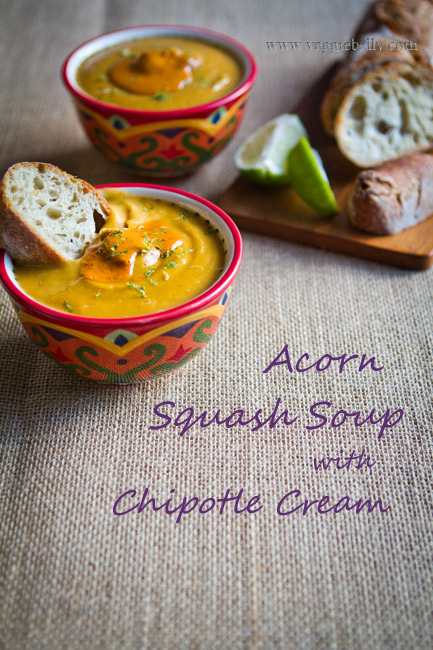 I am still getting used to all the rain in Portland. I figured my best defense against a foggy, rainy day is a good, thick, creamy soup. My neighborhood food co-op had some great looking acorn squash and I decided to use them for this acorn squash soup with chipotle cream.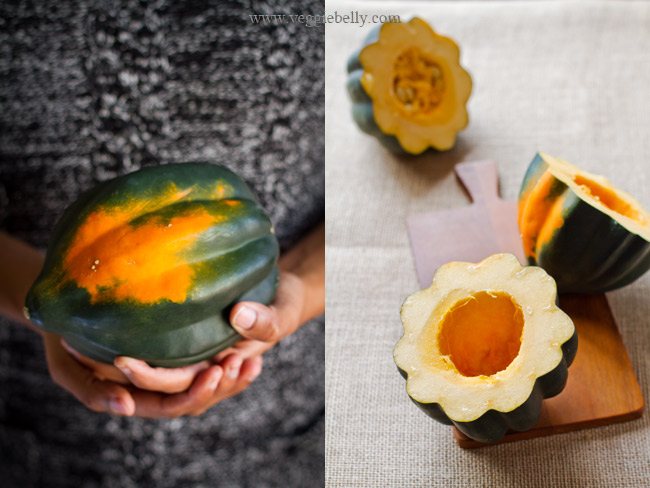 You can use any kind of winter squash in this soup – butternut, kabocha, delicate etc. Just make sure you get the squash browned and soft in the oven.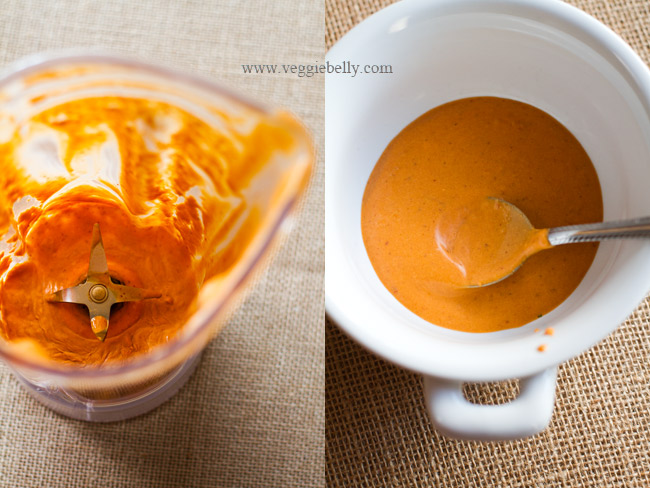 I had bookmarked Virginia Willis' brilliant Acorn Squash and Sweet Potato soup featured on the beautiful Tartelette blog, and used the recipe as an inspiration. Virginia adds a 'brilliant touch' to her soup – a dollop of heavy cream whipped with rum, lemon zest and thyme.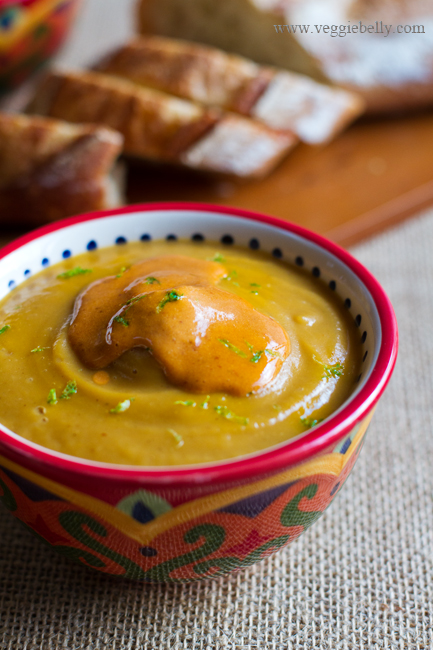 Here, I top my acorn squash soup with cream and chipotle peppers. I love using chipotle in winter squash recipes, like in my brown sugar and chipotle baked butternut squash recipe. You can make the chipotle cream a day ahead. You could even make extra and use the cream over burritos or Mexican rice.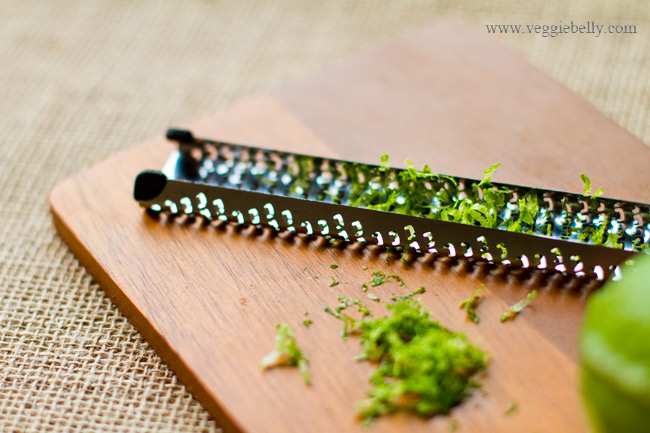 The lime zest cuts the creaminess of the soup and balances out the chipotle peppers well. You can also use orange zest instead.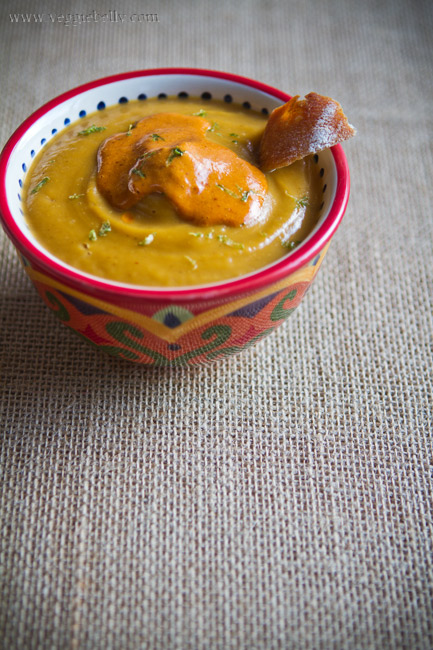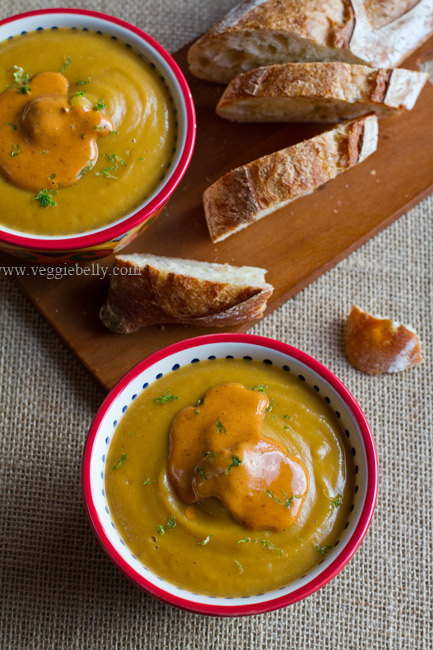 Acorn Squash Soup with Chipotle Cream recipe
Serves 2-3
Acorn Squash Soup Recipe
Ingredients
1 acorn squash
1 teaspoon + 1 teaspoon olive oil
1/2  medium onion, diced
A dash of cinnamon
3 cups vegetable stock
Salt
1/3 cup chipotle cream, recipe below
1/2 teaspoon lime zest
Method
Pre heat oven to 350f
Cut the acorn squash in half, along its equator. Using a spoon, scoop out the seeds and fiber. Brush 1 teaspoon oil on the cut sides and inside of the squash. Sprinkle with salt. Place the squash in a baking
sheet and bake till it is browned and very soft, about 1 hour.
When the squash is done, remove from oven and let it cool a little. When it is cool enough to handle, removed the skin from the squash and discard.
Heat the remaining 1 teaspoon oil in a skillet. Add the onion and sauté on medium heat till onions are soft. Add the baked, peeled squash, cinnamon, vegetable stock, and salt.
Boil for about 5 minutes or till the squash is soft. Then puree the soup in a blender. Be careful when pureeing hot liquids in a blender – make sure you vent the lid a little.
To serve – Pour the hot soup into 2 or 3 bowls. Top each bowl with about 1 tablespoon chipotle cream. Sprinkle lime zest on top.
Chipotle Cream Recipe
makes about 1/3 cup
Ingredients
1/3 cup cream
2 teaspoons minced chipotle chiles in adobo sauce
Salt
Method
Place everything in a blender or food processor. Blend till the cream thickens a little, about 4 minutes. Make sure you don't over blend the cream, otherwise it will separate.
Taste the cream and adjust salt if needed. If you want it spicier, add some of the sauce from the chipotle can.
Scrape out chipotle cream into a bowl and set aside.
Comments
comments