I really shouldn't have made these cookies. I can't stay away from them now! These buttery cookies with crunchy bits of cornflakes are an easy, eggless treat that you can make in no time. You can even make the cookie dough ahead of time and bake it when needed.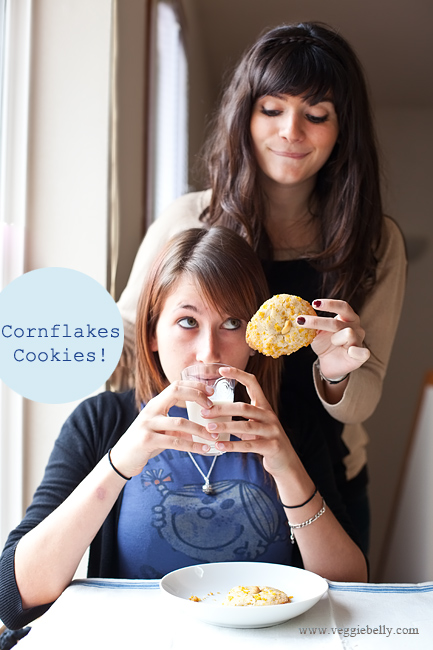 If you've been reading my travel posts, you may know that I am part of the wonderful Couch Surfing community (a network that connects travelers with local hosts all over the world). Now that I've returned from my trip to Israel and Bethlehem, I've opened up my house once again for hosting travelers.
I recently hosted two French girls, who are backpacking and couchsurfing their way across America. (How cool is that!) When they arrived, I made them a big pot of farfalle pasta with lots of steamed vegetables, all  tossed in garlic, olive oil and fresh basil. For dessert, I made them these addictive cornflakes cookies.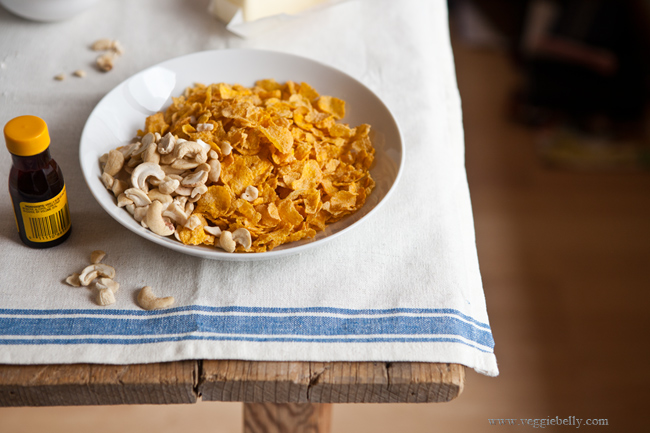 These cornflakes cookies are really easy to make, and you probably have all the ingredients in your pantry right now. Plus, they are eggless! Since there are no eggs in this cookie recipe, I added baking powder as the leavening agent, and it works very well. I also like to chill my cookie dough before baking, this helps with two things:
- Chilled cookie dough will hold its shape better in the oven; the cookies it wont spread out get flat if the dough was chilled
- Chilled cookie dough also makes a flakier more buttery cookie
If you are in a hurry, you can certainly bake the cookies without chilling. Just spread out the cookies farther apart, because they will spread in the oven.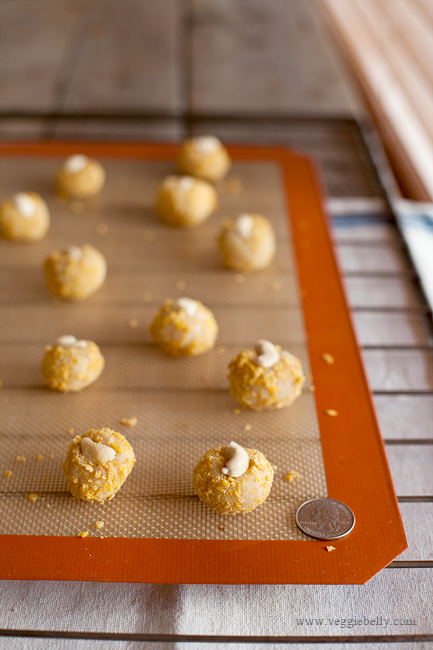 I also like to make these cookies mini sized - just about double the size of a quarter. They cook much faster in the oven.
These eggless cookies are a cross between the Indian Nan Khatai biscuit and the Chinese Cornflake cookies. The cornflakes makes these cookies delightfully crunchy. Feel free to experiment with this recipe and use other types of cereal!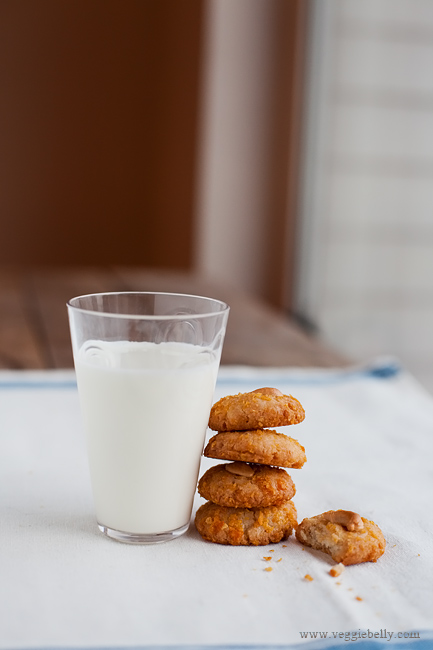 Eggless Cornflakes Cookies Recipe
Makes 32 mini cookies
Ingredients
½ cup softened unsalted butter
½ cup sugar
½ teaspoon vanilla
1 cup flour
¼ teaspoon baking powder
1/8 teaspoon salt
1 cup + 1/2 cup cornflakes
32 cashew halves
Method
Preheat oven to 350f
Make sure the butter is soft. If you are using butter that has been refrigerated, leave it outside till it becomes soft.
Place the softened butter and sugar in a bowl, and beat with a wooden spoon till it is well mixed, about a minute. Then add vanilla and mix well.
Place a sieve over the bowl, and sift the flour, baking powder and salt into the bowl. Stir till everything is combined and the dough comes together.
If the dough is too crumbly and dry, add 1 tablespoon of water, and gently knead. Then form a ball, cover the bowl with a lid, and refrigerate the dough for an hour (or up to 12 hours).
While the dough is in the fridge, prepare the corn flakes. Take 1 cup of cornflakes, place it in a ziplock bag, and roll a rolling pin over it to crush the cornflakes well. You'll be using these crushed cornflakes to coat the cookies.
Remove cookie dough from the fridge, and add ½ cup cornflakes (uncrushed). Using your hands, gently knead and incorporate the cornflakes into the cookie dough. Its ok if some of the cornflakes get broken up in the process.
(If the cookie dough straight out of the fridge is too stiff, break it up into smaller pieces, add 1 tablespoon water, and knead gently. Then proceed with adding the cornflakes)
Divide the cookie dough into 2 equal halves. Roll one half into a long log. Cut the log in half. Then cut each half again. You will have 4 even sized pieces now. Cut each one into 4 equal parts. You will end up with 16 pieces.
Do the same for the other half of the dough. When you are done, you will have a total of 32 small pieces of cookie dough.
Roll each piece into a ball. Dip it in the bowl with the crushed cornflakes and roll it around to coat. If the crushed cornflakes don't stick to the cookie dough, take 2 drops of water in your fingertips, and coat the cookie dough ball with water. Then roll in cornflakes.
Repeat for all the cookie dough balls. Then gently press a cashew half into the top of each one.
Arrange the cookies on two parchment (or silpat) lined baking sheets, making sure they are spread out (they need space to expand in the oven; otherwise they will all stick together).
Bake in the in the middle rack of the oven. Cookies are done when they start to get lightly golden, and when you can smell them. This should take about 12 minutes, but cooking time will vary depending on the oven.
If you over bake the cookies they will get too crunchy (but will still taste the same).
When they are done, remove the cookies from the oven and cool on a wire rack. They will still be soft when they come out of the oven, but will firm up once they cool.
Comments
comments