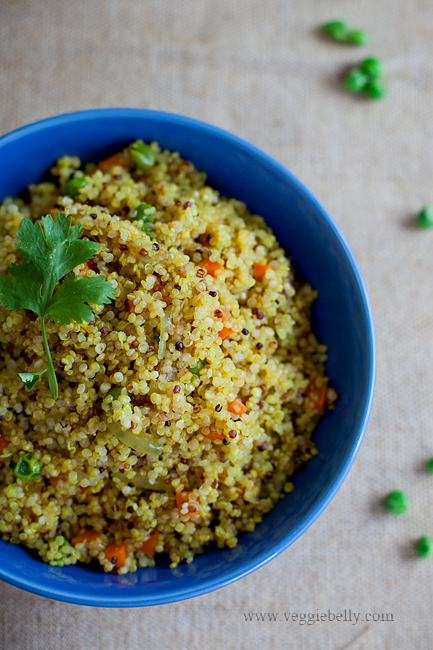 I've taken the classic South Indian upma – a breakfast dish made with semolina – and quinoa-fied it! The traditional upma uses semolina, onions, ginger and vegetables. I've pretty much kept everything the same, except the addition of quinoa. This is a quick, satisfying, one pot meal. Serve it along with my twice cooked tomato chutney.
I'm always thinking of new and different quinoa recipes and putting an Indian twist to this quinoa dish really works. If you've been following my blog for a while, you've already seen my hugely popular mango blueberry quinoa salad, a version of which I demoed on TV. I also have a spicy quinoa, black bean and asparagus bowl recipe and a more summery quinoa recipe with balsamic grilled vegetables. If you've tried lots of quinoa recipes and looking for something completely different, this quinoa upma is for you!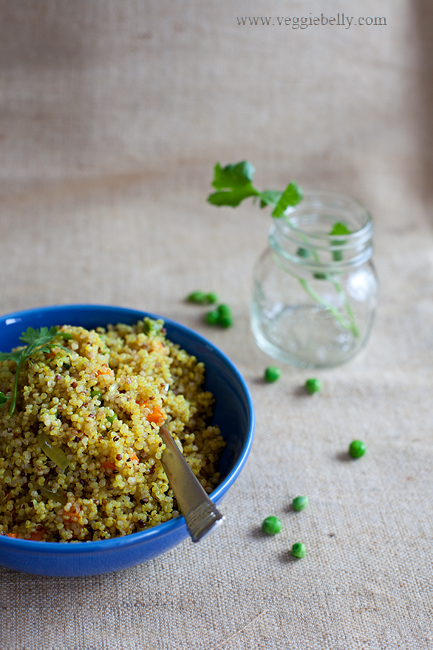 Quinoa Upma Recipe
 Serves about 6
Ingredients
1 tablespoon butter or oil
1/4 teaspoon cumin seeds
1-3 green chili, slit
1 small onion, thinly sliced
one inch piece of ginger, peeled and cut into 3 pieces
a few curry leaves, optional
1/4 teaspoon turmeric
1/2 cup diced carrots
1/2 cup shelled green peas
2 cups quinoa
Salt
Chopped cilantro for garnish
Method
1. In a large saucepan with a lid, heat the butter or oil and add the cumin seeds. When they sizzle, add the green chili, onions, ginger and curry leaf. Stir on medium heat till the onion is soft and transcluscent.
2. Now add the turmeric, carrots, and peas. Cook stirring for about a minute.
3. Add the quinoa to the saucepan and stir gently for a few seconds. Then pour in 4 cups water, and salt and bring to a boil. Reduce heat to low, and simmer covered till all the water is absorbed and the quinoa is cooked, about 15 minutes.
4. Serve hot, garnished with chopped cilantro. If desired, fish out and discard the ginger chunks before serving.
Comments
comments