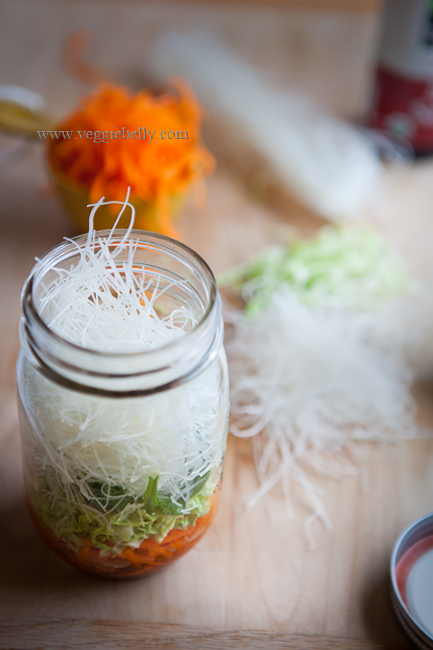 With this recipe, you can make your own tasty (almost) instant noodle soup with very little effort. You can prepare this recipe the previous day, and you have the perfect, quick office lunch – just add boiling water! And you can customize and make this recipe your own by adding different vegetables. See my suggestions below.
I first came up with this recipe on my vegetarian cross country road trip. When I was on the road and stopped at places where I couldn't get a proper vegetarian meal, I used to make my own 'instant' noodles by soaking dried mushrooms, fresh greens and rice noodles in boiling water. I posted the recipe on the blog, and to my surprise many of you were making it at home! To me, it was an improvised recipe for the road trip, but when I saw how many of you were actually making it, I decided to come up with this version.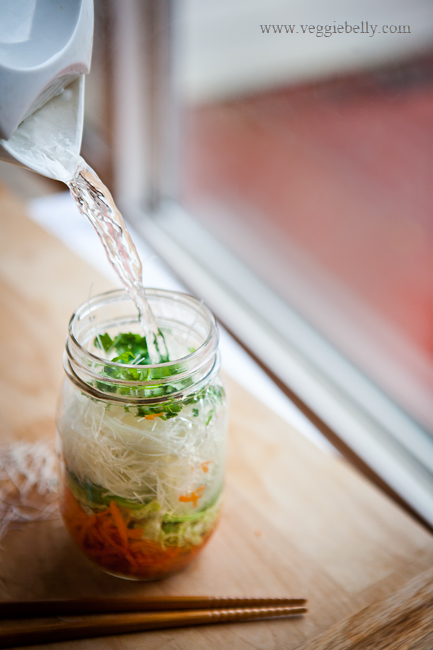 Assemble the seasonings, vegetables and rice noodles in a jar the previous night and keep it in the fridge. Take it to work the next morning, and just add boiling water to the jar – you have lunch in minutes! Mason jars or empty pasta sauce jars work well. And if you use a wide mouth jar, you can eat directly from the jar. And change up the vegetables however you like; just remember that the vegetables should be the easily wilting kind, so they can "cook" on the boiling water soak.
Other ingredients you can use in your almost instant noodle soup
Sweet corn
Baby corn, chopped
Shredded kale
Dried shitake mushrooms, reconstituted
White button mushrooms, sliced
Tofu cubes
Paneer cubes
Seaweed
Bean sprouts
Watercress
Sliced jalapeños
Kimchi
Chopped scallions
Chopped cilantro
Crushed red pepper
Powdered lemongrass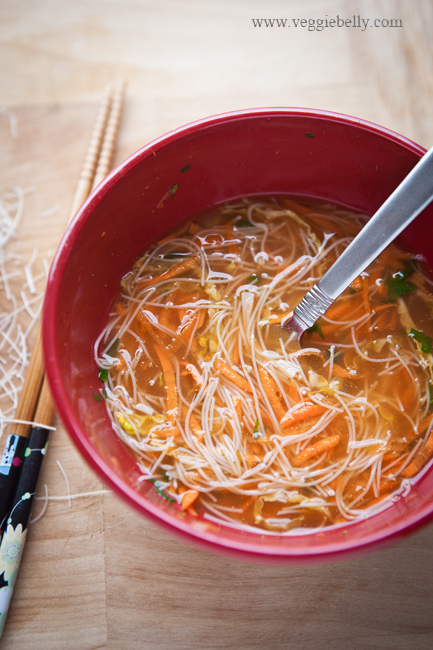 Almost Instant Noodle Soup in a Jar Recipe
serves 1
Ingredients
an approximately 16 oz glass jar, preferably a wide mouth one, with lid
1.5 oz rice noodle sticks
1 tablespoon soy sauce
1/2 teaspoon lime juice
1/4th of a stock cube
1/8th teaspoon garlic powder, optional
1/4th teaspoon grated ginger, optional
½ cup shredded carrot
½ cup shredded napa cabbage
12 leaves of baby spinach
Method
1.  Remove the rice noodles from packaging, and measure out 1.5 oz. Place it in a zip lock bag. Grab the ziplock  bag with your hands and carefully break up the noodles into smaller pieces. Set aside.
2. Wipe the jar clean, and add in all ingredients from soy sauce through to baby spinach, in that order.
3. Then pack the broken up noodles into the jar. Screw on the lid and store in the refrigerator for upto a day.
4. When you are ready to eat, pour boiling water into the jar. Pour in enough water to cover the noodles, about 1 1/2 cups. Replace the lid and let the noodles soak for about 12 minutes or till they have softened. Mix the soup gently so that the stock cube dissolves evenly. Be careful, the jar will be very hot, use a towel or oven mitts to handle the jar.
Note: Adding hot water to a very cold glass jar can cause the glass to crack! If your jar is very cold (or if your fridge is set to very cold), leave the jar out at room temparature for about 15 minutes before adding hot water.
5. Tip your almost instant noodle soup into a bowl and serve. Or eat it directly from the jar!
Comments
comments