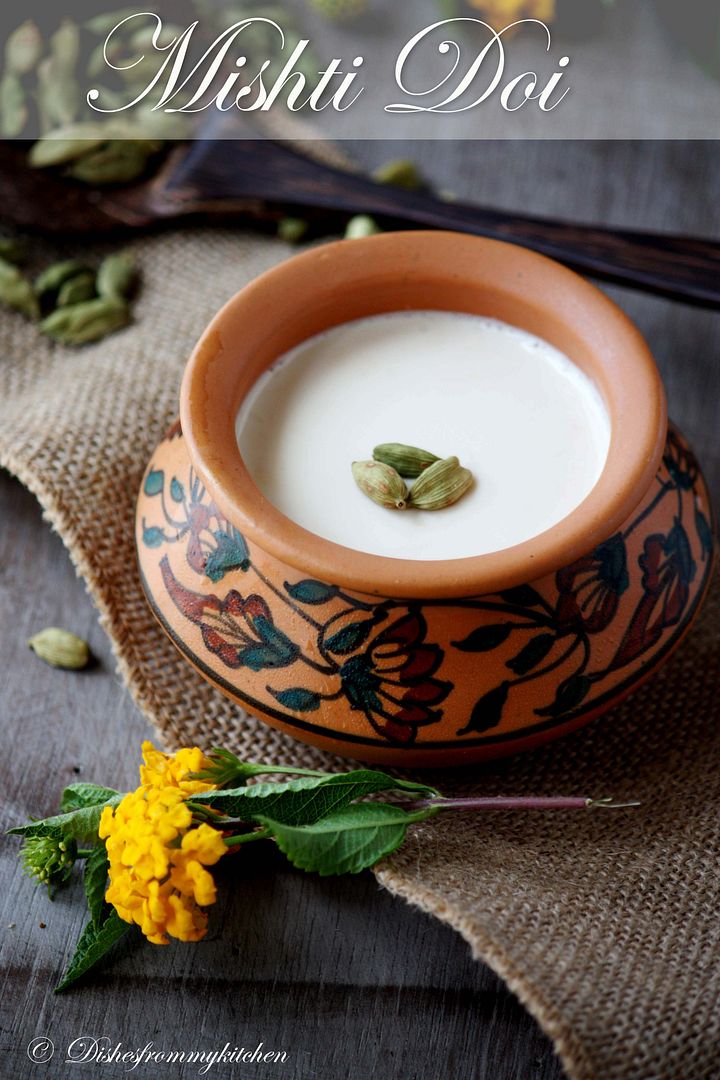 I have just completed a cross country drive across America (read about it here and here!) and moved to Portland, OR. While I'm settling in, I've asked my good friend and talented blogger, Pavithra to guest post today. Pavithra and I made an instant connection because we are from the same city in India. And I have followed her beautiful blog and seen it grow into a hugely popular destination for Indian food lovers. You are going to love this sweet yogurt recipe! Take it away Pavithra.
First of all I should say thanks to Sala for giving me an opportunity to do this guest post. I am truly honored! Who can say no when your favorite blogger friend asks you to guest post?
I am here today with very rich dessert but really simple to make. Mishti Doi is a Bengali dessert. Bengal is a part of East India and Bengalis are very famous for their sweet preparation. Mishti Doi is among their well known dessert, I have enjoyed having them from my childhood days. Whenever my dad visits Bangalore he will never miss to have them, similarly whenever he takes us to Bangalore we used to enjoy them in a cute earthen pot in a famous Bengali sweet shop.
Mishti Doi is a sweet yogurt. It is made with milk and sugar. A part of sugar is caramelized to give lovely caramel flavor. This is a very popular dessert. Earthenware is always used as the container for making this because the gradual evaporation of water through its porous walls not only further thickens the yogurt, but also produces the right temperature for the growth of the culture. Very often the yogurt is delicately seasoned with a hint of elaichi (cardamoms) for fragrance, but this is absolutely optional. I some times make with Saffron, elaichi or just with caramelized sugar. You can prepare the way you like.
I am giving you two ways of preparing this delicious and flavorful yogurt. If you have evaporated milk and condensed milk handy then go for ver I else you can do the ver II.
Mishti Doi Recipe 1
makes about 4 cups
Ingredients
 1 can (12 oz) Evaporated Milk
 1 cup boiled whole milk
1/2 can (7 oz) Condensed Milk 
2 tablespoons Sugar
1 tablespoon Water
1/3 cup Yogurt
Method
Preheat the oven to 175 degree Fahrenheit and switch off the oven.
1. Pour the evaporated milk and whole milk in a vessel.
2. Heat them until it is above body temperature.
3. To this add the condensed milk.
4. In the mean time heat 2 tbsp of sugar in a pan on low heat until the sugar is caramelized to nice golden brown. Turn off heat. Now add 1 tbsp of water and stir with a spoon.
5. Add this caramelized sugar to the milk mixture.
6. When the milk mixture is warm add the yogurt and blend well.
7. Pour them in individual serving containers.
8. Close with lid or foil. Let the yogurt set overnight in the preheated oven (dont turn on the oven!)
9. Then refrigerate set yogurt for at least few hours before serving.
Mishti Doi Recipe 2
If you don't have the condensed and evaporated milk called for in recipe1, no worries here is another recipe for mishti doi without using condensed milk or evaporated.
Makes about 4 cups
Ingredients
3 cups whole milk 
3/4 cup Sugar
1/3 tablespoon Plain Yogurt, whisked
1 tablespoon Water
Method
1. Heat the milk in the heavy bottom pan. Reserving 1/3 cups of the sugar for caramelizing and add the rest to the hot milk. Let boil and reduce to half the quantity.
2. In the mean time heat reserved 1/3 cup of sugar in a pan on low heat until the sugar is caramelized to nice golden brown. Turn off the heat. Now to that add 1 tbsp of water and stir with a spoon.
3. Add this caramelized sugar to the milk and stir until well blended.
4. Let the milk cool just until it is warm (but not hot). Then add the yogurt and mix well.
5. Pour in serving dishes/ pots and set overnight in a warm place*.
6. Once the yogurt is firm, put it in the refrigerator for few hours before serving.
Notes
- Mishti Doi taste's best when served in earthen pot but it's optional. But we love making them in earthen pot it really comes out very creamy its my personal experience.
- *Using the warm oven is optional, if the weather is really hot just put the pot in a cool dry place and let them set overnight. If the weather is very cool then opt for oven method to set the yogurt.
- If you want to flavor the yogurt using cardamom or saffron, just omit the caramelization part of sugar. Instead add less then 1/4 tsp of cardamom powder or Saffron (mixed with hot water) to the milk mixture before the yogurt is added
Comments
comments